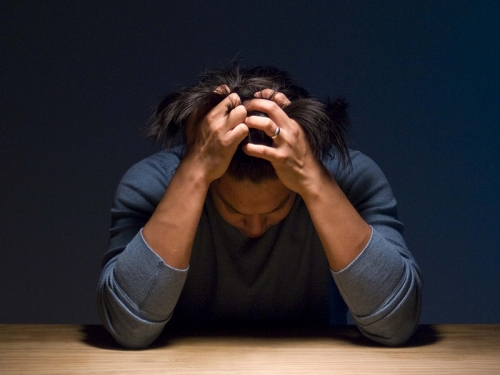 It's one of the most frustrating emails a reseller can receive from us: "Status: Artwork Fail – unable to process order." With printing, time is often of the essence, and an artwork fail can cause setbacks.

Why does artwork fail? I asked this question to Jon, who handles the application development for our online artwork processing interface. Jon told me the following are the most common reasons artwork fails occur:
Artwork doesn't contained outlined fonts
This is the most common reason for artwork failing. With the huge assortment of fonts available for use, it's all but impossible for us to have them readily available. So if a file comes in and contains a font we don't have, our artwork checking program will replace it with the default font, and can pretty much ruin your artwork.

We don't want artwork to be ruined and want the artwork processing and checking to go as smoothly as possible, so we ask you outline the font(s) into vector art. By outlining the fonts, we don't have to worry about having the fonts in our system.
Artwork doesn't have embedded images
Most art/graphic design programs allow you to do two things with images: link or embed. By default, most design programs link images, which is like a web hyperlink. Embedding an image, on the other hand, makes a copy of the image, incorporates it and restores it within the actual artwork. With embedded files, the process goes much more smoothly and simply, as we don't have to worry about broken links.
Artwork wasn't designed on a template
Our artwork templates are designed to accommodate for the bleed – the extra space past the finish size that allows for hems and ensures no white shows on the print – and pole sleeves, depending on the finish. Because of this, all artwork should be designed on a template and not sized to the finish size. By doing it the latter way, it can be impossible for our graphics checking team to try and resize the artwork to add bleed and pole sleeves.
Graphics template was altered
Many of the templates (like our Bowflag® templates) are designed to fit on specific hardware. Should the template be altered when designing artwork, it will not fit on the hardware after it's printed.
Artwork was designed on the wrong template
This problem occurs mostly with Bowflag® products, where the order was for a large Bowflag®, but the design was done on a medium template. Our templates are not directly proportional, so it can be sometimes impossible for our team to try and scale artwork to fit a template of a different size.
Have questions? Let us help. Leave a comment or connect with us on Facebook, Twitter and LinkedIn.
photo credit: cellar_door_films via photopin cc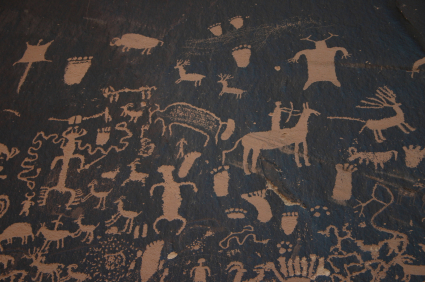 Throughout history, advertising signs have been used for many reasons including religious symbolism, product advertisement, or to record the triumphs or defeats of a civilization. With the invention of electricity, the evolution of signs accelerated and began to resemble some of the types that business owners and consumers are familiar with today. Recently, the oldest signs in the world were discovered in Nevada. Actually, discovered is not technically true because geologist have known about these petroglyphs for some time, but were not allowed to perform the tests necessary to date them. Recently, paleoclimatologist Larry Benson dated these ancient signs at more than 10,000 years old and possibly as old as 15,000 years.
The petroglyphs were carved into tufa, a type of limestone, by the first inhabitants of North America. The designs consisted of geometric patterns, concentric circles, and other shapes that resembled trees. As a reseller of wholesale flags, I wonder about the evolution of signs and advertising. How had the use of signs progressed over the last 15,000 years? In a primitive way, these petroglyphs created an advertisement that broadcast the hostile conditions in an area, the location of food and other resources, or recent events in a community's history. I realized, the materials used to create advertising signs might have changed, but the basic purpose remains the same. Signs have been used since their inception to inform potential users about available services, benefits of products, or to provide directions.
Where did the Word Sign Originate?
The word "sign" originates from the French word, enseigne, and is an interpretation of the English word flag. In ancient Rome, signboards made from stone or terracotta were used to demark military regiments, religious symbols, or vendors of food and wares. These signs were heavy and generally plain, but effective in broadcasting their message. The first bill, or law, concerning advertising signs was enacted in 1389 by King Richard II of England. The King of England decided that it was of such vital importance that tavern owners erect signs outside of their establishments that he devised an unusual penalty for non-compliance. If the tavern owners did not comply by displaying the signs as ordered they were required to forfeit their ale. That brings to mind another question: Who got to keep the forfeited ale?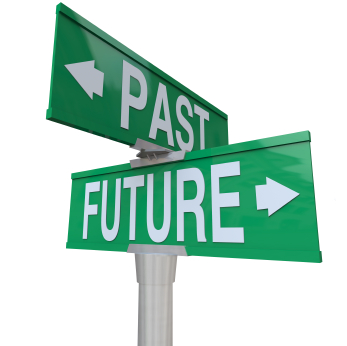 Early tavern signs were ornate, elaborate, and their object was to inform the public of the type and quality offered at the establishment. Notifying the public in this manner was a necessity because the available drinking water was very poor and contained contaminants which necessitated that ale be used as a substitute. The first recorded legislation regulating the placement and size of advertising signs was in France. In 1761, France passed laws that regulated the size of a sign and distance it could extend above the street. England soon followed and passed similar laws, spanning 1762-1773, that gradually compelled sign boards to either be removed or fixed flat against the wall. This law affected a change that we still see today because as the use of signs by businesses was regulated they began to use numbers and street names to inform the public of their location.
Advertising Signs in the Middle Ages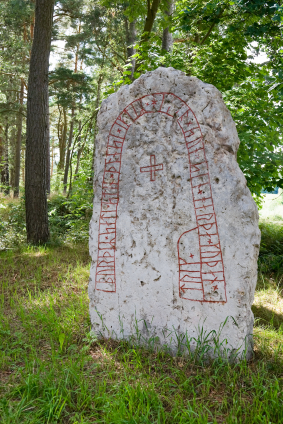 The visual impact of graphics on advertising signs was evident in the Middle Ages. Since most of the population was illiterate, graphics were used to convey the message of the business owner. These signs are an early example of visual business branding and were prevalent on Taverns, Inns, and establishments offering nefarious services. The Middle Ages was not the first time businesses had used advertising signs. An example of this type of visual signage was discovered in the ash covered ruins of Pompeii where merchants, such as bakers, used signs with visual clues to advertise the services they offered; however, the Middle Ages saw much advancement in sign creation and began to use bright colors and ornamental iron to promote their product or services. Advertising signs were so important that business owners had competitions to see who could create the most elaborate signs. This tradition continues today with sign competitions presented by the International Sign Association.
Advertising Signs in the Modern Era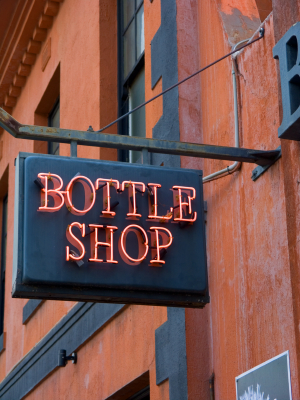 The development of signs continued throughout the Middle Ages until the era of modern signage. This advancement was facilitated by the circulation of newspapers, flyers and catalogs which provided advertisements for sales and products delivered directly to the consumer. Developments in sign manufacture and design mirrored the types of advancements that were making their way into households, and the introduction of electrical and gas lighting further expanded the types of signs available. These developments not only expanded the types of signs that were available to business owners, but also greatly increased the number of places that signs could be installed and used to promote a business. A frantic pace was reached by the end of World War II because the technology used to mass produce items for the war effort could also be used to mass produce other items, like advertising signs, for a public emerging from the Great Depression and eager to spend their new found wealth. In the modern sign era, advancements in material production, and the introduction of plastics, brought about by World War II, enabled the mass production of signs. This made signs affordable to more businesses and their use spread throughout the country.
Advertising Sign Innovations and the Motion Picture Industry
The motion picture industry was a key component in the use and development of advertising signs. The American Sign Museum has an article about the history of signs and how they had changed over the last 100 years. That only leaves about 14,900 years of unexamined sign history, but we only have so much room in this blog post. In the early 1900's, the introduction of the "nickelodeon" propelled this form of advertising and these techniques have been incorporated into the modern signage era.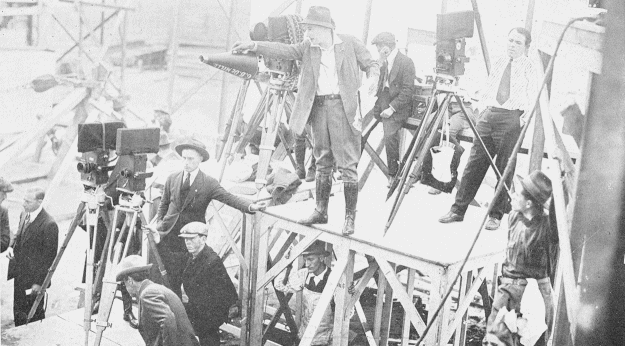 Additionally, product merchandising made theatres a logical place for point-of-sale advertising that promoted other products in addition to the movie being shown. These early lithograph types of signs were followed by stock signs made by companies like the Federal Electric Co. Stock signs used script channel bulb letters combined with a transparency, but were cumbersome and expensive. In 1916, the era of interchangeable sign lettering arrived followed shortly by changeable bulb letters used by such theatres like the Astor, New York for the Ziegfeld Follies. By 1919, flat glass had begun to replace the molded glass used in the Paramount Theatre sign in New York.
In the 1970's, the first research studies examining signs and their influence on consumer behavior were conducted. This research is still being conducted by organizations like the Outdoor Sign Association of America. Recently, the importance of directional signage has been incorporated into building contracts and many require a plan for signage and the flow of traffic throughout the building before construction can begin. The subsequent advances in sign technology occurred in quick succession and by the 1940's, injection molded plastic letters were being used in places like the Miracle Mile in Toledo, Ohio. The introduction of drive- in theatres brought further advancements in sign technology as America got into their cars and went to the movies.
Advertising Signs Today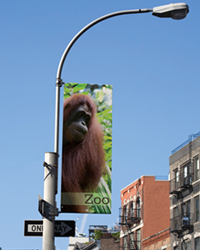 Today, advertising signs and flags can be seen at just about every business, attraction, or venue. The next evolution in sign technology could be holograms or expanding the technology currently used on European trains that plays an advertising message when a passenger rests their head against the window. Sky Deutschland is proposing using bone conduction to make ads appear like they are coming from inside passenger's heads when they lean their heads against train windows. No matter the direction technology takes us, we are in a dynamic industry vital to commerce that will continue to evolve and change as new technologies and materials become available. Nevertheless, one rule remains constant advertising flags, banners, and signs are an incredible tool for your client to market their product or service.
In a previous blog post, we outlined some of the benefits of using fabric for custom graphics over other materials. Fabrics are lightweight for easy transport, aesthetically pleasing, and eco-friendly. It is easy to see why fabric graphics are growing in popularity.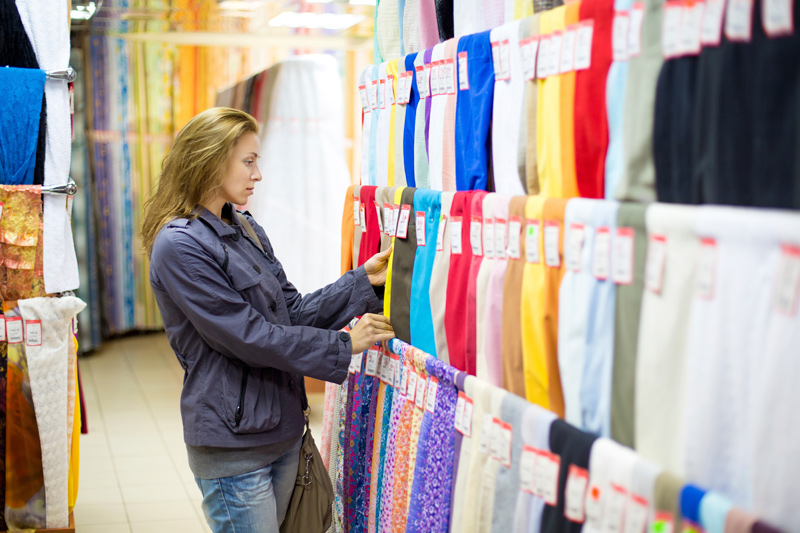 An article in Fabric Graphics Magazine argues that even clients who don't understand all of these benefits will almost always choose fabric over substrates such as vinyl or paper. When given the option between a graphic on fabric and a graphic on vinyl, your client will probably not only like the fabric graphic better, but will also touch the fabric.
Why does this happen? People have a subconscious personal and emotional connection to fabric that they simply don't have with other substrates. Because it used for everything from clothing to furniture, fabric plays a vital role in our lives. We associate fabric with warmth and comfort, so we are naturally drawn to it.
Most of Tex Visions' products are constructed of polyester fabric. In addition to the benefits of fabric, polyester is highly resistant to mold and mildew and durable with the ability to last longer without tearing. A complete list of all fabrics and substrates we offer can be found in our catalog.
Next time your client is choosing a material for their graphic, point this out to them. By selecting fabric, your client's customers will not only be drawn to their display on instinct, but they will have a subconscious personal connection to it before the message is even read.
There are many steps between brainstorm and satisfied customer. Tex Visions is here to offer support and customer service every step along the way. Let's follow a client's typical custom printing project from design to delivery.
First, your client's artwork file goes to the prepress department where the artwork is made print ready. Resellers should follow the graphic requirements we provide for their client's artwork file. Once the artwork is print ready, we send an electronic proof in pdf format for approval.
After the proof is approved, the artwork is scheduled for production. The image is printed using the most cost-efficient print method for the order. Digital Chemical Dye (DCD) printingis our main printing process for fabric and allows us to print small and large runs with no minimum and runs with very complex images where the highest resolution is needed.
Once the image is printed, the fabric is transferred to the high-temperature steamer, where the dyes are permanently locked into the fabric. This guarantees the highest dye penetration (through print), durability, color fastness, and washability. It is then washed in a special washing cycle to remove excess inks and prevent bleeding.
Using advanced reverse osmosis water reclamation technology, recycled water can be reused for the production process multiple times. The digital and screen printing dyes used for flags and banners are inert, which means they are chemically non-reactive and therefore not harmful to the environment.
The cutting department goes to work after the fabric is dried. The print is cut from the roll to its exact size and shape. Our sewing department then finishes the print to client specifications, bags it, and prepares it for shipping. For current delivery dates and rush services, contact one of our sales representatives. Production times for digital printing generally range from 3 to 10 business days.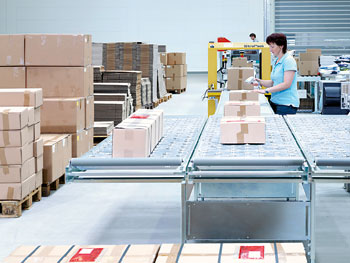 What questions do you have about our ordering process or printing process? Tex Visions is here to answer any questions you may have along the way.
Clients have a great deal wrapped up in their prints and not just financially. They have an emotional investment as well, and they want their banners to last as long as possible. The great news about fabric banners is that many of them can be washed in a normal washing machine. Here are some more tips to give your clients some peace of mind while proving that you are a valuable partner even after the sale.
How we prepare the print
We do our best to create durable displays using our proprietary color fixation and washing process. The printed fabric is heated to a specified temperature to allow the ink to disperse into the fabric, which brings out the true vibrant colors. We also use our special washing process to remove excess ink, ensuring the colors won't bleed. After finishing, most displays are shipped out with the print attached so they are ready to display on delivery.
The wrinkle eraser
If the advertising display is a frequent traveler, it will need to be set up and put away countless times. To prevent wrinkles, banners should always be rolled and never folded. However, when a client comes to you with the inevitable wrinkles, suggest they invest in a traveling fabric steamer.
Wear and tear protection
Even if the client isn't a road warrior, all displays need to be protected from normal wear and tear. Carrying cases are an inexpensive way to prevent the most common nicks and scratches. All of our display choices offer carrying case options, and most come with a carrying case upgrade for added security.
The right fabric for the job
Some fabrics just weren't meant to play rough. Our experts can help pick out one of our many fabrics that has the look the client wants as well as the resilience that they demand. Our fabrics range from the durable Supraflag, with extreme resistance to tearing, to the delicate Special Silk, with its high gloss for table displays.
Signs it's time to replace the print
Flags and banners represent a business, so frayed and faded prints send the wrong message regardless of the image displayed. A good rule of thumb is to do a thorough check on the banner after 6 months. For outdoor banners, high winds and plenty of sun reduce the effective life; for indoor banners, count on a much longer useful life.
At Tex Visions, we are constantly developing new fabrics and looking into new printing technologies to preserve the life of advertising displays. What tips can you share about taking care of banners and display systems?