Welcome to the Tex Visions Blog
A place for our resellers. Talk about what matters most to you. Share your insights. Present us with your challenges. Learn about our team. Connect with us.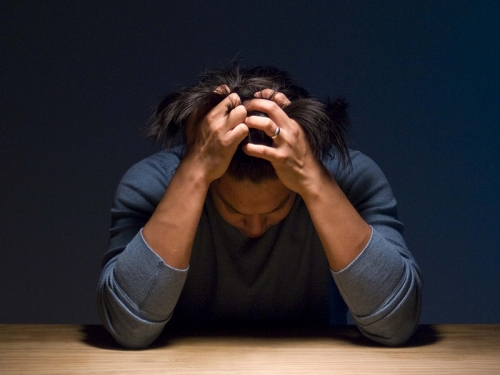 It's one of the most frustrating emails a reseller can receive from us: "Status: Artwork Fail – unable to process order." With printing, time is often of the essence, and an artwork fail can cause setbacks.

Why does artwork fail? I asked this question to Jon, who handles the application development for our online artwork processing interface. Jon told me the following are the most common reasons artwork fails occur:
Artwork doesn't contained outlined fonts
This is the most common reason for artwork failing. With the huge assortment of fonts available for use, it's all but impossible for us to have them readily available. So if a file comes in and contains a font we don't have, our artwork checking program will replace it with the default font, and can pretty much ruin your artwork.

We don't want artwork to be ruined and want the artwork processing and checking to go as smoothly as possible, so we ask you outline the font(s) into vector art. By outlining the fonts, we don't have to worry about having the fonts in our system.
Artwork doesn't have embedded images
Most art/graphic design programs allow you to do two things with images: link or embed. By default, most design programs link images, which is like a web hyperlink. Embedding an image, on the other hand, makes a copy of the image, incorporates it and restores it within the actual artwork. With embedded files, the process goes much more smoothly and simply, as we don't have to worry about broken links.
Artwork wasn't designed on a template
Our artwork templates are designed to accommodate for the bleed – the extra space past the finish size that allows for hems and ensures no white shows on the print – and pole sleeves, depending on the finish. Because of this, all artwork should be designed on a template and not sized to the finish size. By doing it the latter way, it can be impossible for our graphics checking team to try and resize the artwork to add bleed and pole sleeves.
Graphics template was altered
Many of the templates (like our Bowflag® templates) are designed to fit on specific hardware. Should the template be altered when designing artwork, it will not fit on the hardware after it's printed.
Artwork was designed on the wrong template
This problem occurs mostly with Bowflag® products, where the order was for a large Bowflag®, but the design was done on a medium template. Our templates are not directly proportional, so it can be sometimes impossible for our team to try and scale artwork to fit a template of a different size.
Have questions? Let us help. Leave a comment or connect with us on Facebook, Twitter and LinkedIn.
photo credit: cellar_door_films via photopin cc

We're all nerdy in our own, unique ways, whether we like to admit it or not. The Tex Visions team decided to embrace our nerdiness on June 24 when team members wore their favorite nerdy shirts. From science fiction to comic books to cats, all things nerdy were represented by participating staffers.
Going along with "Nerd Shirt Day" was the following question asked to some of the staff: "What's the nerdiest thing about you?" Here are the answers:
"I used to read the dictionary." – Cathy, sales/customer service
"I actually LIKE numbers, which is good since I'm an accountant." – April, accounting
"I'm 31 and I still play with Legos." – Mike, sales/customer service
"I was captain of the math team in high school." – Jen, marketing manager
"I met my boyfriend through 'World of Warcraft' and now we game side by side." – Leah, prepress/graphics
"I know how Han Solo made the Kessel Run in less than 12 parsecs, even though a parsec is a unit of distance not time." – Cody, IT manager
"I love to play 'Candy Crush Saga' and online casino slots." – Tammy, sales/customer service
What's the nerdiest thing about you? Let us know in the comments, on Facebook or tweet @TexVisions.
You have your advertising booked, and you're excited to get your message out there. Anyone who knows me would readily say I'm a huge fan of marketing. Advertising, when done right, can be an essential element to a business model. As Henry Ford once said, "A man who stops advertising to save money is like a man who stops a clock to save time."
Unfortunately, ineffective advertising can be more harmful than not advertising at all. A company can appear unprofessional or offensive without a good design. So whether you are designing for billboards, web, print or one of our products like the Bowflag® Premium, good design is essential to the success of your campaign.
Tips for designing by medium
Outdoor advertising
As a rule, any advertising targeting passing vehicles should be simple. Drivers will only have about 10 seconds to see your message. Keep your message to seven words or less, and make clear what you are selling. Be sure your message is memorable and eye-catching, and keep the design simple.


Web advertising
Make it simple enough to catch the eye. If there are too many things going on in your ad, a user's brain won't be able to process the data, and they will move on. The average attention span of a web user in 2013 was eight seconds. Since you have only seconds to make an impression, make it good. Don't clutter your ad with contact information. Instead, create a clear call to action that links to a page that has the information you want the user to see.


Print advertising
The great thing about print advertising is that you have an engaged reader. You have more time to make an impression than you would have in an outdoor or web ad. Even so, it can become very easy to get lost amongst the pages of your audience's favorite magazine. Clear concise branding, a bold headline, clear layout, and a focus on the benefits or your business or product are essential. Don't forget a call to action if you are not an established brand!




Other advertising
You may notice I have only included static forms of advertising. This is intentional. I could write an entire blog post just on television or radio by themselves. A good thing to keep in mind with these mediums is many of the same rules apply across all forms of advertising. Keep your branding clear. Keep your message simple. Include a call to action. Understand your audience.


Finally for good measure, and because we are a custom print company, here is a great example of an effective flag design: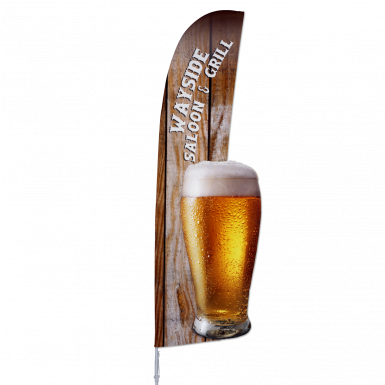 Quick Summary:
Claim your local listings
Join your local Chamber of Commerce
Add Google Analytics to your website

Thirty trillion web pages. That's how many pages Google has indexed. I can't even picture 30 trillion. Can you?
With all these pages indexed, it can be an overwhelming feeling for anyone who wants to get online visibility. You might wonder how you can defeat your competition or stand out above all the online-only retailers that offer the same products you do.
Granted, online visibility isn't an instant process. I used to work at an online marketing agency, and depending on the client's industry, it could take anywhere from a week or so to a year until the perfect visibility was attained. It takes the right budget, the right processes and the right strategy to attain the right presence.
But, you don't have to go out and hire an SEO or marketing consultant if you're just looking to spread the word a bit about your business. There are three easy things you can do to make sure your business is being seen by the right customers.
Claim Your Local Listings
You've probably heard about Google Places for Business, or seen listings like the one below that appear when you search for a local business:

There's also Bing Local:
And a lot more. Local listings are a great way to get your business found, but you need to take the time to make sure the information is there and is correct. Instead of going from website to website trying to figure out whether you're listed or not, I recommend using Moz Local. It will scan all the big listing directories and determine your status, so you don't have to waste time submitting to ones you're already on or submit to directories that may not be high profile.
If you have a listing on any of these sites, take the time and claim it. That way, only you can edit the information and personalize it however you would like. Each website has different claim guidelines, so make sure you follow the claiming rules to the T.
Join Your Local Chamber of Commerce
I know many of our resellers target customers local to their brick and mortar location. If this describes who you're targeting, then take the time to join your local Chamber of Commerce. Most of these organizations have an annual membership fee (Tex Visions belongs to our local chamber, which has an annual fee of $625).
While there is an investment involved, you'll be able to network and meet other local businesses and let them know about your services. Another bonus is that many chambers have a website featuring a membership directory, so you'll be featured in that and be seen by other chamber members.
Add Google Analytics to Your Website
Any good business owner wants to track their investment. If you have a website and you are not tracking its visitors, how do you know your investment is worth it? The easiest way to do so is with Google Analytics. Google Analytics is a free website tracking service which you can use to measure conversions and sales. It's the most widely used tool of its kind, and can give you the data you need to determine whether your online investments are panning out.
Conclusion
While the three suggestions above are only a small amount of the things you can do to enhance your online visibility, they are three of the most important steps you can take to attract a local audience.
What kind of things have you done to enhance your online visibility? Let me know by commenting.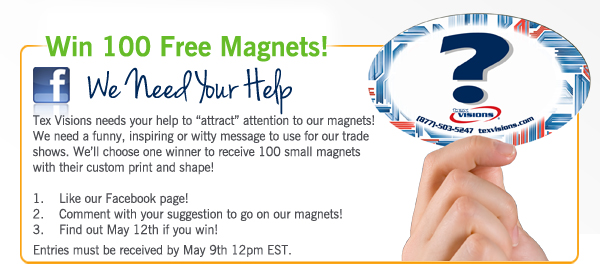 We need your help! Tex Visions recently launched a line of new substrates, and to promote these at trade shows, we need an awesome tagline to put on our magnets.

From today through May 9 at noon EST, we'll be holding a contest on Facebook and the winner will receive 100 free 3" x 5" magnets with custom printing and shape of their choice. All you have to do is to like our Facebook page and comment on this post with a funny, witty, inspiring or otherwise "magnetic" message we can use on our magnets.

We'll announce the winner on May 12 on our Facebook page. Enter today and help us "attract" attention to our magnets!