Welcome to the Tex Visions Blog
A place for our resellers. Talk about what matters most to you. Share your insights. Present us with your challenges. Learn about our team. Connect with us.
Storytelling
When you put together a marketing campaign for a new product or service, you don't want to just give customers a call to action and then expect them to fall over themselves in droves to buy your product. Instead, you need to tell them a story. Your story. Draw them in. Why should they buy your product and not a competitor's?
Storytelling is a crucial part of print marketing. But how can you tell a story without (necessarily) using any words?
Use compelling visuals to convey an aspect of your brand narrative
Use imagery to convey voice, tone or feeling
Take standard tropes and invert them on their head
Use a picture to suggest movement or action
Combine these pictures with good short and long-form written copy – but not the informational copy that most people put on landing pages and product pages. Go with the good stuff – the story that makes your brand special. After all, everyone loves a good story.
Personalized prints
Instead of telling just a general brand story, you can tell a personal customer story, too. Reach the customer on an individual level and use that to build a meaningful relationship.
But how?
Here's the deal:
People love a personal touch. Use techniques like personalized flyers and custom poster printing to give your print marketing an edge. The best way to impress your customers is to be predictive – get some data about your customer's preferences and find a way to include that in the print – it's a surefire way to keep them reading.
Use unique coupon codes
You might be wondering:
"What's the difference between a unique coupon code and a generic one?"
Unique codes are only released in limited quantities (like to people on an email list) and can only be used once at checkout. Generic coupon codes, on the other hand, are codes that anyone can use to receive a discount or other promotional reward from an online retailer.
Unique coupon codes generate much higher ROI than generic coupon codes because they can't be shared with other customers. This lets you use the unique coupon codes you generate to track customer purchasing and spending on a more individual and targeted level: instead of "this many visitors to our site bought X," you can narrow it down to "this many people on our mailing list bought X" – a much-smaller demographic to analyze and make advertisements for.
Sell the seasons
When it comes to setting up your company's sales catalogs throughout the year, consider the seasons. What I mean by this is that when it comes to the summer months, put out a catalog that's full of products that work best in warmer weather. When the months get colder, put out products that work in colder weather or that require no maintenance besides setup – no one wants to trudge around in the snow fixing feather flags.
Use brochures
Brochures are a traditional piece of the print marketing kit, even with the rise of digital versions in the form of PDFs and emails. Designing your product brochures well can turn them into collectible items – not just because of how well they're designed but also because of the wealth of specific product information they contain.
But why should you include brochures in your as part of your marketing arsenal?
Brochures can help capture the attention of potential customers
More effective and pocket-friendly than regular print advertisements in magazines – especially since you don't have to share space with anyone!
A brochure can be used to promote almost any type of good or service that the company offers.
Brochures function as another way to interact with the customer, generating leads for the sales team to follow up on.
What trends do you think are worth following in 2018? Let us know on Facebook or Twitter!
With temperatures rising as we get deeper and deeper into March, it's time to turn our eye to the thought of outdoor displays. While indoor displays are great for things like trade shows, conferences and events, outdoor displays have several advantages of their own.
So what advantages do outdoor displays have over more traditional displays?
1. Expand Your Audience
Instead of just being confined to a trade show floor or convention center hall, outdoor advertising allows you to target a much larger audience – going from just one show to the whole town or city. This way, you can target people of a certain demographic without worrying that you're missing some of them because they're not in whatever space your advertisement or display is.
2. Build Your Brand
Outdoor displays and advertising are a great way to create and maintain brand awareness for your business or brand. Creating some kind of outdoor advertising helps you personalize your brand and further enhances your brand's credibility.
You might be wondering why personalizing a brand is important. Here's the bottom line:
If a potential customer sees a sign on their way to work or during their commute, it'll start to stick with them. If your feather flag (or other advertising banner) is well-designed, so much the better – whoever views it will not only become more aware of your brand, but also begin to associate them with positive things – like a well-crafted advertising experience.
3. Perform Better
One of the biggest advantages that outdoor advertising has over traditional advertising is that it performs better. An outdoor advertising campaign is "always on" – whereas you have to pack up your advertising materials at the end of the trade show. This ability to be always on means that your viewers are much more aware of your campaigns. It also means that they're much more aware of your campaigns when they change, too – so keeping your campaigns constantly evolving is a great way to keep your viewers constantly engaged.
4. Spend Less
Out of all the different marketing options out there, running a series of outdoor displays is probably the cheapest. And I'm not just talking about money, either: once you set up an outdoor advertising campaign, you can safely forget about it until and if you have to change your messages.
But that's not all: outdoor advertising campaigns have a much higher ROI than comparable advertising methods – as shown by a study from the Outdoor Advertising Association of America. In fact, out-of-home advertising generates almost 6 dollars product spending – an 83% return on investment.
5. Engage Your Audience
Not only do outdoor advertising displays allow you to expand your audience, but they also let you engage with your audience. The sheer amount of space that's available for outdoor advertising means that it's that much easier to set something up that your audiences like. Audiences just like outdoor advertising by itself, too: according to APN Outdoor, 71% of people preferred buses with advertising to those without, and 36% of people called advertising "a welcome distraction".
Does your company or its clients use outdoor advertising? Let us know how in the comments!
While a promotional flag from Tex Visions is a great way for your clients to get attention at trade shows and events, not many people know how to take care of them. Knowing how to properly take care of a flag will not only help your clients increase the longevity of their flags, but also help them maximize their return on investment.
What factors affect the lifespan of my flag?
In order to help our customers figure out how they can expand the lifespan of their flags, we've performed a couple flag weather tests with our printed flags. The bluescale (DIN 53387) test helps figure out a general assessment of both the material and the inks used in our flags. Here's what we found out based on our bluescale tests.
| | | | | |
| --- | --- | --- | --- | --- |
| Lightfastness (according to bluescale) | Summer | Winter | Hours of intensive sunlight before fading | Days of average sunlight in PA before fading |
| 1 = satisfactory | N/A | N/A | Up to 20 hours | About 5 days |
| 2 = below average | N/A | N/A | Up to 40 hours | About 10 days |
| 3 = average | 4 - 8 days | 2 - 4 weeks | Up to 80 hours | About 20 days |
| 4 = moderately good | 2 - 3 weeks | 2 - 3 months | Up to 160 hours | About 40 days |
| 5 = good | 3 - 5 weeks | 4 - 5 months | Up to 350 hours | About 80 days |
| 6 = very good | 6 - 8 weeks | 5 - 6 months | Up to 700 hours | About 160 days |
| 7 = excel lent | 3 - 4 months | 7 - 9 months | Up to 1500 hours | About 350 days |
| 8 = superior | over 1.5 years | N/A | Up to 3000 hours | About 700 days |
Aside from lightfastness, there are three other big factors that affect durability when it comes to flags:
1. Material
The material that your flag is made out of has a big impact on how long the flag lasts. Common flag materials include cotton, nylon and polyester, with nylon being the most popular choice for outdoor American flags and polyester being the most popular choice for outdoor flags in general. We strive to give our customers an advantage by using polyester to produce our flags. Unlike nylon, polyester won't fray because the fibers of our polyester flags are knitted together rather than woven.
2. Weather
While many outdoor flags are made for year-round use, that doesn't mean that you shouldn't keep an eye on the weather when it comes time to hoist up your flag. Adverse weather conditions can include heavy rains and strong winds (anything over a 6 on the Beaufort scale). Any kind of adverse weather can increase the weight of the flag and put strain on the flag itself. Make sure to always take your flag down in adverse or inclement weather conditions.
3. Environmental pollution
Air and light pollution are the two biggest environmental pollutants that can affect the lifespan of your flag. Air pollution will make the white areas of your flag to grey out, while UV and light pollution can cause the fabric to fade or otherwise deteriorate.
Because of all the factors involved, it's generally impossible to completely predict the lifespan of a flag. However, we usually tell our customers that their flags will last 6 months plus or minus 50% -- so anywhere from 3 to 9 months, depending on conditions.
To increase the overall durability of their flags, we recommend that our customers wash and repair their flags after 8-12 weeks. Repairs such as trimming, reinforcing and re-hemming should be done on a standard sewing machine using nylon thread to ensure robustness.
Our Sizzlin' Summer Contest runs Aug. 3-31. See below for details.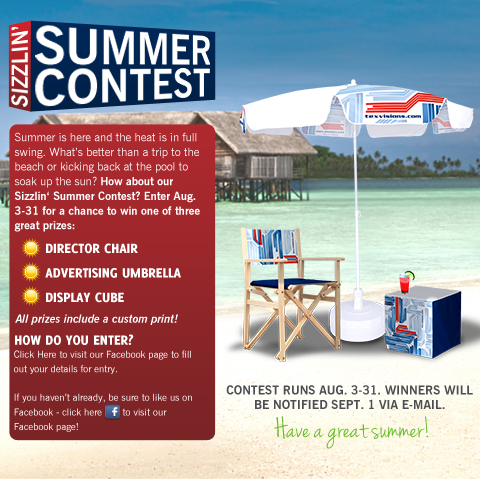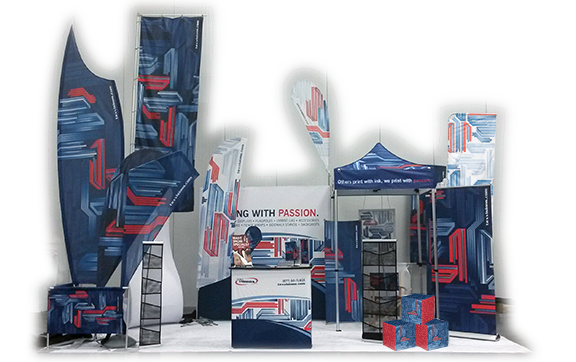 Tex Visions will be starting off the new year with a Jan. 13-15 trip to Las Vegas for the annual Promotional Products Association International (PPAI) Expo. At this show, Tex Visions will not only be celebrating the new year but also showcasing new products, an updated catalog and will have new technology available at the show so visitors can view our web store right from the show.
PPAI has been a staple in Tex Visions tradeshow rounds since 2009, and our customer service/sales representatives are looking forward to another great show. Attending the show this year on our behalf will be super sales team duo Jillian and Cathy. Both are PPAI veterans who are very excited to be sharing the Tex Visions passion for printing with our current and future customers attending PPAI.
What can you expect to find at the Tex Visions booth this year?
New Products
We have a multitude of new products that will be there for you to see and check out, including our new Snake Tension Fabric Display, 5'x5' Advertising Tent and new hardware for our trademark Basic and Plus Bowflag®. You should also be sure to ask about our DUV printing media which include everything from custom shaped Yard Signs to full color, straight to substrate Aluminum Composite Board signs.
Another exciting debut at this show will be an iPad that allows our sales representatives to log into our web store and get pricing while also showing attendees the ordering process and the different options the store allows them to make to save money.
New Catalogs
Also available for the first time this year will be our newly printed 2015 product catalogs! Although most of our new products already can be viewed on our website, the catalog will give you a comprehensive overview of all of your products and available colors, sizes and shapes, giving you the product information you need right at your fingertips.
Specials
While you're checking out all of our unique new products, don't forget to ask about the specials that will be available to all show attendees! Specials include a limited time offer to purchase a Roll Up Economy 31" with custom print or a Bowflag® Basic Medium with single-reverse custom print and Ground Sleeve 24" with Bearing for just 99 USD each for up to 30 days following the close of the show.
The only question left is where can all these exciting new Tex Visions products and information be found? Be sure to stop by our booth on Bayside Level 1, booth 4263 located near the PPAI Decorate showcase section and our sales representatives will be happy to make sure you experience all Tex Visions has to offer at PPAI!