Welcome to the Tex Visions Blog
A place for our resellers. Talk about what matters most to you. Share your insights. Present us with your challenges. Learn about our team. Connect with us.
This week we continue the ongoing series "The Question," where we search our social media posts, web comments, and e-mails for burning questions from resellers and devote precious blogspace to giving you answers.
Q: My client is on a tight budget. How can I make sure their trade show booth is effective and budget-friendly?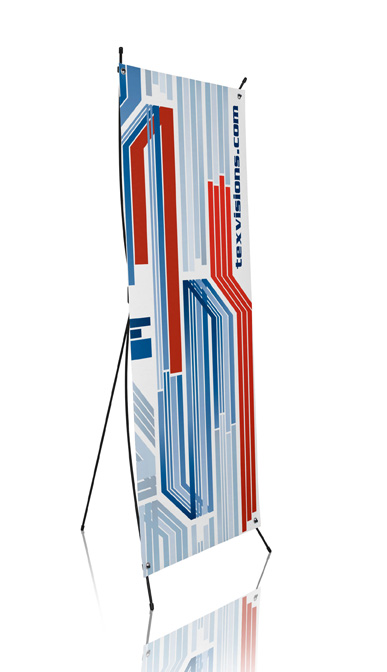 Budget is one of the most important things to consider when building a trade show booth. If your client is on a tight budget, be sure they know they don't have to break the bank to create an effective trade show booth. There are many different ways to make a trade show booth more cost-effective. Here are just a few ideas to get your client started:
Reuse
The easiest way to make a trade show booth cost-effective is to design it for reuse, allowing your client to save money by getting the most use out of it. Additionally, your client can get even more use out of a single display by using products such as the Pop Up Basic or Display Cube that have prints that can easily be removed and changed.
Hardware
Another easy way to make a trade show booth more cost-effective is to use displays that have a lightweight construction. Hardware that is lightweight reduces the energy required to ship it. Because the display is easier to ship, it cuts down on your client's shipping costs.
Economy displays
Finally, investing in budget-friendly versions of popular displays is a great way to create a more budget-friendly trade show booth. Several of our most popular products, including the Roll Up and X-Display, come in economy versions. Versatile displays such as the Bowflag® Basic, which features five flag shapes that use the same hardware and mounts onto a variety of bases, are another perfect way to make your client's trade show booth more cost-effective.
What questions do you have about our displays or about the printing industry in general? Tex Visions is here to bring you the answers.
Classic banner stands are traditional display options that can be found almost anywhere. However, non-traditional display hardware, highlighted by a recent article in Digital Output magazine, is a new emerging trend quickly replacing traditional displays.

Non-traditional displays evolved out of the changing needs of customers. Displays needed to do more than simply catch the eye of an audience; they had to be portable, durable, user-friendly, and customizable. Digital Output argues that non-traditional displays helped banner stands become more versatile, growing from use at only trade shows to use anywhere it might capture an audience's attention such as restaurants and department stores.
We offer a wide range of non-traditional displays to fit any need your client may have. Here are just a few of our most popular non-traditional display options:
Bowflag® Premium
Our Bowflag® Premium models put a twist on our extensive Bowflag® product line. It features four unique shapes, including the Scoop, Shield, Arrow, and Surfer. Instead of depending on the wind for readability, these shapes use it to bring more attention to the eye-catching look. They can show off fabric prints with custom graphics or stock colors if desired. All Bowflag® Premium models have a construction of mainly aviation-grade fiberglass poles, can be assembled without the use of tools, and are highly portable with the included economy bag or optional carrying case.
Q-Frame® Tex
The Q-Frame® Tex is a simple yet versatile custom frame system. It uses aluminum profiles and custom prints finished with keder to create a frameless appearance. Six profiles are available and range in both width and functionality, such as the Q-Frame® Tex50 that uses two prints facing the same direction to create a 3D effect or the Q-Frame® Tex120 that creates a lightbox. The Q-Frame® Tex can be hung from the ceiling or wall, mounted to a wall, or used free-standing with the semicircular, angled, or side base.
Foam Displays
Finally, our Foam Displays are great way to get noticed! Available in a cube and cylinder shape, these displays feature a core of thick, high-compact foam wrapped in a custom printed fabric. They are lightweight enough for stacking yet dense enough for sitting at the same time. These displays are highly portable, user-friendly, and reusable. Your client can use our versatile foam displays anywhere as an advertising wall, advertising column, seating, or simply a stand-alone advertisement.
Do you think homelessness is an issue in your area? According to Carlisle C.A.R.E.S.(Combined Area Resources for Emergency Shelter), a non-profit homeless shelter here in Carlisle, PA, it's a bigger issue in this area than most people realize. Continuing its local community service efforts, Tex Visions employees spent yesterday volunteering at the Carlisle C.A.R.E.S. Resource Center.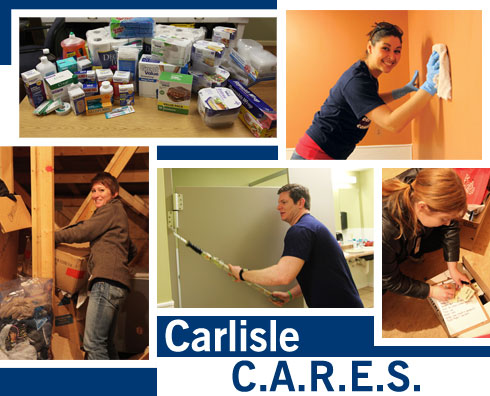 In addition to donating kitchen supplies and first aid supplies for the guests, Tex Visions employees spent the day doing basic maintenance like cleaning and painting as well as sorting through and organizing miscellaneous donations at the Resource Center. Everyone shared the same feelings of graciousness and hope: graciousness that there is a place where the homeless can go to get help and hope for each and every guest to find their way with the programs in place at the shelter. Check out some pictures of us hard at work on our Facebook page.
While The Salvation Army and Safe Harbourare located nearby, they are usually at full capacity. This spurred some local congregations and social service providers into action. In 2004, Carlisle C.A.R.E.S. began operating out of 3-4 churches in the area with 4-6 men per night. The non-profit now has 14 churches open year round with the highest count in one night reaching 54 men, women, and children.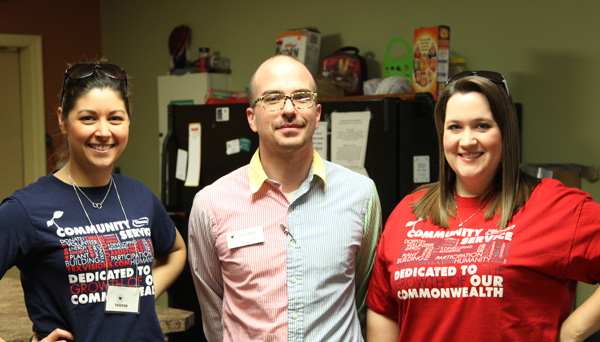 Programs Manager, Clint Green, is new to the Resource Center but is doing everything in his power to enhance the experience. Clint and the staff are working to make the center a place where the homeless have an opportunity to share in the bare essentials most people have every day, while also having the chance to attend classes for education such as self-defense, financial planning, and how to build a résumé. We wish Clint and his staff much success in their continued work to help those in need.
Last week, Project SHARE (Survival Help And Recipient Education), a local non-profit organization that provides food, clothing, and nutritional education to surrounding communities, participated in an annual competition called Canstruction at the Harrisburg Home and Garden Show. For this competition, volunteers created teams to design and construct large structures made entirely of canned goods. All canned goods used to create these structures were then donated to local food banks after the competition.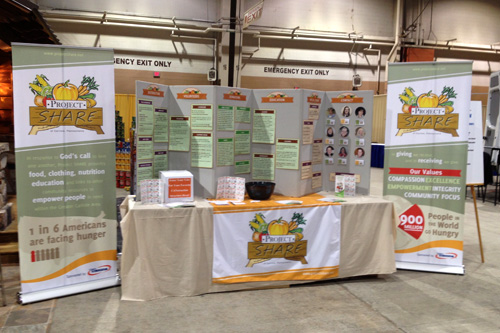 Tex Visions was happy to assist Project SHARE in participating in this event. We donated two Roll Up Plus 31" as well as a table runner and worked with them to create custom designs for each display to help their booth stand out. Thank you to Project SHARE for lettings us be a part of this wonderful event!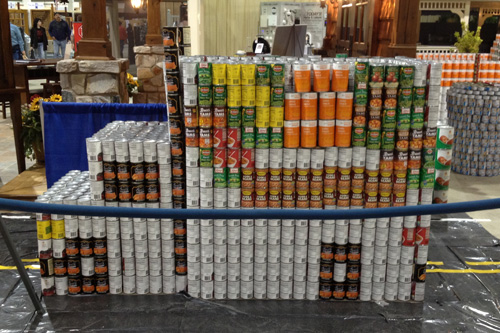 Canstruction, the most unique food charity in the world, was started in 1992 in New York City as a way of uniting the design and construction community in a competition that assisted the underprivileged at the same time. It has since become one of the world's largest contributors to food banks with competitions in 140 cities and over 15 million pounds of donated canned goods. Check out Canstruction's photo gallery to get a taste of what the completed structures look like.
Banners are a classic way to get an audience's attention. With numerous material, finishing, layout, and format options, they are also a highly customizable form of advertising. Because of the various finishing options, however, it is important to consider exactly how and where your client will use their banner. This article from Sign & Digital Graphics presents a good overview of some of the most popular banner finishes. Here are some of the finishing options Tex Visions offers:
Simple Sides For a clean and simple look, your client can choose to have their banner finished with cut or hemmed sides. Other finishing options such as grommets may be added to this if desired, but they aren't necessary for display.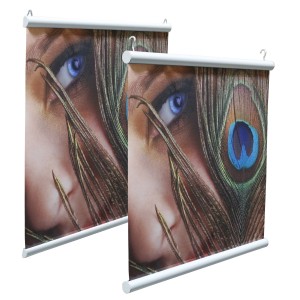 Pole Sleeve Your client's banner can also be finished with pole sleeves, which are used to accommodate hanging components like a wooden dowel and polyester cord. This option is ideal for a hanging banner that can be moved or taken down quickly and easily with no tools required. Pole sleeves can be made to any desired size, depending on the hanging component chosen. The size of the sleeve is measured by the size it is when laid flat. Pole sleeves are usually hemmed, whether fabric or vinyl material is used. Vinyl can also be welded upon request.
Grommets Grommets are one of the most common finishing options for banners. They are versatile and provide your client with a wide range of mounting options. We offer grommets in brass and nickel. They come in one standard size and can be used with plastic disc reinforcements, depending on the fabric's structure.
Aluminum Profiles For a more attractive look, choose one of our aluminum profiles. We offer a snap profile constructed of an aluminum spring loaded snap closure at the top and bottom of the print. Our keder profile is constructed of an aluminum frame that attaches to the print using the keder sewn into the print's pole sleeves. The snap profile features a banner with cut sides so it lays flat and secures well in the profile. It can be hung with suctions cups or any other wall hanging component. The keder profile comes in three different diameters and uses hooks for hanging.
Outdoor Finishes Is your client using their banner outdoors? We offer finishing options specifically for outdoor settings. Your client can have the sides of their fabric banner backed with header tape for extra strength and use multiple grommets, D-rings, snap hooks, loops, or polyester cord for mounting. Although vinyl banners can be used outdoors, we recommend fabric because it allows wind to pass through, will not crack, and doesn't need to be double-sided to see an image on both sides.
For more finishing options, check out our catalog or consult one of our sales representatives. What do you think is the most popular banner finish? Are there any we missed? We want to hear what you think.