Welcome to the Tex Visions Blog
A place for our resellers. Talk about what matters most to you. Share your insights. Present us with your challenges. Learn about our team. Connect with us.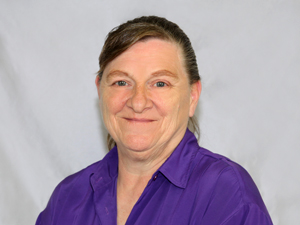 In our ongoing series, "Meet the Team," we profile the people who drive the success of Tex Visions.
Today, we meet Linda J. Wilson, who works in the production department as a cutter. Linda has been with the company for over five years. Her responsibilities include cutting flags and banners to the appropriate sizes and specifications needed to prepare the products for sewing.
What's your favorite Tex Visions product?
I like the umbrellas and I enjoy cutting Single-Reverse Bowflags®.
What do you like to do when you're not at work?
I like to walk and play poker, Yahtzee and 500 Rummy with my mom and sisters. I also enjoy listening to music, cooking, sewing and watching TV.
Are you a coffee or tea person?
Coffee. Cream and a lot of sugar.
Would you rather cook or go to a restaurant?
Cook. Then, it's done to my taste.
Do you have or want a pet?
I have three outside cats, and would like to have a small dog.
SUV or convertible?
If I drove, I'd want an SUV.
Mountains or beach?
I grew up in Blain, Pa., very close to the mountains. I've been to the beach a lot. I can't pick one over the other.
What's the last book/movie that you read/watched?
I watched "Stonados," a SyFy movie.
Check back soon to meet the rest of the Tex Visions team. Feel free to send us your questions via Facebook or Twitter, so we can incorporate them into the next interview.
To say 2013 has been a big year for Tex Visions would be an understatement. The launch of our reseller webstore and the new products we've introduced would be enough to make the past year a momentous one for our company. However, we had to add one more item to the list.
Oct. 30 was the day we hosted the ribbon cutting and open house for our new 60,000-square-foot manufacturing facility, located in Middlesex Twp., Cumberland County, Pa., not far from our original location.
Joining us in celebrating our growth and continued success were several prominent local politicians. After the ribbon cutting and speeches, we gave guests a tour of our new facility, and showed how we went from two employees, one office suite and no resellers to our current location and product line. Here are some pictures from the Oct. 30 ribbon cutting and open house: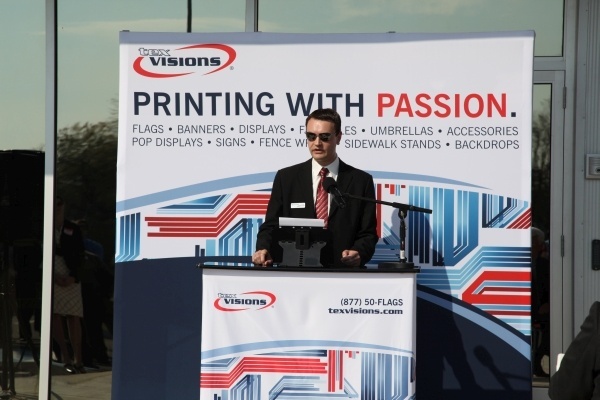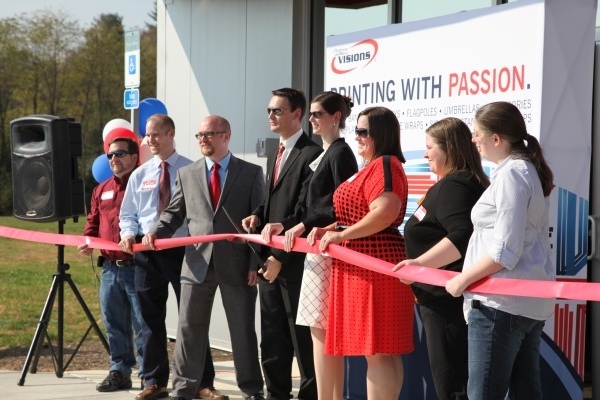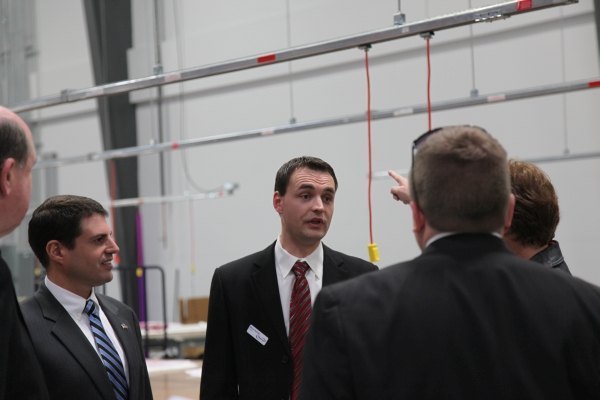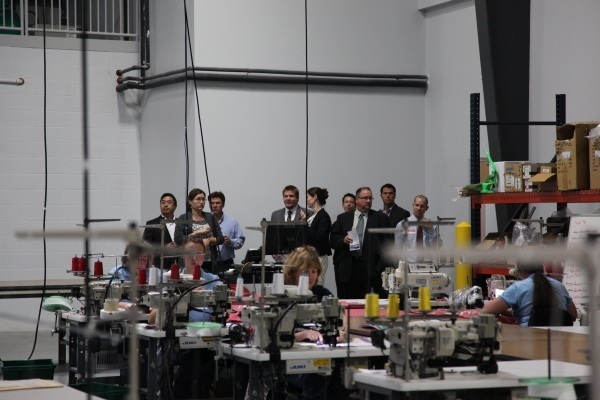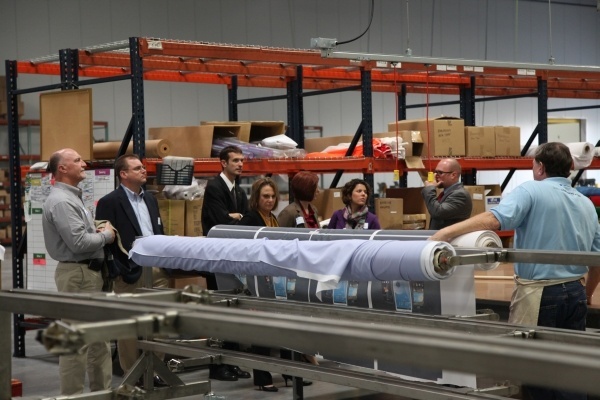 The event was featured on several different websites. You can read the following for more information:
· Tex Visions in Carlisle to celebrate grand opening on Wednesday – PennLive.com
· Secretary Walker Joins Tex Visions LLC to Cut Ribbon on New Manufacturing Facility – Pa. Department of Community & Economic Development
· Tex Visions Graduates From TechCelerator@Carlisle and Moves Into New Facility – Harrisburg Regional Chamber & CREDC
· October 2013 Newsletter – Pa. Department of Community & Economic Development
· New facility, new products and more jobs at Carlisle's fast-growing Tex Visions – Keystone Edge
We'll continue to grow, expand our product line and be the best at what we do. Follow along with our successes by liking us on Facebook, following us on Twitter or following our LinkedIn page.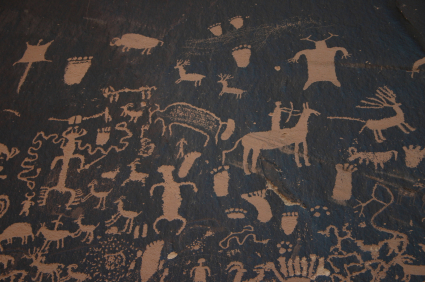 Throughout history, advertising signs have been used for many reasons including religious symbolism, product advertisement, or to record the triumphs or defeats of a civilization. With the invention of electricity, the evolution of signs accelerated and began to resemble some of the types that business owners and consumers are familiar with today. Recently, the oldest signs in the world were discovered in Nevada. Actually, discovered is not technically true because geologist have known about these petroglyphs for some time, but were not allowed to perform the tests necessary to date them. Recently, paleoclimatologist Larry Benson dated these ancient signs at more than 10,000 years old and possibly as old as 15,000 years.
The petroglyphs were carved into tufa, a type of limestone, by the first inhabitants of North America. The designs consisted of geometric patterns, concentric circles, and other shapes that resembled trees. As a reseller of wholesale flags, I wonder about the evolution of signs and advertising. How had the use of signs progressed over the last 15,000 years? In a primitive way, these petroglyphs created an advertisement that broadcast the hostile conditions in an area, the location of food and other resources, or recent events in a community's history. I realized, the materials used to create advertising signs might have changed, but the basic purpose remains the same. Signs have been used since their inception to inform potential users about available services, benefits of products, or to provide directions.
Where did the Word Sign Originate?
The word "sign" originates from the French word, enseigne, and is an interpretation of the English word flag. In ancient Rome, signboards made from stone or terracotta were used to demark military regiments, religious symbols, or vendors of food and wares. These signs were heavy and generally plain, but effective in broadcasting their message. The first bill, or law, concerning advertising signs was enacted in 1389 by King Richard II of England. The King of England decided that it was of such vital importance that tavern owners erect signs outside of their establishments that he devised an unusual penalty for non-compliance. If the tavern owners did not comply by displaying the signs as ordered they were required to forfeit their ale. That brings to mind another question: Who got to keep the forfeited ale?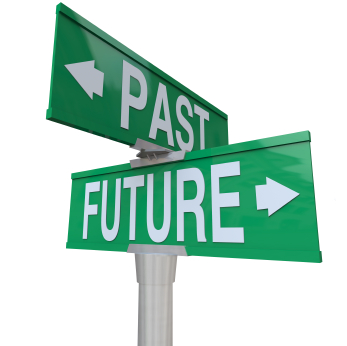 Early tavern signs were ornate, elaborate, and their object was to inform the public of the type and quality offered at the establishment. Notifying the public in this manner was a necessity because the available drinking water was very poor and contained contaminants which necessitated that ale be used as a substitute. The first recorded legislation regulating the placement and size of advertising signs was in France. In 1761, France passed laws that regulated the size of a sign and distance it could extend above the street. England soon followed and passed similar laws, spanning 1762-1773, that gradually compelled sign boards to either be removed or fixed flat against the wall. This law affected a change that we still see today because as the use of signs by businesses was regulated they began to use numbers and street names to inform the public of their location.
Advertising Signs in the Middle Ages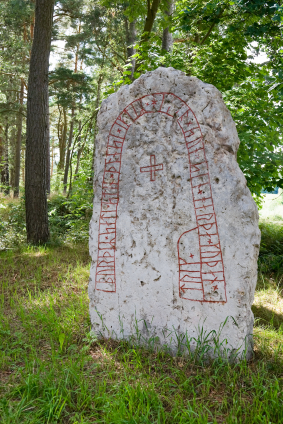 The visual impact of graphics on advertising signs was evident in the Middle Ages. Since most of the population was illiterate, graphics were used to convey the message of the business owner. These signs are an early example of visual business branding and were prevalent on Taverns, Inns, and establishments offering nefarious services. The Middle Ages was not the first time businesses had used advertising signs. An example of this type of visual signage was discovered in the ash covered ruins of Pompeii where merchants, such as bakers, used signs with visual clues to advertise the services they offered; however, the Middle Ages saw much advancement in sign creation and began to use bright colors and ornamental iron to promote their product or services. Advertising signs were so important that business owners had competitions to see who could create the most elaborate signs. This tradition continues today with sign competitions presented by the International Sign Association.
Advertising Signs in the Modern Era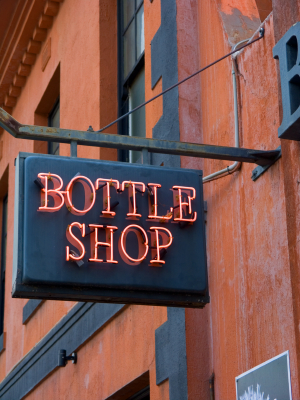 The development of signs continued throughout the Middle Ages until the era of modern signage. This advancement was facilitated by the circulation of newspapers, flyers and catalogs which provided advertisements for sales and products delivered directly to the consumer. Developments in sign manufacture and design mirrored the types of advancements that were making their way into households, and the introduction of electrical and gas lighting further expanded the types of signs available. These developments not only expanded the types of signs that were available to business owners, but also greatly increased the number of places that signs could be installed and used to promote a business. A frantic pace was reached by the end of World War II because the technology used to mass produce items for the war effort could also be used to mass produce other items, like advertising signs, for a public emerging from the Great Depression and eager to spend their new found wealth. In the modern sign era, advancements in material production, and the introduction of plastics, brought about by World War II, enabled the mass production of signs. This made signs affordable to more businesses and their use spread throughout the country.
Advertising Sign Innovations and the Motion Picture Industry
The motion picture industry was a key component in the use and development of advertising signs. The American Sign Museum has an article about the history of signs and how they had changed over the last 100 years. That only leaves about 14,900 years of unexamined sign history, but we only have so much room in this blog post. In the early 1900's, the introduction of the "nickelodeon" propelled this form of advertising and these techniques have been incorporated into the modern signage era.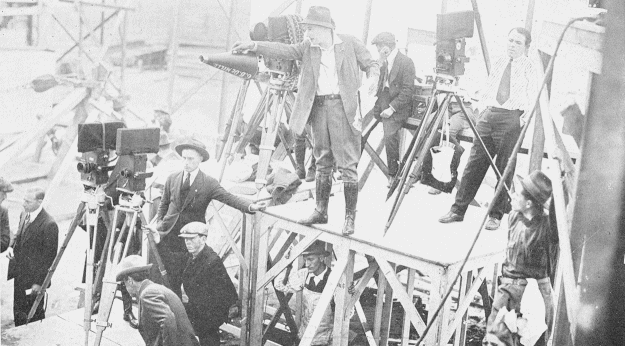 Additionally, product merchandising made theatres a logical place for point-of-sale advertising that promoted other products in addition to the movie being shown. These early lithograph types of signs were followed by stock signs made by companies like the Federal Electric Co. Stock signs used script channel bulb letters combined with a transparency, but were cumbersome and expensive. In 1916, the era of interchangeable sign lettering arrived followed shortly by changeable bulb letters used by such theatres like the Astor, New York for the Ziegfeld Follies. By 1919, flat glass had begun to replace the molded glass used in the Paramount Theatre sign in New York.
In the 1970's, the first research studies examining signs and their influence on consumer behavior were conducted. This research is still being conducted by organizations like the Outdoor Sign Association of America. Recently, the importance of directional signage has been incorporated into building contracts and many require a plan for signage and the flow of traffic throughout the building before construction can begin. The subsequent advances in sign technology occurred in quick succession and by the 1940's, injection molded plastic letters were being used in places like the Miracle Mile in Toledo, Ohio. The introduction of drive- in theatres brought further advancements in sign technology as America got into their cars and went to the movies.
Advertising Signs Today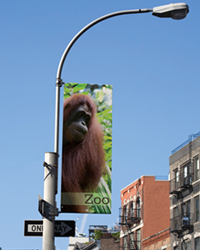 Today, advertising signs and flags can be seen at just about every business, attraction, or venue. The next evolution in sign technology could be holograms or expanding the technology currently used on European trains that plays an advertising message when a passenger rests their head against the window. Sky Deutschland is proposing using bone conduction to make ads appear like they are coming from inside passenger's heads when they lean their heads against train windows. No matter the direction technology takes us, we are in a dynamic industry vital to commerce that will continue to evolve and change as new technologies and materials become available. Nevertheless, one rule remains constant advertising flags, banners, and signs are an incredible tool for your client to market their product or service.
Digital Fabric Printing has Arrived, and is Here to Stay!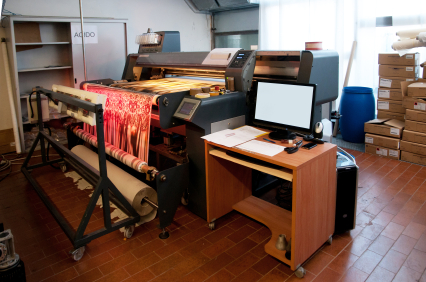 The buzz in the advertising sign industry has been that digital fabric printing is the next big thing, but the high cost of materials, and the technology necessary to create the products, has not produced the availability, or demand, sign shop owners had expected. Finally, new technology and lower operating costs have made this statement a reality. Recent studies prove that digital fabric printing is taking the sign industry by storm and providing new outlets for the utility and creative options of textile printing. The additional brand imaging opportunities fabric printing provides enables your clients to tap into their creativity and stand out from competitors to increase brand awareness. By increasing brand awareness, they will reach more potential customers for their product or service, and more customers equals more sales.
A recent study by Infotrends examined the increase in fabric printing demand while focusing on the textile supply chain. This study predicts a 31% growth rate for the digital textile market, and a global textile printing market value exceeding 1 Trillion dollars. The demand for digitally printed textiles has begun to coincide with the availability of high-speed digital printing systems that are fitted with open ink jet configurations. Additionally, the availability of moderately priced digital printers, with open inkjet systems, has reduced the cost and allowed more sign companies to enter the market. The exponential growth of the market makes this a perfect time for sign shops to expand their business and offer digital fabric banner and/or textile printing.
Projected Growth of Digital Fabric Printing Industry
An article in Fabric Graphics, Learning the Basics of Printing on Fabric, illustrates how one company is using fabric to replace more traditional methods of sign printing. The switch has increased customer satisfaction, reduced production times, and decreased costs which are goals every business strives to achieve. Capitol Awning of Jamaica, New York recently produced an awning for the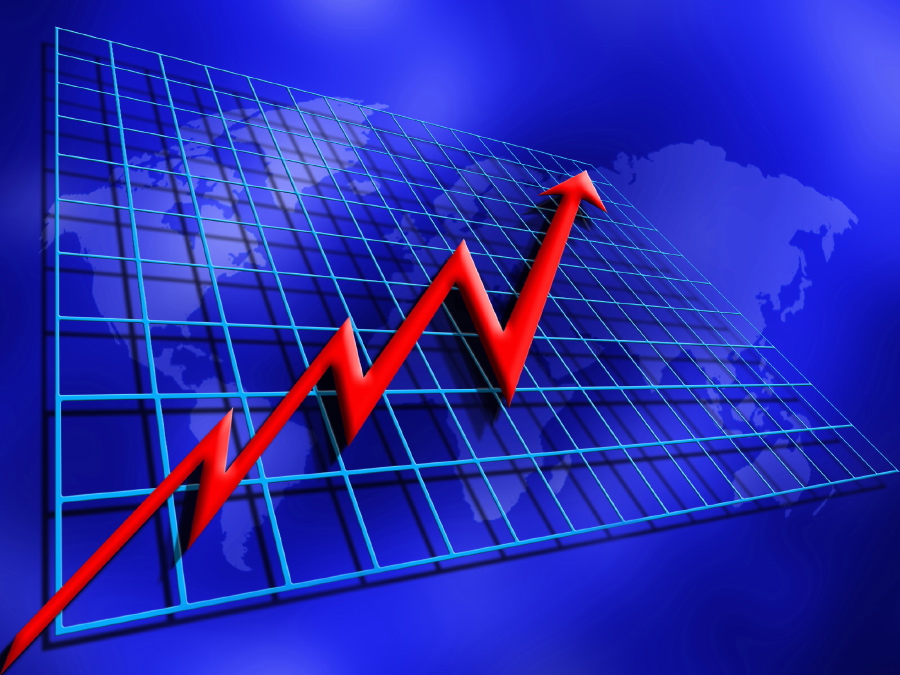 Brooklyn Plantology garden center in New York and was able to print 200 feet of custom color awning in two days. Mike Catalano, President of Capitol Awning explains "Years ago, we would have painted the job, and it would have taken close to three weeks to complete it. Instead, we printed 200 feet of awning in two days using all custom colors."
The same article projects the average growth rate for all sign substrate materials at 8%, but the growth rate for digital fabric printing is estimated to be much higher. Not only are these jobs more efficient, it also increases the number and types of businesses sign shops attract. Instead of a plain vinyl sign with printed letters, a wide variety of textiles and colors can be combined to create the unique brand image your client is searching for when marketing their product or service. Originality extends beyond fabric type and color combinations into intended uses of the advertising product because fabric textiles can be used to cover large areas, such as ceilings, and have sound absorption qualities that other materials do not have. This increases the functionality of the banner by allowing it to integrate into a business advertising space and become more than a banner advertising a sale, opening, or promotion. This aesthetic and practical appeal adds to the return on investment (ROI) your client realizes from their advertising budget.
A similar article in Fabric Graphics, Creative Commercial Interiors: Take Large-Format Printing Inside, details how digitally printed fabric graphics are expanding the possibilities and providing a new medium for customers to accentuate their business spaces with graphics, slogans, and corporate messages. Jill Ayers, Creative Director at design firm Design360 Inc., stated in the article "Now, custom curtains, wall coverings and banners can be designed for clients with specific needs. It also allows for one-off solutions rather than purchasing large quantities to achieve a look." Mike Richardson, Director of Sales/Marketing-Print Media for Aurora Specialty Textiles Group adds "Depending on the décor and the atmosphere one wants to achieve, printed fabrics can be warm and inviting. The graphic can be customized to the target audience."
Fabric Architecture Magazine's, A Chic Shading System, features fabric banners installed at a high end mall to provide shade. The banners used in this example do not have printing, but this concept could easily be expanded to include branded messaging digitally printed on the banner. This example, and the previous statements from industry professionals, indicates the trend in sign and banner manufacturing is moving towards digital fabric printing and mirrors an overall consumer preference for fabric over synthetic materials.
Why Do Your Clients Prefer Fabric Banners to Synthetic Materials?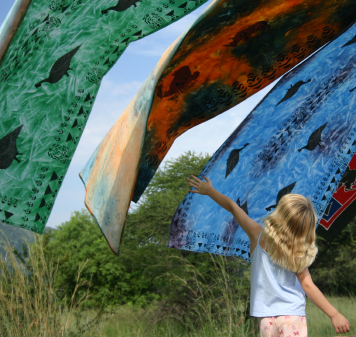 Humans began using woodblock printing as a way to print patterns onto fabric in China before the year 220, and since that time have been socialized to associate fabric with warmth and comfort. This association provides a positive mental impression for your client's potential customers when they view an advertising banner made of a soft and pliant textile. Wondering if your clients would prefer fabric banner printing? Read, Why Your Clients Prefer Fabric Graphics, on Tex Visions' company blog. Tex Visions' new high tech production facility makes entering the fabric banner market easier than ever before for wholesale flag and banner resellers and individual sign shop owners.
How Does a Sign Shop Enter the Fabric Banner Printing Market?
Breaking into the fabric banner printing industry can seem daunting for an individually owned sign shop, but Tex Visions provides our wholesale flag resellers with the tools and expertise needed to sell professional fabric banners at minimal cost. As a member of Tex visions wholesale flag reseller program, you will have access to our superb customer service representatives and professional graphics design team. Essentially, you pitch the product and we provide a fabric banner with crisp clear graphics that exceeds your client's expectations. Also, we can provide neutral product specifications and artwork templates that you can give your client. For some suggestions on how to break into the fabric banner printing market, see Tex Visions blog post Hot Trends in Fabric Advertising: Special Events Industry Presents New Opportunities.
Not convinced that fabric printing is right for your clients? Check out these innovative and unique ways Tex Visions uses fabric printing to create the ideal advertising product for any promotion or special event: Display Cylinder, Indoor Fabric Banners, Tablecloths, and Display Cube. Visit our webstore and sign up for a wholesale sign reseller account today and open up the creative possibilities of large format digital fabric printing to your clients.
Get social with Tex Visions for the latest specials, trends, and news surrounding the sign industry. Add us on Google+, like us on Facebook, and follow us on Twitter.

Creativity and Preparation = High Return on Advertising Investment
Advertising a business or product is a large, but necessary, investment for your clients. In order for your clients to stay in business, they need to realize a certain ROI. That is, they need to generate a certain amount of sales, new customers or some other intangible benefit from the dollars they spend on advertising, marketing or promoting products. An article in Exhibitor Magazine illustrates how a company used other media outlets to create buzz around their product promotion. PGA golfer Briny Baird was hired by P.F. Chang's to promote their products, specifically their Asian Chicken Wraps. The company took a chance and stepped outside of the traditional ways they had used promotional appearances. Instead of the usual public appearances with a meet and greet type of promotion, they decided to hold an event. The gist of the promotion was that P.F. Chang's used one of its promotional appearances with Briny to take a risk and stage an event that would generate a high ROI by having him hit golf balls from the top of the Omni Hotel in San Diego onto a target laid out onto PETCO Park. The distance between the hotel and target was approximately 250 yards. The rings of the target each represented a different monetary value to be subsequently donated to Chang's Chipping for Charity. In short, the promotion was a huge success and added approximately 300,000 new members to P.F. Chang's loyalty program. These new customers took the coupon offered at sign up and generated 1.5 million dollars in sales.
Click to read the entire article, P.F. Chang's On-Par Event.
Be Prepared with a Follow Up Marketing Strategy
The above numbers are outstanding and the campaign not only raised money for a worthy charity but also far exceeded the customers return on investment (ROI) expectations; however, it is what P.F. Chang's did next that sets their strategy apart. Briny, using his 9 iron from atop the Omni Hotel, ended up getting coverage on ESPN plus all of the major networks and the YouTube videos popped up almost as soon as the event was finished. After the initial excitement and popularity of the event subsided, Briny hit a hole in one at a Canadian Golf Tournament. The company used this new interest in their previous event to generate more sales from the original ROI. They were ready with a follow up offer to entice current and potential customers to buy their product.
When interviewed Briny mentioned P.F. Chang's and the company once again offered coupons for signing up to their loyalty program, generating another 250,000 dollars in revenue. The total cost for the campaign was 112,000 dollars and the total return on this advertisement investment was over 1.5 million dollars.
Not all companies have the resources to hire a PGA Golfer for a charity event, but we can all learn a lesson from P.F Chang's advertising campaign. First, put some thought and creativity into your promotion and check to see if there are some other avenues, like a charity, you could explore that would give you further opportunities to promote your product or market your services. Second, have a plan to keep your new customers engaged by offering follow up offers or promotional items. Peaking potential customer's interest in your product is only the beginning of your sales funnel.