Welcome to the Tex Visions Blog
A place for our resellers. Talk about what matters most to you. Share your insights. Present us with your challenges. Learn about our team. Connect with us.

Creativity and Preparation = High Return on Advertising Investment
Advertising a business or product is a large, but necessary, investment for your clients. In order for your clients to stay in business, they need to realize a certain ROI. That is, they need to generate a certain amount of sales, new customers or some other intangible benefit from the dollars they spend on advertising, marketing or promoting products. An article in Exhibitor Magazine illustrates how a company used other media outlets to create buzz around their product promotion. PGA golfer Briny Baird was hired by P.F. Chang's to promote their products, specifically their Asian Chicken Wraps. The company took a chance and stepped outside of the traditional ways they had used promotional appearances. Instead of the usual public appearances with a meet and greet type of promotion, they decided to hold an event. The gist of the promotion was that P.F. Chang's used one of its promotional appearances with Briny to take a risk and stage an event that would generate a high ROI by having him hit golf balls from the top of the Omni Hotel in San Diego onto a target laid out onto PETCO Park. The distance between the hotel and target was approximately 250 yards. The rings of the target each represented a different monetary value to be subsequently donated to Chang's Chipping for Charity. In short, the promotion was a huge success and added approximately 300,000 new members to P.F. Chang's loyalty program. These new customers took the coupon offered at sign up and generated 1.5 million dollars in sales.
Click to read the entire article, P.F. Chang's On-Par Event.
Be Prepared with a Follow Up Marketing Strategy
The above numbers are outstanding and the campaign not only raised money for a worthy charity but also far exceeded the customers return on investment (ROI) expectations; however, it is what P.F. Chang's did next that sets their strategy apart. Briny, using his 9 iron from atop the Omni Hotel, ended up getting coverage on ESPN plus all of the major networks and the YouTube videos popped up almost as soon as the event was finished. After the initial excitement and popularity of the event subsided, Briny hit a hole in one at a Canadian Golf Tournament. The company used this new interest in their previous event to generate more sales from the original ROI. They were ready with a follow up offer to entice current and potential customers to buy their product.
When interviewed Briny mentioned P.F. Chang's and the company once again offered coupons for signing up to their loyalty program, generating another 250,000 dollars in revenue. The total cost for the campaign was 112,000 dollars and the total return on this advertisement investment was over 1.5 million dollars.
Not all companies have the resources to hire a PGA Golfer for a charity event, but we can all learn a lesson from P.F Chang's advertising campaign. First, put some thought and creativity into your promotion and check to see if there are some other avenues, like a charity, you could explore that would give you further opportunities to promote your product or market your services. Second, have a plan to keep your new customers engaged by offering follow up offers or promotional items. Peaking potential customer's interest in your product is only the beginning of your sales funnel.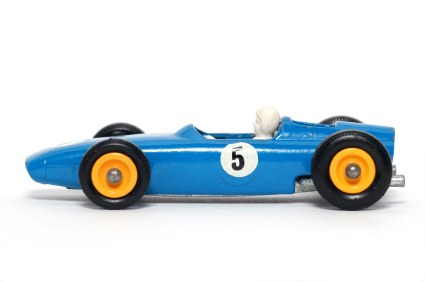 Is your client having a hard time thinking up creative ways to promote their products or advertise their services? Two recent articles highlight innovative strategies companies are using to put a modern spin on traditional product sampling. At the Canadian International Car Show, Chevrolet Canada's exhibit coincided with the limited release of a new blue 2013 Camaro. At the exhibit, Chevrolet Canada integrated their display with a vending machine that dispensed exclusive Hot Wheels blue Chevrolet Camaro 2013 die cast cars. This is significant for Hot Wheels aficionados because a blue 1968 Camaro was one of the first die cast metal cars produced by Hot Wheels. What is so innovative about a vending machine? The promotional innovation is that this vending machine was retrofitted with special software that allowed a user to stand near the vending machine and tweet something they liked about the car from their Twitter account to their followers. The software uses geo-location services to confirm the location of the tweet and if it came within a pre-determined distance from the exhibit, the vending machine dispensed a Hot Wheel.
The full text of the article, Mattel Trending Machine, can be read online at Event Marketer.
Recently, Pepsi sponsored another high tech vending machine that dispensed Pepsi products. The catch was that the vending machine did not accept cash but only accepted tender in Facebook "likes". Pepsi first used the product at a Beyoncé concert in Antwerp Belgium where concert goers, in proximity to the vending machine, sign onto Facebook with their smartphone and "like" the brand. Next, out pops the Pepsi beverage of their choice. Similar to the Hot Wheels vending machine, the Pepsi machine allows users with smart phones to log onto their Facebook accounts and "like" Pepsi then select their favorite product; however, if they do not have a smartphone, the user can also log onto Facebook directly from the vending machine. It is the proximity to the display that determines when and if a product is dispensed.
Depending on the cost of retrofitting vending machines with the new technology, this could provide a high ROI for a company. The company gets prompt and direct feedback from their customers. In addition, the company receives a "like" from them for their product. These social signals, as well as others like Google + 1's, provide a signal to search engines that can influence search rankings. The only cost to the company is the cost of its product which could be cheaper than trying to get the same like from a Facebook advertisement or some other promotional campaign.
The full article, The Pepsi Like Machine, can be read at Event Design Magazine online.
In both of these cases, the marketing team in charge of promoting the client's service or product thought outside the box and came up with new ways to use advertising products that increased their client's Return on Investment (ROI) from money spent on advertising. If your client is looking for an innovative addition for a current promotion, or an item for a new marketing campaign, we have the right marketing tools. Check out the following innovative advertising products you can recommend for promoting your client's products or services. Display Cube, Display Cylinder, Advertising Chair, Advertising Umbrellas, Backpack Advertising and Pop Out Walking Board.
At Tex Visions, we are committed to providing outstanding customer service to our wholesale flag and banner resellers, and strive to ensure every order is made to your client's exact specifications. If your order is not up to your client's expectations we will do our best to make it right because we are invested in the success of your sign business!
Your opinions matter to us, and your feedback is encouraged. While we hope every customer has a positive experience problems might occur, and your feedback will help us to continue to improve. Please send feedback, positive and negative, to Tex Visions. Get social with Tex Visions and stay up-to-date on all the current sign industry trends and news. Follow us on Facebook, Twitter, LinkedIn, or join our circle on Google+.
We are excited to announce the creation and launch of our new webstore venture featuring the highest quality advertising flags and banners available in the industry. Tex Visions is entering a new phase of our growth and in a continuing effort to provide the best customer service available, we have developed a new webstore. Our new webstore is the next step in our evolution from a two person operation in 2004 into a fully integrated printing and manufacturing company serving wholesale flag resellers. In 2004, Tex Visions started with two employees in a one room office suite, and since that time, has seen exponential growth. Over the past nine years, thanks to a loyal customer base and outstanding employees, we have grown into one of the largest wholesale flag reseller manufacturers of advertising flags and banners in the United States.

This webstore enables our customers to create user accounts, order custom advertising flags, banners and display hardware, plus gain access to a variety of other services designed to better serve our growing number of wholesale flag resellers. By creating an account, flag resellers will be able to view bills, configure a product, obtain accurate prices (and watch these update instantly), get guaranteed delivery times, obtain essential product information, upload artwork, and access templates and technical specifications.
Wholesale Flag Resellers of Tex Visions advertising flags and banners have always received excellent customer service, neutral catalogs and other marketing tools, access to a large inventory of display hardware, and no reseller fees. Now, with the new webstore, resellers will also be entitled to the following benefits:
Webstore Benefits
1.24/7 fast ordering process with the ability to see delivery dates in real time
2.Order status that is updated online as your project moves through the production process
3.Once your order has shipped carrier tracking is available
4.Shipping to multiple addresses is possible
5.Order history is recorded in your account
6.Methods of payment can be saved and reused
7.Sub users can be designated to place orders and use methods of payment under the main account.
Follow Us on Social Media
Follow us on Google+, Twitter, Facebook, or LinkedIn, to receive up-to-date information regarding new features of our webstore, product updates, and hot topics currently trending in the sign industry.
Check back frequently as we discuss the new webstore and the benefits it provides to our resellers.
We look forward to your feedback as we strive to surpass customer expectations in service and quality. If you have any questions, suggestions, or comments, please contact us.
This week we continue the ongoing series "The Question," where we search our social media posts, web comments, and e-mails for burning questions from resellers and devote precious blogspace to giving you answers.
Q: My client is on a tight budget. How can I make sure their trade show booth is effective and budget-friendly?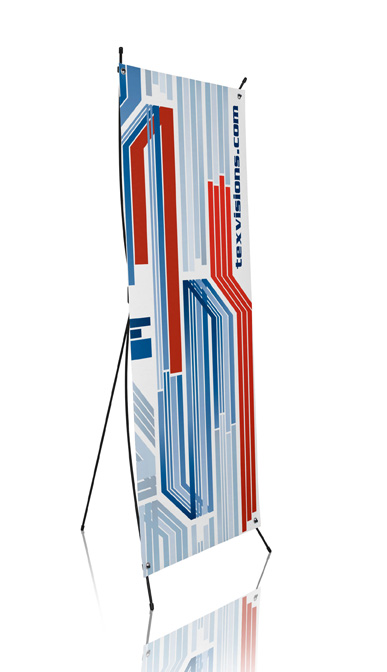 Budget is one of the most important things to consider when building a trade show booth. If your client is on a tight budget, be sure they know they don't have to break the bank to create an effective trade show booth. There are many different ways to make a trade show booth more cost-effective. Here are just a few ideas to get your client started:
Reuse
The easiest way to make a trade show booth cost-effective is to design it for reuse, allowing your client to save money by getting the most use out of it. Additionally, your client can get even more use out of a single display by using products such as the Pop Up Basic or Display Cube that have prints that can easily be removed and changed.
Hardware
Another easy way to make a trade show booth more cost-effective is to use displays that have a lightweight construction. Hardware that is lightweight reduces the energy required to ship it. Because the display is easier to ship, it cuts down on your client's shipping costs.
Economy displays
Finally, investing in budget-friendly versions of popular displays is a great way to create a more budget-friendly trade show booth. Several of our most popular products, including the Roll Up and X-Display, come in economy versions. Versatile displays such as the Bowflag® Basic, which features five flag shapes that use the same hardware and mounts onto a variety of bases, are another perfect way to make your client's trade show booth more cost-effective.
What questions do you have about our displays or about the printing industry in general? Tex Visions is here to bring you the answers.
Classic banner stands are traditional display options that can be found almost anywhere. However, non-traditional display hardware, highlighted by a recent article in Digital Output magazine, is a new emerging trend quickly replacing traditional displays.

Non-traditional displays evolved out of the changing needs of customers. Displays needed to do more than simply catch the eye of an audience; they had to be portable, durable, user-friendly, and customizable. Digital Output argues that non-traditional displays helped banner stands become more versatile, growing from use at only trade shows to use anywhere it might capture an audience's attention such as restaurants and department stores.
We offer a wide range of non-traditional displays to fit any need your client may have. Here are just a few of our most popular non-traditional display options:
Bowflag® Premium
Our Bowflag® Premium models put a twist on our extensive Bowflag® product line. It features four unique shapes, including the Scoop, Shield, Arrow, and Surfer. Instead of depending on the wind for readability, these shapes use it to bring more attention to the eye-catching look. They can show off fabric prints with custom graphics or stock colors if desired. All Bowflag® Premium models have a construction of mainly aviation-grade fiberglass poles, can be assembled without the use of tools, and are highly portable with the included economy bag or optional carrying case.
Q-Frame® Tex
The Q-Frame® Tex is a simple yet versatile custom frame system. It uses aluminum profiles and custom prints finished with keder to create a frameless appearance. Six profiles are available and range in both width and functionality, such as the Q-Frame® Tex50 that uses two prints facing the same direction to create a 3D effect or the Q-Frame® Tex120 that creates a lightbox. The Q-Frame® Tex can be hung from the ceiling or wall, mounted to a wall, or used free-standing with the semicircular, angled, or side base.
Foam Displays
Finally, our Foam Displays are great way to get noticed! Available in a cube and cylinder shape, these displays feature a core of thick, high-compact foam wrapped in a custom printed fabric. They are lightweight enough for stacking yet dense enough for sitting at the same time. These displays are highly portable, user-friendly, and reusable. Your client can use our versatile foam displays anywhere as an advertising wall, advertising column, seating, or simply a stand-alone advertisement.