Welcome to the Tex Visions Blog
A place for our resellers. Talk about what matters most to you. Share your insights. Present us with your challenges. Learn about our team. Connect with us.
Banner stands are easily the most common type of point-of-purchase (POP) display. They can be found everywhere from trade shows to department stores. However, as these displays grow in popularity, they lose some of their unique qualities and become more cookie-cutter designs.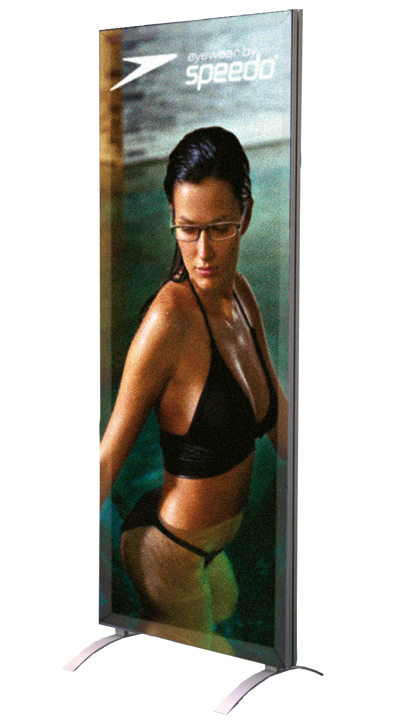 To stand out from the crowd, displays need to be innovative in addition to being versatile and effective. According to a Sign Media Canada article, banner stands and display systems are becoming more customized to prevent this issue. Here are just a couple of examples:
To promote its products in independent stores, Absolut used a stand-alone wall mural with two podiums with an area for showcasing a sample of the product. The simplicity of the wall mural allowed it to be produced in different sizes without changing the graphic. The podiums were also versatile enough for reuse in future product promotions.
Ralph Lauren used a combination of several POP displays to promote its signature fragrance, Polo. A large straight wall banner stand was placed in the center of the environment with two product showcases on either side and two banners hung from the ceiling above the showcases. This created a high-impact visual display to fit with the atmosphere of the store and draw in customers.
Tex Visions offers a number of highly customizable display systems like our Q-Frame® Tex to ensure your client's display stands out. What do you think about this new trend? We want to know if your clients prefer more customized displays or tried-and-true banner stands.
Happy New Year! Tex Visions started 2013 off in style last Friday with our annual holiday party. Employees from all departments got together at the Carlisle Vault for a fun night of celebration. It was a great way for everyone to let their hair down as well as to jump-start what is sure to be an eventful year.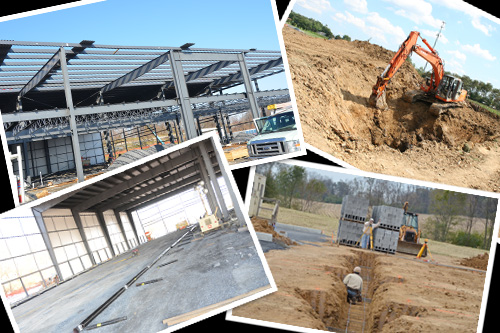 Tex Visions has a couple big projects coming up in 2013. The first is our new facility to accommodate our growing staff and customer-base. It has been coming along nicely since we broke ground in the fall. For some insight into what a new building will mean for Tex Visions staff and resellers alike, check out this blog post. This 60,000ft2 facility should be completed this summer. You can follow our building's progress with us on our Facebook page.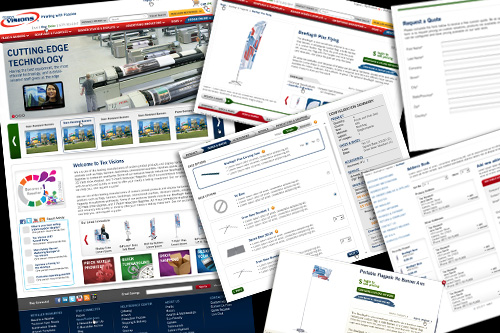 The other big project Tex Visions has coming this year is a web store. This gives resellers the convenient option of ordering custom flag and banner products online. Additionally, our resellers will be able to login to their account to access a number of new features, including viewing bills and approving artwork.
I am excited to seeing what else 2013 will bring! What are you looking forward to this year?
This week we continue the ongoing series "The Question," where we search our social media posts, web comments, and emails for burning questions from resellers and devote precious blogspace to giving you answers.
Q: What can I do to ensure that the fabric used for my display meets fire codes and flammability standards?
As discussed in a previous blog, there are many benefits to using fabrics and textiles for display purposes. When choosing a fabric for your client's next campaign, it is important to be familiar with flammability standards to be sure that the chosen fabric is up to par. A recent article in Specialty Fabrics Review provides the basics every customer should know.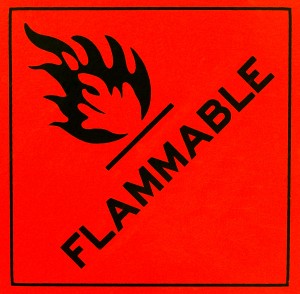 Making a fabric flame retardant
Fabrics can be flame retardant in two ways. The fabric can have a fireproof coating or it can be produced with inherently fire-retardant (IFR) fibers. Most fabrics receive a fireproof coating that works as a barrier between fire and the fabric. To create an IFR fabric, flame-retardant compounds are added to the yarn before the fabric is created. IFR fabrics are generally more expensive than those with a fireproof coating, but remain flame retardant throughout the life of the fabric and don't need to be re-treated the way coated fabrics may have to be.
Flammability standards
While specific fire codes vary by location, there are some widely recognized flammability standards. For example, the CPAI-84 is a voluntary standard from IFAI and the California State Fire Marshal (CSFM) Title 19 is frequently used outside the state of California due to its high standards. The NFPA 701 is a voluntary standard consisting of standard methods of fire tests for flame propagation of textiles and films. Tex Visions' flame-retardant fabrics have been tested according to US fire class NFPA 701-99 TM#2. Our catalog designates which of our fabrics are offered in flame retardant versions.
What questions do you have about our displays or about the printing industry in general? Tex Visions is here to bring you the answers.
The ongoing series "Meet the Team," where we profile the people who drive the success of Tex Visions, continues.
Today we meet Douglas McGarvey, Production Manager. Doug has been with the company for 5 years. As Production Manager, he is responsible for production operations and expansions. He believes the key to success is determination and the ability to work with people. If you have good people that care about doing their best, the rest is easy.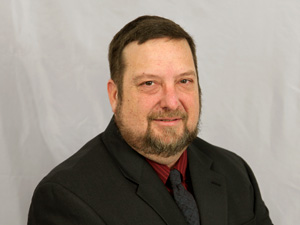 What's your favorite Tex Visions product?
What do you like to do when not at work?
I like to spend time with my family and friends and go fishing.
Are you a coffee or tea person?
Neither.
Would you rather cook or go to a great restaurant?
I enjoy both as long as it is with good company.
Do you have or want a pet?
I have three dogs.
SUV or convertible?
Both. Never choose one if you can have it all.
Mountains or Beach?
Definitely mountains.
If you could have lunch with anyone, who would you choose and what would you ask?
God. I would ask what's the real message that he wanted people to hear, that is, before man gave his version.
What's the last book/movie that you read/watched?
Check back regularly to meet the rest of the team at Tex Visions as we explore the wonders of printing. Feel free to send us your questions so we can incorporate them into the next interview. What do you want to know?
While preparing for the holidays, it is important to remember to give back. Tex Visions continued its local community service efforts with a food drive. We partnered with the Salvation Army to collect food for My Brother's Table, a program set up to provide food to the hungry and homeless. They serve breakfast and dinner Monday through Friday at the Salvation Army here in Carlisle, PA.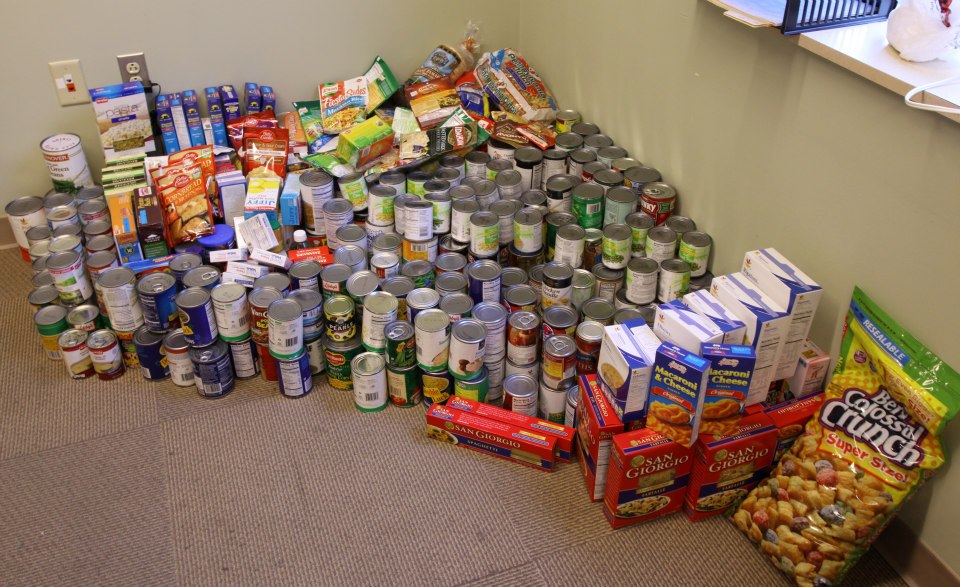 Over the course of a month, the Tex Visions team brought in all types of non-perishable items such as boxed pasta and instant potatoes, along with cans of vegetables, fruits, soups and sauces. When the final count came in, the total donated items was over 575! I'm so proud of the Tex Visions team for collecting this significant amount of food to donate to those less fortunate than us. After speaking with the program director, it was obvious that their pantry was getting low and donations are needed. Since the Salvation Army provides so many meals daily, our large donation will only put a small dent in the amount of food constantly needed to help the local community. This is definitely a cause that can be helped every day.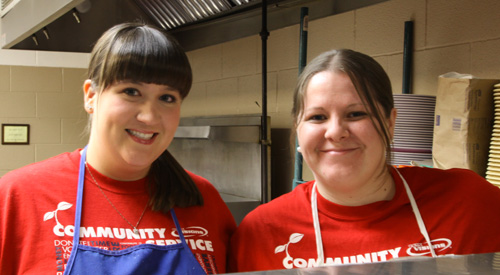 Yesterday, Nicole Kaufman (General Manager) and I took all the donations to the Salvation Army. We also stayed to help prepare and serve dinner. The meal consisted of a choice of either baked ziti or turkey, stuffing and gravy along with one vegetable and a slice of bread. Pieces of dessert were set out and coffee and tea were available. In one hour, we served around 50-60 people ranging from children to adults to senior citizens. It's amazing how many people like you and me are living in need – need of a home, warm meal, clothes, etc.
I want to send a huge thank you out to the entire Tex Visions team for making the food drive a success. There were a few pictures taken during our time at the Salvation Army that can be viewed on our Facebook page. Keep checking our blog for more community service events! Suggestions are always welcome!