Welcome to the Tex Visions Blog
A place for our resellers. Talk about what matters most to you. Share your insights. Present us with your challenges. Learn about our team. Connect with us.
Last week, Project SHARE (Survival Help And Recipient Education), a local non-profit organization that provides food, clothing, and nutritional education to surrounding communities, participated in an annual competition called Canstruction at the Harrisburg Home and Garden Show. For this competition, volunteers created teams to design and construct large structures made entirely of canned goods. All canned goods used to create these structures were then donated to local food banks after the competition.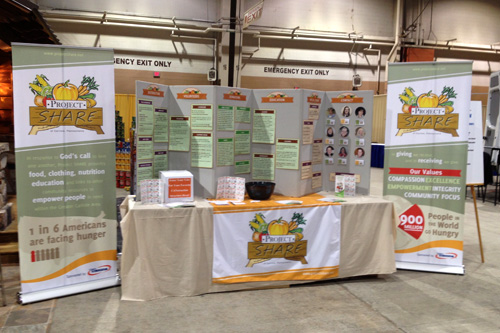 Tex Visions was happy to assist Project SHARE in participating in this event. We donated two Roll Up Plus 31" as well as a table runner and worked with them to create custom designs for each display to help their booth stand out. Thank you to Project SHARE for lettings us be a part of this wonderful event!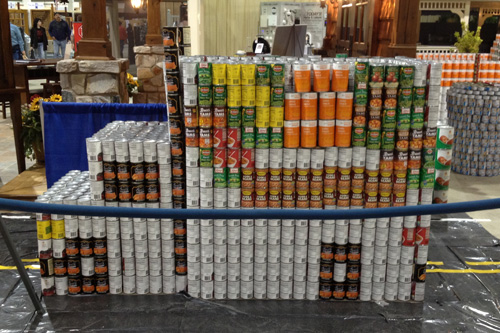 Canstruction, the most unique food charity in the world, was started in 1992 in New York City as a way of uniting the design and construction community in a competition that assisted the underprivileged at the same time. It has since become one of the world's largest contributors to food banks with competitions in 140 cities and over 15 million pounds of donated canned goods. Check out Canstruction's photo gallery to get a taste of what the completed structures look like.
Banners are a classic way to get an audience's attention. With numerous material, finishing, layout, and format options, they are also a highly customizable form of advertising. Because of the various finishing options, however, it is important to consider exactly how and where your client will use their banner. This article from Sign & Digital Graphics presents a good overview of some of the most popular banner finishes. Here are some of the finishing options Tex Visions offers:
Simple Sides For a clean and simple look, your client can choose to have their banner finished with cut or hemmed sides. Other finishing options such as grommets may be added to this if desired, but they aren't necessary for display.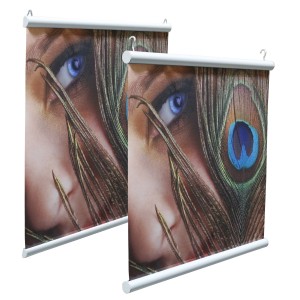 Pole Sleeve Your client's banner can also be finished with pole sleeves, which are used to accommodate hanging components like a wooden dowel and polyester cord. This option is ideal for a hanging banner that can be moved or taken down quickly and easily with no tools required. Pole sleeves can be made to any desired size, depending on the hanging component chosen. The size of the sleeve is measured by the size it is when laid flat. Pole sleeves are usually hemmed, whether fabric or vinyl material is used. Vinyl can also be welded upon request.
Grommets Grommets are one of the most common finishing options for banners. They are versatile and provide your client with a wide range of mounting options. We offer grommets in brass and nickel. They come in one standard size and can be used with plastic disc reinforcements, depending on the fabric's structure.
Aluminum Profiles For a more attractive look, choose one of our aluminum profiles. We offer a snap profile constructed of an aluminum spring loaded snap closure at the top and bottom of the print. Our keder profile is constructed of an aluminum frame that attaches to the print using the keder sewn into the print's pole sleeves. The snap profile features a banner with cut sides so it lays flat and secures well in the profile. It can be hung with suctions cups or any other wall hanging component. The keder profile comes in three different diameters and uses hooks for hanging.
Outdoor Finishes Is your client using their banner outdoors? We offer finishing options specifically for outdoor settings. Your client can have the sides of their fabric banner backed with header tape for extra strength and use multiple grommets, D-rings, snap hooks, loops, or polyester cord for mounting. Although vinyl banners can be used outdoors, we recommend fabric because it allows wind to pass through, will not crack, and doesn't need to be double-sided to see an image on both sides.
For more finishing options, check out our catalog or consult one of our sales representatives. What do you think is the most popular banner finish? Are there any we missed? We want to hear what you think.
The ongoing series "Meet the Team," where we profile the people who drive the success of Tex Visions, continues.
Today we meet Tali Range, Accounting Manager. Tali has been with the company for 4½ years. She serves as manager of the accounting department, which streamlines, monitors, and records all financial transactions and turns them into useful information for other departments. When she first started at Tex Visions, she was a clerk. From there she moved to Accounting Manager.
Tali feels there are two major factors to success. First, no one can succeed unless they are given the opportunity to do so. You need an employer and a team that are willing to give you a chance to demonstrate your abilities. Second, you have to be willing to take responsibility and work hard. All the opportunities in the world are useless if your aren't willing and able to meet them.
What's your favorite Tex Visions product?
The Street Banner. More than any other display we offer, I see these used by communities and neighborhoods to showcase local projects or achievements. Helping individuals and small businesses identify with their neighbors and demonstrate pride in who they are is a powerful thing, and I love that we can be part of that.

What do you like to do when not at work?
Video games! I love a good RPG (Role Playing Game) or FPS (First Person Shooter), and can generally convince my husband that buying a new game is cheaper in the long run than going out to a dinner or a movie.
Are you a coffee or tea person?
Coffee, specifically mochaccino's.
Would you rather cook or go to a great restaurant?
Cook. I live for those occasions when I can make a recipe better than the restaurant does – not that they happen very often.
Do you have or want a pet?
I have a cat, Ali, who is diligently working to help me understand my place in the universe as her personal servant ;)
SUV or convertible?
Jeep. Would that be both?
Mountains or Beach?
Mountains. A warm quilt, a campfire, and a brisk morning in the mountains.
If you could have lunch with anyone, who would you choose and what would you ask?
C.S. Lewis. He's very astute (and brutally honest) about the heart and its motivations. I would love to get his thoughts on our culture – how we live and what we prioritize. Technology has changed us in so many ways, I can't help but wonder how we would look to an outsider.
What's the last book/movie that you read/watched?
Dr. Horrible's Sing-Along Blog. It's one of those rare movies you can watch and re-watch and enjoy it just as much.
Check back regularly to meet the rest of the team at Tex Visions as we explore the wonders of printing. Feel free to send us your questions so we can incorporate them into the next interview. What do you want to know?
In a previous blog post, we outlined some of the benefits of using fabric for custom graphics over other materials. Fabrics are lightweight for easy transport, aesthetically pleasing, and eco-friendly. It is easy to see why fabric graphics are growing in popularity.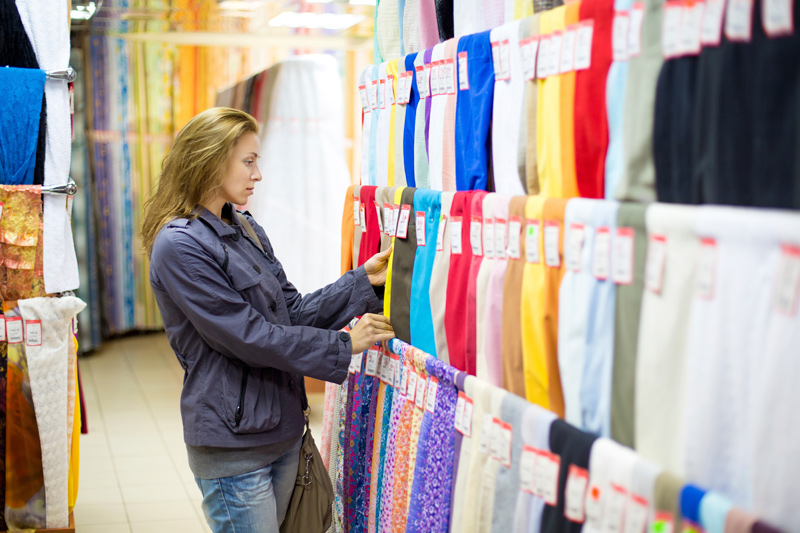 An article in Fabric Graphics Magazine argues that even clients who don't understand all of these benefits will almost always choose fabric over substrates such as vinyl or paper. When given the option between a graphic on fabric and a graphic on vinyl, your client will probably not only like the fabric graphic better, but will also touch the fabric.
Why does this happen? People have a subconscious personal and emotional connection to fabric that they simply don't have with other substrates. Because it used for everything from clothing to furniture, fabric plays a vital role in our lives. We associate fabric with warmth and comfort, so we are naturally drawn to it.
Most of Tex Visions' products are constructed of polyester fabric. In addition to the benefits of fabric, polyester is highly resistant to mold and mildew and durable with the ability to last longer without tearing. A complete list of all fabrics and substrates we offer can be found in our catalog.
Next time your client is choosing a material for their graphic, point this out to them. By selecting fabric, your client's customers will not only be drawn to their display on instinct, but they will have a subconscious personal connection to it before the message is even read.
Banner stands are easily the most common type of point-of-purchase (POP) display. They can be found everywhere from trade shows to department stores. However, as these displays grow in popularity, they lose some of their unique qualities and become more cookie-cutter designs.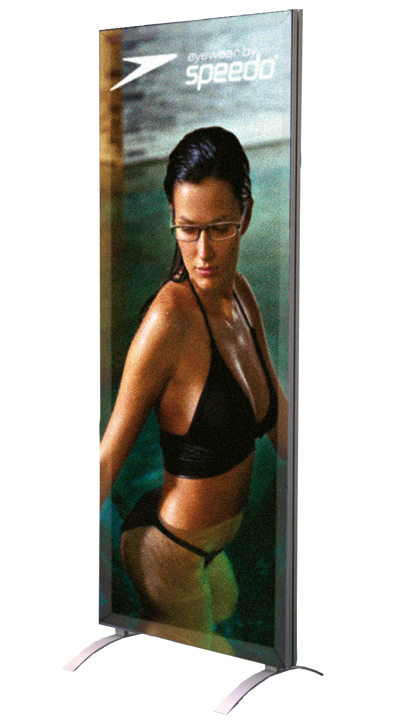 To stand out from the crowd, displays need to be innovative in addition to being versatile and effective. According to a Sign Media Canada article, banner stands and display systems are becoming more customized to prevent this issue. Here are just a couple of examples:
To promote its products in independent stores, Absolut used a stand-alone wall mural with two podiums with an area for showcasing a sample of the product. The simplicity of the wall mural allowed it to be produced in different sizes without changing the graphic. The podiums were also versatile enough for reuse in future product promotions.
Ralph Lauren used a combination of several POP displays to promote its signature fragrance, Polo. A large straight wall banner stand was placed in the center of the environment with two product showcases on either side and two banners hung from the ceiling above the showcases. This created a high-impact visual display to fit with the atmosphere of the store and draw in customers.
Tex Visions offers a number of highly customizable display systems like our Q-Frame® Tex to ensure your client's display stands out. What do you think about this new trend? We want to know if your clients prefer more customized displays or tried-and-true banner stands.