Shipping & Delivery

It is always good to know some basic shipping and delivery information when placing an order with us. Listed below is information such as shipping methods offered, packaging and delivery services, along with how to handle returns. We want you to feel confident that you are knowledgeable about all aspects of the process.

---

Delivering superior service no matter where you are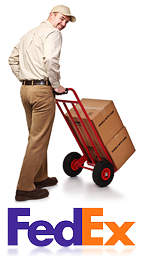 Shipping Methods
Shipping includes anywhere within the U.S. and Canada as well as other North and South American countries. Online orders are limited to shipping within the U.S. and Canada. All FedEx shipping methods are available to accommodate a reseller's timeline, and freight services are used whenever competitive in pricing. Keep production time in mind as a factor for delivery time. Business days do not include weekends or U.S. holidays.
Ex works Carlisle
Shipping on a reseller's account is possible for both online and offline orders. The reseller agrees to pay shipping costs as well as any additional charges for special handling or any correctional charges (assessorial charges). No pricing is possible if a product is shipped on the reseller's account. Special discounts with our shipping providers offer competitive costs to resellers, but if shipped on their account the cost might be higher.
Services
Blind shipping and drop shipping are available as well as distribution. Shipments leaving the U.S. cannot be blind shipped.

Ordered items are packed in the most convenient way unless otherwise specified. Special packing is available for hardware sets packed and boxed individually together with flags, for distributions, or as preparation for the reseller's own distribution. Additional charges may apply for special packing.
Shipping: What To Do If Your Client Needs An Order Sent Elsewhere
Occasionally, your client might need to have an order shipped somewhere else. A number of scenarios might have happened:
They booked a different hotel than the one they were originally staying at
The trade show is in a different city, state or even country
Their event isn't until much later, and they need the item(s) held
you put an incorrect address in at the time of shipment
Regardless of the reason, the order is going to Point A, and you need it to go to Point B. What are you to do? Well, luckily both UPS and FedEx have you covered.
UPS My Choice®
If the package has been shipped by UPS (usually identified by a tracking number starting with "1Z"), your clients have a recourse in the form of UPS My Choice®. My Choice is offered in two service tiers: a free "member" tier and a paid "premium" tier. The table below explains the differences between the two tiers.
| | | |
| --- | --- | --- |
| Main Features | Free Member Tier | Paid Premium Tier |
| Delivery alerts | ✓ | ✓ |
| Delivery planning | ✓ | ✓ |
| Estimated delivery times | ✓ | ✓ |
| Shipment releases authorized | ✓ | ✓ |
| Can be held at a UPS Customer Center | ✓ | ✓ |
| Leave At instructions | ✓ | ✓ |
| Can be left with a neighbor | ✓ | ✓ |
| Will be delivered to a UPS Access Point® location | $ | ✓ |
| Package will be delivered another day | $ | ✓ |
| Package will be delivered to another address | $ | ✓ |
| Upgrade UPS SurePost® packages to Ground | $ | ✓ |
| Confirm delivery windows | $ | ✓ |
If your clients would like to sign up for either tier of the UPS My Choice® program, they can do so at the UPS website.
FedEx Delivery Manager®
If the order has been shipped by FedEx (identified by a 12-digit tracking number if FedEx Express or a 15-digit tracking number if FedEx Ground), your clients can set up alternate package handling options through the FedEx Delivery Manager® program. The FedEx Delivery Manager® program offers several different features to help facilitate getting the package where it needs to go, including:
FedEx Delivery Manager® Program
Redirect your package to any FedEx location in the country
Give your FedEx driver specific delivery instructions
Customize your package's delivery time
Redirect your package to another non-FedEx address
Remotely sign for your package
Hold your package for pickup if you're on vacation or otherwise away
Receive delivery notifications or other info as necessary
The FedEx Delivery Manager® program is free of charge. Your clients can sign up at the FedEx website.
If your clients need help with signing up for UPS My Choice® or the FedEx Delivery Manager® program, please direct them to here for UPS or here for FedEx.
Please note that UPS My Choice® and FedEx Delivery Manager® are for residential customers only.
Delivery Terms
Offline quote and sales order estimates are possible and can be adjusted with the final invoice. Online order pricing is final. Additional charges such as address correction or return due to lack of pick up are charged to the reseller. We reserve the right to adjust shipping methods based on production volume to meet your delivery date without refunding production or shipping charges.
Tracking an Order
A tracking number will be e-mailed to the reseller by FedEx for both online and offline orders at the end of the day the order is shipped or the next morning. Resellers can also get the tracking number for online orders via their online account.
Delivery
Delivery times vary based on the shipping method, ranging from morning to evening deliveries. See FedEx's Ground Services Map for more information. End of day deliveries arrive until 7PM to residential addresses and until 5PM to commercial addresses. Some deliveries may require a signature or a person available for delivery, so lack of availability could cause delivery delays.

We require the reseller to inspect their products upon receipt. Any obvious manufacturing defects must be reported immediately before the product is used. By accepting a package, the reseller agrees that the products arrived without visible shipping damage. If shipping damage is suspected, the package should be signed for delivery as damaged and Tex Visions must be contacted immediately. Failure to sign for a package as damaged or to contact Tex Visions within 3 business days will be treated as a warranty claim and is subject to our warranty policy.
Returns
Stock Color Materials
Stock color materials that are ready to ship, meaning they have been pre-printed and pre-finished, may be returned. Stock color materials that aren't ready to ship, meaning they need finished, fall under the Custom Printed Materials & Hardware return policy.

Custom Printed Materials & Hardware
Custom printed materials and hardware may not be returned. A re-stocking fee will be applied to all returned, undamaged, unused products. The reseller will be responsible for any shipping charges associated with the return. No refunds will be granted before full inspection. Tex Visions must be contacted within 3 business days of receipt of products to be eligible to receive a Return Merchandise Authorization (RMA) number and return the product.