Artwork Requirements
To ensure first-time success in submitting your artwork file, please follow the guidelines below.
Graphics Applications and Accepted File Types
Submitting your artwork as a print ready PDF file is preferred (MAC or PC).
Acceptable file types: PDF, AI, EPS, PSD, TIF, JPG, INDD
We will also accept files created in Adobe® Illustrator®, Photoshop®, and InDesign® up to CC 2017.
If multiple images are selected for a product, submit one file per image.
For multiple print, double-sided, and/or double-print products, please design on all layouts within the template even if the layout graphics are the same.
Print Ready PDF Creation
"Print-ready" PDFs can be easily created from many graphics applications. Use the "Print_Ready_PDF.joboptions" file and "Job Options Information.pdf" to install the custom PDF "print-ready" setting for graphics applications and Acrobat® Distiller®. These files can be obtained online by clicking on the "Artwork Specifications → Job Options" and "Artwork Specifications → Job Options Information" links within the product pages.
Before submission, always preview the PDF created to ensure accurate results.
Using the Templates
Artwork must be created using the provided templates. Our artwork templates include all necessary measurements, bleeds and safe guides.
Page 2 of the PDF template contains the actual template for design use. Submit this page only.
Do not alter the template lines in any way when creating your artwork.
Do not use any of the template spot colors in your artwork. Anything using these colors is viewed as part of the template and is automatically removed by our system.
Only include graphics to be printed. Do not include notes, comments, or additional instructions in your file.
Included Services
Your artwork will be closely examined and adjustments will be made in a time range of up to 15 minutes.
If additional time is needed for further adjustments, additional fees will be charged in 15 minute intervals.
We strive to do our best, but we cannot check for grammatical and typographical errors. Be sure to thoroughly review your artwork before submitting the file.
Using The Templates
Adobe® Illustrator® Users
"Open" page 2 of the PDF template in Adobe® Illustrator®.
Do not alter the Artboard size.
Embed all placed images.
Remove all template lines before submitting your artwork file.
Adobe® Photoshop® Users
"Open" page 2 of the PDF template in Adobe® Photoshop® with the following settings.

Page Options: Crop To: Art Box
Image Size: Resolution: 600 Pixel/Inch (textile) or 1000 Pixel/Inch (all other materials)
Mode: CMYK

Do not alter the Canvas Size.
Remove all template lines before submitting your artwork file. Designing on a separate layer will make removing template lines easier.
Adobe® InDesign® Users
"Place" page 2 of the PDF template on a page in Adobe® InDesign® that is larger than the template. (Note: Check "Show Import Options" in the "Place" window in order to choose page 2.)
Design over top of or behind the placed template.
Embed all placed images.
DO NOT remove the template lines before submitting an INDD file or PDF file written from Adobe® InDesign®.
Template Lines Overview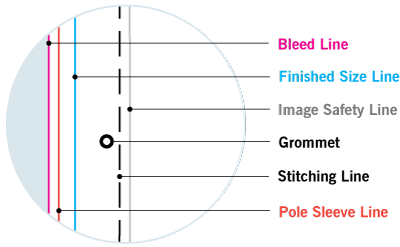 Bleed Line
This line shows the space on a graphic that goes beyond the cut area. The bleed is required to avoid any white area that could be shown due to slight variations in finishing.
Finished Size Line
This line shows the finished size and shape of the product.
Image Safety Line
This line represents boundaries which important graphics such as logos and text should fall into to prevent issues. Centering artwork within these lines will ensure that your artwork appears centered on the final printed product.
Grommet
This circle indicates where grommets will be present. Grommets are used to reinforce areas that require various fasteners or lines. It is important to avoid designing important graphics over top of these areas.
Stitching Line
This line shows where stitching should be present. Try to avoid designing important graphics over areas that have stitching running through them.
Pole Sleeve Line
This line represents areas that are needed for pole insertion and finishing. It is important to avoid designing important graphics over top of these areas.
Graphic Design Specifications
Submit All Artwork Files in CMYK Color Space Mode
Avoid RGB, LAB, and Indexed Color spaces. Converting these files to CMYK may result in undesirable color changes.
Monitors display as RGB and should not be used as an accurate representation of color.
Design All Artwork Files at a Ratio of 1:10
All artwork files must be submitted at a ratio of 1:10 (1in = 10in). This ensures smaller file sizes and fewer issues with uploading and transfer.
Note: Print quality will not be affected using our 1:10 file size requirement.
All of our graphics templates are at a ratio of 1:10. Do not resize them.
Exception: If artwork is smaller than 16in x 16in then template and artwork should be designed at a ratio of 1:1.
A Minimum Resolution of 360dpi on Textile (Fabric) or 800dpi on Any Other Material (e.g. Vinyl) Is Required for Raster (Pixel) Images
We recommend a resolution of 600dpi on textile and 1000dpi on any other material, especially for images with fonts and crisp curves.
Note: In a graphics application like Adobe® Photoshop®, increasing the DPI (dots per inch) of an image size does not improve the resolution.
Avoid using web-based graphics. Some graphic types such as GIF and PNG files are mainly used as web graphics and will print blocky or "pixelated".
Review the artwork at final size on your monitor before submission. Look for pixelation, overlapping graphics, and effects. When viewing your graphics at full size, be sure there are no errors or visual imperfections.
Exception: If artwork is smaller than 16in x 16in and designed at 1:1 scale ratio, minimum resolution is 300dpi.
Use Vector Art When Possible for Logos, Fonts, and Line Drawings
Convert raster art to vector when possible to avoid pixelation or jagged edges.
Vector art uses curves, points and lines to create graphics that can be scaled without pixel count or resolution problems. Applications such as Adobe® Illustrator® are used to produce these types of graphics.
Outline All Fonts
Sometimes due to licensing issues, not all fonts can be embedded in a graphics file.
Outline all fonts. Converting fonts to outlines will prevent font substitution problems. This is the biggest reason for artwork file rejection and can be easily avoided.
Bleed Is Required on All Artwork Files
Extend all artwork out to the template's magenta bleed line.
Bleed is the space on a graphic that goes beyond the cut area. The bleed is required to avoid any white area that could be shown due to slight variations in finishing.
Use the corresponding artwork templates, which include the required bleed (magenta line on all templates), to avoid production delays. Final artwork must include this bleed for correct finishing (trimming and/or stitching) of the product.
Keep Text, Logos & Important Artwork Inside the Gray Image Safety Line or They Might Get Cut Off
Failure to keep your important graphics within the gray safety line may result in your design being cut off or visually unappealing after finishing.
The Required Stroke Strength (Line Thickness) of Fonts and Objects Must Be at Least 0.1mm at a 1:10 Ratio
Stroke is the design term for an outline. Strokes are commonly used on fonts and shapes and applied in many different sizes (thicknesses) and colors. By adhering to our specs, this will ensure crisp, legible fonts and all strokes in your artwork file will be visible.
For dark strokes on a light background, the minimum stroke strength of 0.1mm (0.283pts) thickness at a scale of 1:10 is recommended.
For white strokes on a dark background, the minimum stroke strength of 0.2mm (0.567pts) thickness at a scale of 1:10 is recommended.
Discard All Overprint Settings
Graphics set to overprint may lead to unexpected results in colors or content.
All graphics that are set to overprint will be automatically set to knockout.
Transparency settings will not be changed or affected.
Design with PMS (PANTONE®) Color Bridge® Colors Whenever Possible
This will ensure colors are more accurately reproduced.
It is recommended that PMS colors should be picked using a PANTONE® Color Bridge® Book. The latest PANTONE® Color Bridge® book is used for color matching.
PMS colors must be set to 100% opacity. If any transparencies are used, the print may show unexpected results.
Due to the nature of digital printing, metallic and fluorescent PMS colors cannot be accurately reproduced.
Do not choose PMS colors as seen on a monitor as they may not be accurate representations.
Avoid using PMS colors created in Adobe® Photoshop® (spot color channels, monotones, duotones, tritones, etc.).
Disclaimer: Due to the nature of the CMYK printing process, the reproduction of defined PMS colors is not always 100% possible. In these cases, we will select the closest color we can produce to create a common visual appearance when your artwork is viewed in conjunction with your other products and branding.
Flatten All Transparencies
Failure to flatten transparencies before submission may lead to unexpected printing results.
Your Artwork Files Must Remain Open & Accessible
Do not password-protect or encrypt your files.
Do not disable editing capabilities in your PDF files. This is to ensure that your artwork file will pass through our system without any complications.
We Will Not Check for Grammatical and Typographical Errors
Grammatical and typographical errors are common. Before submitting your artwork file, be sure to review it thoroughly.
Graphics Terminology
Vector Art
Vector art is any digital graphic in which the shapes are represented by mathematical equations within a computer. Geometric shapes like lines, waves, single points and curves are placed together by the artist to create an illustration while the computer keeps track of each item's location, curve and relative proportion to the other shapes. The biggest advantage of vector art is that it is infinitely scalable. Unlike raster art, which uses pixels to create digital illustrations, vector-based graphics can be enlarged over and over again without losing any of the picture's quality. You can create graphics as large as you want and still not have it affect the file size or quality of your artwork file.
Raster Art
A raster graphic is a collection of dots called pixels. Each pixel is a tiny colored square. When an image is scanned, the image is converted to a collection of pixels called a raster graphic. Scanned graphics and web graphics (JPEG and GIF files) are the most common forms of raster graphics. The resolution of a raster graphic or scanned image is expressed in terms of the dots per inch or dpi. The output quality of a printing device is dependent upon the resolution (dpi) of a raster graphic. If you take a low resolution image (72-150dpi) and increase the size in a graphics application, you will end up with pixelation or blockiness. The only thing that happened is that the tiny pixel squares got bigger and created jagged edges on your graphic. Creating artwork at a higher resolution will increase the quality and decrease the jagged edges. Raster graphics do not scale up very well. The quality of an imprint produced from a raster graphic is dependent upon the resolution (dpi). Raster graphics can also be referred to as "bitmap" images. With raster artwork, larger images mean much larger file sizes.
CMYK (Cyan, Magenta, Yellow, Black)
CMYK is the standard color space mode used in digital printing. The four colors are mixed to achieve the final printed design. Because such printing uses inks of these four basic colors, it is often called four-color printing.
RGB (Red, Green, Blue)
The computer's native color space mode, which is the color system for capturing and displaying images. RGB was derived from our own perception of color because human eyes are sensitive to red, green and blue. For digital printing, the CMYK color space is used, not RGB. Combinations of cyan, magenta, yellow and black ink make up all the colors.
Bleed
When artwork extends beyond the trimmed edge of a design, it is called a bleed. Adding bleed ensures that the print extends to the edges of the template. The material is usually trimmed to the desired size after printing.
PANTONE® (PMS) Colors
A popular color matching system used by the printing industry to print spot colors. Most applications that support color printing allow you to specify colors by indicating the PANTONE® name or number. This assures that you get the closest color when the file is printed, even though the color may not look right when displayed on your monitor. Digital printing uses defined CMYK color percentages to print PANTONE® colors. It is recommended that PANTONE® Color Bridge colors be used if matching a specific color is a concern.
DPI (Dots Per Inch)
A measure of the resolution of a printer is called DPI or dots per inch. It properly refers to the dots of ink or toner used by an image setter, laser printer, or other printing device to print your text and graphics. In general, the more dots, the better and sharper the image. DPI is printer resolution.