Print




Size




Material

Multisol® X - Knitted polyester fabric with a slight stretch to prevent wrinkles, flame retardant





Layout & Finishing

Single-reverse - Print seamed to make a hanging shape with hook-and-loop adhesive to attach to frame

Finishing Options

Open top and bottom (default)
Open top with closed bottom
Open top and bottom with white fabric sewn inside




Hardware

Standard Sizes (W x H x D)

6.0' x 2.0' x 6.0'
8.0' x 3.0' x 8.0'
10.0' x 3.0' x 10.0'
12.0' x 4.0' x 12.0'

Custom Sizes (W x H x D)

2.0' x 2.0' x 2.0' (minimum)
12.0' x 4.0' x 12.0' (maximum)







Includes

Aluminum poles
3D Connectors
T Connectors if required
(4) Pear hooks
(4) Steel ropes with crimps
Carabiner snap hook
Disclaimer
This display will ship unassembled. It is the responsibility of the buyer to arrange assembly of this product upon arrival at the event or destination. Prior to purchase, please check with event contractors from your particular event regarding hanging restrictions or requirements. We are not liable for engineering requirements, spec sheets, or drawings. We will not authorize or notate documents requested by event venues.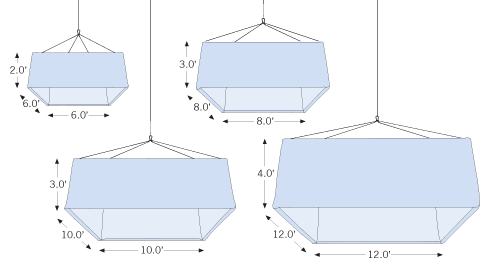 The Hanging Square is a 3D ceiling display. Its lightweight aluminum frame is offered in four standard sizes, ranging from 6'x2'x6' to 12'x4'x12'. Your client's custom print comes on flame-retardant knitted polyester fabric and has hook-and-loop adhesive for a seamless appearance. It can be finished with an exposed frame, a custom-printed bottom, or with white fabric sewn inside. To assemble this hanging display, your client starts by putting the aluminum poles together using the included connectors and sliding the steel rope with crimps onto the hardware. Then simply mount the custom print using the hook-and-loop adhesive and hang the display from the ceiling with the carabiner snap hook. Is your client looking for a different shape? We offer ceiling displays in several other shapes, such as the Hanging Triangle, Hanging Circle, and Hanging Circle 3D.
California Residents

Click here for Proposition 65 warning
Q & A
- Sholom
Posted on: June 1, 2016
The graphics are not hard to replace on the Hanging Square; simply assemble the hardware, slide the print down the frame until taut and attach the print to the frame with the hook and loop adhesive. The entire process takes about 10 minutes from start to finish. We also have assembly instructions which you can print out. Above the thumbnail pictures at the top of the product page, click on Assembly Instructions to download to your computer.
Tex Visions Reseller Program
Our 100% Neutral Reseller Program is a platform for resellers to show their clients the large variety of products available from Tex Visions without compromising business relationships. It is free and includes a neutral catalog and other neutral marketing materials as well as a neutral website, which allows you to easily direct your clients to information and product resources. When we say neutral, we mean all reseller resources are free of Tex Visions' branding so you can make our marketing materials your own!
Neutral Resources
Need Assistance?

Do you want to become a reseller or have questions about our products and services? Contact us and receive answers quickly from a knowledgeable sales representative.

Call us: (877) 503-5247 Chat:

---

Become a Reseller

Printesto Website
If you haven't already signed up for a FREE reseller website, you are losing out on a valuable tool. Our neutral website can be customized to include YOUR logo and YOUR contact information. The website includes unbranded product assembly instructions, technical specifications, an interactive e-catalog, and the latest information about our products such as the Bowflag®, Roll Up, 3D Displays, and more. Along with these print and online resources, we also have knowledgeable sales representatives available to help you at any time with information or pricing.
Catalog