About Our Hanging Square
Includes
Custom print
Aluminum poles
3D Connectors
T Connectors if required
(4) Pear hooks
(4) Steel ropes with crimps
Carabiner snap hook
Material
Display Polyester: Nearly opaque knitted fabric, 6.10oz/yd² (flame-retardant)
Layout & Finishing
Single-reverse: Print seamed and finished with hook-and-loop fastener to attach to frame
Print Size
Display Size
6.0' x 2.0' x 6.0'
8.0' x 3.0' x 8.0'
10.0' x 3.0' x 10.0'
12.0' x 4.0' x 12.0'
Custom size
Please Note
This display will ship unassembled. It is the responsibility of the buyer to arrange assembly of this product upon arrival at the event or destination. Prior to purchase, please check with event contractors from your particular event regarding hanging restrictions or requirements. We are not liable for engineering requirements, spec sheets, or drawings. We will not authorize or notate documents requested by event venues.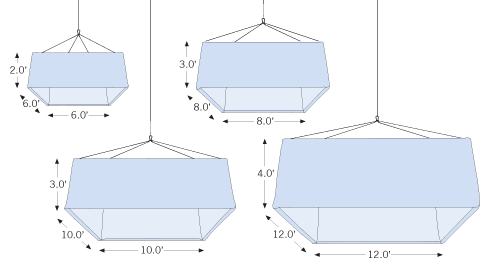 California Residents

Click here for Proposition 65 warning
Tex Visions Reseller Program
Our 100% Neutral Reseller Program is a platform for resellers to show their clients the large variety of products available from Tex Visions without compromising business relationships. It is free and includes a neutral catalog and other neutral marketing materials as well as a neutral website, which allows you to easily direct your clients to information and product resources. When we say neutral, we mean all reseller resources are free of Tex Visions' branding so you can make our marketing materials your own!
Neutral Resources
Need Assistance?

Do you want to become a reseller or have questions about our products and services? Contact us and receive answers quickly from a knowledgeable sales representative.

Call us: (877) 503-5247 Chat:

---

Become a Reseller

Catalog
Q & A
There have been no questions asked about this product.