Sizes: Standard and custom size flags
Material: 

Outdoor Flag Polyester: Lightweight knitted fabric, excellent bleed-through and tear-resistance, 3.25oz/yd²
Print Styles: Choose between single-reverse or double-sided flag print styles
Finishing Options: Choose from header tape, grommets, and pole sleeves
Custom Flags From Tex Visions 
Premium Prints: All Tex Visions flags are printed using dye sublimation. This state-of-the-art printing technique infuses the ink directly into the fabric making for a high-definition, full-color, fade-resistant finish.
Quality Materials: Our flags are printed on outdoor flag polyester. This durable fabric is lightweight, tear-resistant, and has been designed and tested to withstand year-round weather conditions, no matter your location.
Sizing Options: With over 35 standard sizes and custom sizes available, Tex Visions has a flag size for nearly any application, big or small. Standard flag sizes range from the small 1.0' x 0.5' all the way up to the massive 40.0' x 5.0', with standard and custom sizes in between.
Finishing Options & Accessories: Tex Visions offers multiple finishing options and accessories to provide you with the highest quality flag available. These include orientation options, single-reverse & double-sided flag printing, and multiple accessories like pole sleeves, grommets, and header tape. All of our finishing options come free with each custom flag purchase.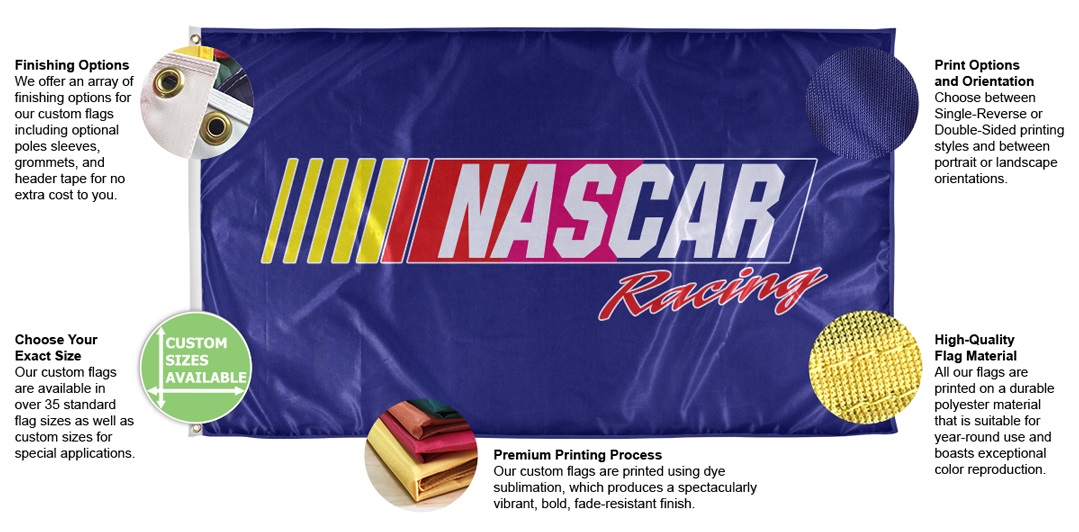 Single-Reverse vs Double-Sided Custom Flag Printing
Choose between Single-Reverse and Double-Sided flag printing options.
Single-reverse: We print one side of the flag and bleed the ink through to the other side, creating a reverse design on the rear side. Single-reverse print is our best-selling style.
Double-sided: We print your two custom designs on separate pieces of fabric and sew them together with a light blocker in between to prevent any transparency. Printing double-sided creates a more high-definition, full color finish and gives you the ability to showcase two different designs on one flag.
Ordering Custom 3x5 Flags from Tex Visions
With over 15 years of experience in custom flag printing, Tex Visions has the experience and know-how to provide you with the highest quality flag available. We print all of our flags on a special outdoor polyester using dye sublimation to ensure a full color, long-lasting flag. As a company we strive to provide you with the highest quality service and products every time.    
How to Design Your Flag Online – 3 Easy Methods
Design Tool: Our tool allows you to create your custom flag online without any professional design software. There are options to upload artwork, insert clip art and stock images, and options to add stock colors and fonts to your flag. Your artwork is checked by our graphics team to ensure it is up to print standards.
Upload Template: This design method involves downloading the product template from the product page, inserting your artwork and custom designs, and reuploading to our site. Your design is checked by our professional designers to ensure it up to our print standards.
Free Design Services: If you are not interested in designing your custom flag, we can do it for you – free of charge! Our team of designers will correspond with you until the design is exactly what you intended before sending it to print.
Flag Cleaning and Upkeep
Washing: To clean spots off of your custom flag, wipe with a soft microfiber cloth soaked in warm water. For a more thorough cleaning, simply machine wash using cold water. Never use any harsh soaps or cleaning products as these may damage the print. Air dry after washing.
Storing: To store your flag, make sure it is completely dry, then simply fold and place in a dark, dry environment for best results. To avoid any damage, we recommend not storing any items on top of the flag.
Frequently Asked Questions
What material are these flags?
We print all the flags on our special outdoor polyester. This fabric is lightweight, tear-resistant, and designed for extended outdoor use in year-round weather conditions.
Are your flags fully customizable?
Yes. The flags are designed and printed with your custom design or logo covering the whole flag, not just an area. Our custom flag printing process is so precise, you can add just about anything to the design and it will be visible in high definition.
What is the difference between single-reverse and double-sided flag printing?
Single-reverse means the flag was printed on one side was bled through to the other side. This is the most popular style and the image is clear on both sides, just in reverse.
How are these flags printed?
We print using dye sublimation. This high end printing technique creates long lasting, vibrant, full color graphics that are unmatched by most competitors.
What is the most popular size custom flags?
The custom 3x5 flags are our most popular size followed by the 5x8 flags.
Are grommets and pole sleeves available?
Yes, grommets and pole sleeves are a finishing options provided free of charge.
Will these flags fit on my tent?
Yes, they should – but we recommend checking out our tent flags page to shop flags specifically designed to display on tents.
California Residents

Click here for Proposition 65 warning
Tex Visions Reseller Program
Join Tex Visions' reseller program and receive special pricing discounts! Simply send us your reseller certificate to unlock reseller-level pricing.
Tex Visions also provides neutral marketing materials such as sales sheets and assembly instructions that you can brand and send to your client base. Download the attachments to get started.
Neutral Resources
Need Assistance?

Do you want to become a reseller or have questions about our products and services? Contact us and receive answers quickly from a knowledgeable sales representative.

Call us: (877) 503-5247
Q & A
Reviews
There have been no reviews about this product.