Custom Canopy Tents for Events
Increase your company's brand awareness and improve customer interaction at your next event with a custom canopy tent from Tex Visions. All of our custom canopies are printed using dye sublimation for a stunningly vibrant, full-color, fire, water, and fade-resistant print. We have been an industry leading tent and frame supplier since 2005 and offer the largest selection of premium canopy tent styles, sizes, frames, hardware, accessories, and printing options for a fraction of the cost of our competitors. Start designing your pop up tent today.
Free Shipping • Premium Quality • Dye Sublimation Printing • Design Online • Fast Turnaround • Rush Options • No Hidden Fees
Custom Canopy Tents - 100% Customizable
Tex Visions offers the largest amount of customization options in the industry. Our canopy tents are 100% customizable from the style, size, shape, materials and much more. 
| | | | | |
| --- | --- | --- | --- | --- |
| Online Design Tool | Upload Design | Made in the USA | Quick Production | Free Shipping |
Custom Canopy: We offer several printing styles for our canopies: All Over Print, Logo Print, and Stock Color Print. More Information
Sizes Options: We offer an assortment of size options for each of our tent styles. Our pop up tent sizes range from our mini 5'x5' up to our large 20'x20' tent with 8 sizes in between. Our Air Tents and Star Tents range from 10'x10' up to our largest 56' Star Tent. Each size is available in our full, logo, and stock printing styles.
5 Style Options: With 5 distinct styles to choose from, you'll be sure to find and create the perfect custom canopy tent for your brand. Our tent styles include: Traditional, Compact, Pavilion, Inflatable, & Star Tents. With so many style options, you'll be sure to find the perfect tent for your application.
Frames Options: Unlike many of our competitors, Tex Visions lets you choose your frame. For most sizes of our pop up tents, we offer four frame choices: Economy, Basic, Compact & Deluxe. Each frame choice has been tested for durability and weather-resistance with years of tweaking and improvements. Additionally, each tent frame is available for sale with or without a canopy for cases where customers do not need a new frame/canopy. More Information
Material Options: We offer two different material options for our custom canopy tents: 300 Denier and 600 Denier Polyester. Both materials are crafted to stand up to the worst weather and both boast similar benefits including a canvas like appearance and feel, flame-retardance, tear, scratch, and water-resistance, as well as excellent lightfastness. If comparing the two, the 300D is more lightweight and has a smoother appearance while the 600D is heavy duty polyester designed for maximum durability and longevity.
Hardware & Accessories: Choose from the most extensive selection of tent hardware and accessories in the industry. Unlike our competitors, we offer all our hardware separately, which is especially helpful for applications where you don't need a complete tent hardware set. We offer all our tent frames, flag mount hardware, an array of bag and case options, multiple canopy tent weight options, flooring, lights and stakes and anchors – at budget friendly prices.  
Add-Ons: Canopy tent add-ons can help increase foot traffic to your tent by attracting the attention of passerby. Our add-ons consist of custom canopy liners, custom tent leg banners and drapes, removable side banners, tent bows and flags, and rain gutters and awnings. You won't find this collection of proven effective add-ons from any competitor. If you are showcasing items underneath your tent, we recommend displaying a custom tablecloth for best brand exposure. For very large crowds, our tent customers typically showcase some sort of advertising flag to really grab the attention of passerby.
Canopy Tent Features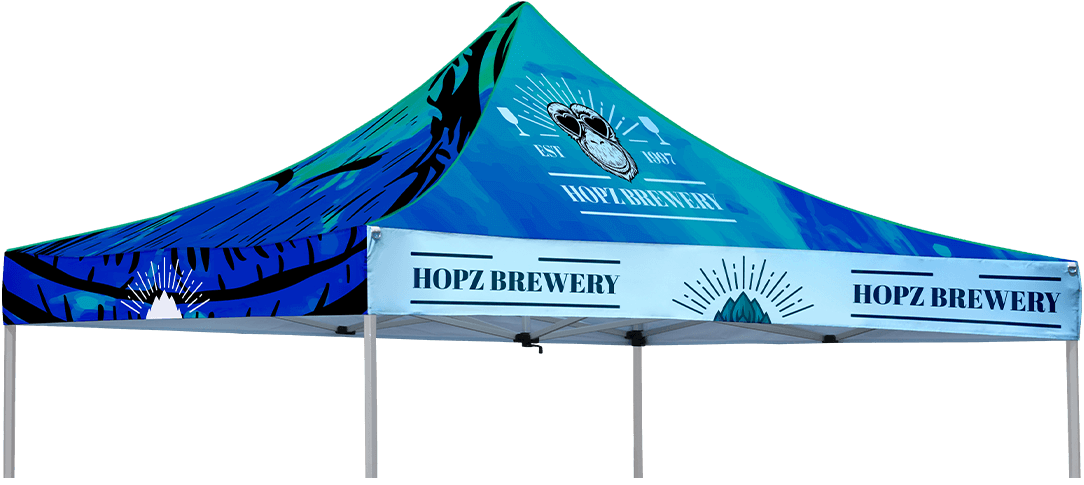 300 & 600 Denier Polyester Options
Choose between our 300D and 600D polyester for your custom canopy. These premium polyester materials employ superior tear-resistance and scratch-resistance, as well as outstanding color reproduction and excellent lightfastness.

Binding Strips for Extra Reinforcement
Binding strips are included to help fortify your canopy for outdoor applications and for a long-lasting canopy life. You can choose your binding strips color for no extra cost!

Dye Sublimation Printing
All Tex Visions custom canopies are printed using dye sublimation for an exceptionally vibrant, full-color print. Dye sublimation also boasts superior scuff, scratch, and fade-resistance compared to inferior printing methods.

Flame-Retardant & Water Resistant
All styles of our custom tent employ a flame-retardant & water-resistant finish to ensure your canopy will safely withstand the elements for indoor and outdoor applications.

Simple Setup and Breakdown
Included hook and loop fasteners securely attach the canopy to the tent frame for a simple and uncomplicated tent setup and breakdown.
Custom Canopy Tents: Tex Visions vs Other Suppliers
Affordability: Our business model allows us to supply top quality custom canopy tents at the most competitive price in the industry with 100% satisfaction guaranteed. Our tents might not be the "cheapest" but are the best value you will find for the price – guaranteed.
Experience: We have over 15 years of experience receiving custom orders, creating designs, printing, and shipping custom canopy tents and banners for suppliers to sell to their customers. With our extensive knowledge of custom tents and related items, we have recently also started selling directly to customers - at industry best prices.
Quality: All of our custom pop up tents are printed on high-quality polyester materials that are designed to be tear and scratch resistant, ensuring a long life for your custom tent. Our canopies are printed using dye sublimation, a top of line printing technique that makes for stunningly vibrant, long-lasting, full-color prints.
Each tent frame style is constructed with a durable truss structure to establish a solid foundation for your canopy. Each style of frame has been extensively tested to be durable and last the lifetime of your canopy tent. You choose which frame style you want, starting from our economical powder-coated steel frames up to our premium aluminum frames.
Customer Service: With 15 years of experience in printing, our customer service department is thoroughly trained and knowledgeable to answer your questions correctly and thoroughly. If you have any questions at all, they are here to make your shopping, designing, and ordering experience go as quickly and as smoothly as possible.
We offer multiple ways to get in contact with our customer service department including phone, chat, form, and email submission. If you contact Tex Visions customer support over phone, you immediately speak with a real customer service representative here at our headquarters, not an automated phone system or an agent half-way across the world.
Options and Accessories: Tex Visions offer a large and extensive collection of custom canopy tent options and accessories most competitors do not carry. This is important when trying to design your perfect pop up tent and event booth.
Tent Frame Features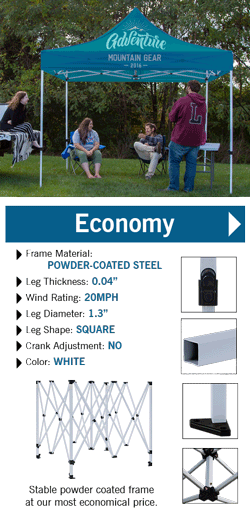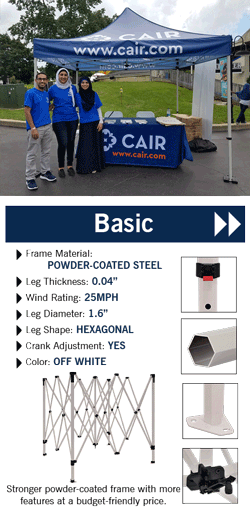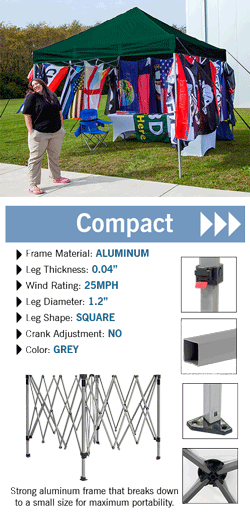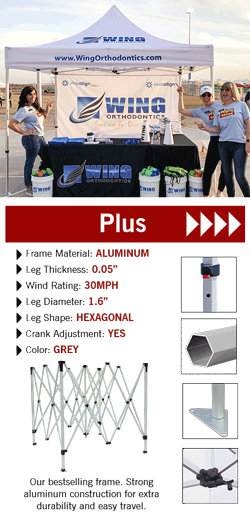 Choose Your Style Custom Event Tent
All Over Print Tents: Our All Over Print custom pop up tents are completely customizable, meaning your design or artwork can be applied to every inch of each peak and valance. This also include the reinforcing strips on the exterior of the canopy – you pick the color. Unlike many competitors' offerings - each side of your canopy can have a different design for no extra charge. You design it how you want it.  
Logo Print Tents: Our Logo Print tents are also customizable, but only in designated areas across the peaks and valances. Instead of printing a custom design all over the tent, you can place your brand or logo in predetermined areas easily seen by passerby. This style is also available with 15 canopy color choices. The Logo Print style is perfect for customers that do not have predesigned artwork or aren't interested in designing a whole custom canopy.
Stock Color Tents: Our Stock Color Tents have no customization done to them and are available in 5 different color options including white, black, green, blue, and red. These stock canopy tents are available in 10+ sizes in a number of different designs including traditional, pavilion, compact and rectangular. Our stock tents are outdoor tested and have an assortment of customizable add-ons available.
Inflatable Tents: Our custom Inflatable Tents eliminate the tent frame all together. This modern tent line features a custom design or logo printed on an inflatable polyester material in sizes ranging from 10'x10' up to 16'x16'. They are available in either custom or stock color print. Multiple accessories and add-ons are available for this style tent including full and half walls, connecting hallways, and walls featuring windows and doors.
Star Tents: Our custom Star Tents guarantee you will be noticed at an event. Due to its elevated height and unique star design, this custom canopy tent is best for turning heads and attracting passing foot traffic to your location at any outdoor event. We offer Star Tents in All Over Print and All White, in sizes ranging from 33' up to our massive 56' option. All hardware is included with this item including a heavy-duty stake puller.
How To Design Your Custom Pop Up Tent
Online Design Tool: Our online tool makes it easy to create your custom canopy tent design online without any professional software or help from a designer. The tool features an array of helpful tools including the ability to upload your artwork or images, an assortment of clip art and shapes, as well as a large selection of fonts and background color options. Included in the online tool are technical guidance tips that keep your design within the allowable area and within our minimum DPI standards. Upon submission of your online artwork, our professional team of graphic artists will examine the artwork for any obvious errors or mistakes. If there is a mistake, you will be contacted to update your artwork before printing.
Upload Artwork Template: Uploading your artwork template is the most efficient way to design for professional graphic artists and for those with professional design software. This method involves downloading the product template, inserting your artwork within the guidelines, saving out and reuploading to our website. Our graphics team will check all artwork submissions for any errors and then send a confirmation email letting you know if your design is ready to print or needs updated before printing.
Tex Visions Free Design Services: If you do not have the ability or time to create your own design, our graphic artist team will gladly complete that for you for no extra cost. Our graphic team will/can create a custom canopy tent design from scratch and then correspond with you to make sure it is up to your standards before printing. If you would like us to design the custom pop up tent for you, navigate to the "Design/Upload" tab on the product page and select "Free Design Services".
Where Are Custom Promotional Tents Displayed?
Custom canopy tents are displayed at an array of different venues and events throughout multiple industries. Some of the most popular venues are listed below.
Craft Shows
Flea Markets
Sports Teams Events
Food/Beer Festivals
Radio & TV Events
Church Events
Car Dealerships
Trade Shows
Corporate Events
Schools & Universities
Job Fairs
And many more
Caring For Your Custom Canopy Tent
When cleaning your tent canopy, we recommend using a mild soap in warm water. Apply the soapy water using a soft brush or microfiber towel for best results. Never machine wash

When breaking down your canopy tent, start by lowing each tent leg to the lowest level possible. Next, unlock the canopy from the top of the legs by pressing the red lever on each leg and slowly lowering it. When the tent is lowered, it is time to remove the canopy from the frame. Start on one side and remove the canopy from the top or the legs and truss bars. Remove the canopy completely. To finish break down, slowly retract the frame until it is fully collapsed and ready for storage.

Fold the tent canopy and store in a dark, dry environment, like a closet or sealed container. Store the frame in a dry environment to avoid any possible water damage. For best results, make sure there is no water on both the canopy and the tent frame. Do not store the canopy on top of the frame to avoid any snags or tears when retrieving in the future.
Pop Up Tents Comparison Table

(Download Branded PDF | Download Neutral PDF) 

Frequently Asked Questions
Are your custom canopy tents available in multiple sizes?
Yes! We offer an extensive collection of pop up tent sizes, ranging from our small 5'x'5 up to our 20'x20' with 8 sizes in between.Our complete size listings include: 5'x5', 6'x6', 8'x8', 10'x10', 10'x20', 10'x15', 13'x13', 13'x20', 13'x26', and 20'x20'. All are available in All Over Print, Logo Print, and Stock Color print styles.
Does each size tent raise high enough to stand under?
Yes, for sure. Each tent has telescoping legs with four height options, allowing you to choose how tall or short you want your canopy to be.
Are there any other style tents you offer?
Yes! Aside from our traditional custom pop up tents, we offer pop up pavilion tents, inflatable tents and star tents, each in multiple sizes.
What material is your custom printed canopy?
It depends which canopy option you select. For our custom printed tents, you can select either 300D or 600D polyester. stock color canopies are made with 450D Polyester . All of these polyesters are of high quality and designed to last for multiple years.
What are your canopy tent frames crafted from?
We offer an array of tent frame options for our customers.
Our Economy and Basic frame option are made from powder-coated steel while our Compact and Deluxe frames are crafted from aluminum.
How much does each frame weigh?
You can check the weight of each tent by going to each specific product page in our tent frame subcategory. For our best selling 10'x10' size: Economy: 45lbs, Basic: 60lbs, Compact: 31lbs, Deluxe: 40lbs
What color are the reinforcing strips?
Unlike most of our competitors, YOU choose the color of your reinforcing strips.
Are your custom canopies water-resistant or waterproof?
All of our pop up canopies are water-resistant. If there is rain or wet conditions, you should not have an issue underneath the canopy.  
Is the canopy fireproof?
Our canopies are flame-retardant meaning they are inherently resistant to flames and embers. The threads of the polyester will naturally self-extinguish if exposed to flames or embers.
What does tent peaks mean? What is a valance?
The tent peaks are the areas that run upwards to the top tip. There is a peak on each side of the tent. Example on a 10'x10', there are four peaks leading to the pointed top.The valances are the areas below the peaks running horizontally at the bottom of the canopy. There are four valances, around each side of the canopy.
Can I create a design on each side of the custom canopy tent?
Yes! Unlike our competitors, you can create custom designs for each side of your canopy for no extra cost.
How do I design my tent?
To design your custom tent at Tex Visions, you have three options.
Online Design Tool: Our online tool is perfect for those who aren't professional designers and do not have any professional design software. Our tool includes helpful graphics, clip arts, colors, and shapes as well as guidelines to keep you within the design area and within the minimum DPI standards. A professional graphic artist will check your design for any errors or mistakes before printing.
Upload Artwork: This method is the best choice for those with professional design software. This method involves downloading the product template, inserting your artwork within the guidelines, and reuploading to our website. Our team of professional graphic artists will check your design for any errors or mistakes and send you a confirmation email letting you know if it is ready to print.
Free Design Services: This method speaks for itself! This involves us working with you to come up with your perfect design for your tent from scratch – free of charge. This method is perfect for those who don't have any design experience or don't have the time to create a custom design.
What printing method do you use?
We print using the top-of-the-line dye sublimation printing process. This involves transferring your custom design into the fibers of the polyester, making for a spectacularly vibrant, full-color, fade and weather-resistant print.
What is included in a custom pop up tent order?
Your order will include your custom canopy and matching frame. If you would just like to order the canopy, select the drop down arrow "Order Type" and select "Print Only". If you would only like the frame, select "Hardware Only".
Can I order a replacement canopy if needed?
Yes! If you would just like a replacement canopy, select "Print Only" when configuring your product.
Are there any accessories available for your custom canopy tents?
We have a large range of accessories available for our custom event tents. We offer tent walls and windows, bags and carrying cases, multiple weight options, pop up tent flooring, and lighting. We also offer a bunch of add-ons including leg banners, awnings and gutters, tent banners, and tent flags.
What weights are available for your tents?
We offer an array of different weight styles and sizes. These include fillable water weights, multiple sand bag weight sizes, and three different steel weight plate styles and sizes. Each weight is stackable so you should have no problem keeping your tent secured to the ground.
Can one person set up these tents?
While it is possible to set up the canopy tent with one person, we strongly recommend using at least two people to speed up the set up time. With two or more people it shouldn't take more than 10 minutes.
How does the frame attach to the tent canopy?
The canopy attaches to the frame using hook-and-loop fasteners. Once fastened, they provide a stable and secure fit to keep your tent kept together for outdoor applications.
Are the frame legs telescoping?
Yes, all our canopy tent frames are equipped with telescoping legs. There are four different heights, and it is simple to raise or lower the tent to your liking.
How to remove wrinkles from canopy?
We recommend using a fabric steamer to slowly and gently pull any wrinkles out of your canopy. Avoiding pressing the steamer against the canopy or staying in a spot too long as this may cause damage.
Can I machine wash the canopy?
No! Do not machine wash the tent canopy. This could prove catastrophic for the canopy and your washing machine. If you need to clean the canopy, you should hand wash it using a soft rag or brush, with a mild soap and warm water. Do not use any harsh soaps or chemicals as these could leave marks on your custom canopy.
Does Tex Visions offer any warranty on their custom canopy tents?
Yes, we do offer warranties. All canopy prints for indoor use have a 1-year limited warranty and a 6-month limited warranty for outdoor use. Hardware warranties include a 6-month limited warranty for outdoor use and a 1-year limited warranty with outdoor use.
How should I store my tent and canopy?
To store your tent canopy, fold it tightly and store in a cool dry place out of sunlight. For the tent frame, collapse completely and store in a dry place where moisture won't be an issue.