About Our Display Wall
5.6' x 5.8' Frame
Partial Print Length: 5.6' x 4.2'
Full Print Length: 5.6' x 5.8'
Display Size: 5.6' x 5.8'
Weight: 23.7lb
Part Number: HS_DW_115
5.6' x 6.8' Frame
Partial Print Length: 5.6' x 5.2'
Full Print Length: 5.6' x 6.8'
Display Size: 5.6' x 6.8'
Weight: 24.0lb
Part Number: HS_DW_111
5.6' x 7.1' Frame
Partial Print Length: 5.6' x 5.5'
Full Print Length: 5.6' x 7.1'
Display Size: 5.6' x 7.1'
Weight: 24.2lb
Part Number: HS_DW_107
5.6' x 8.0' Frame
Partial Print Length: 5.6' x 6.4'
Full Print Length: 5.6' x 8.0'
Display Size: 5.6' x 8.0'
Weight: 24.5lb
Part Number: HS_DW_103
7.6' x 5.8' Frame
Partial Print Length: 7.6' x 4.2'
Full Print Length: 7.6' x 5.8'
Display Size: 7.6' x 5.8'
Weight: 24.2lb
Part Number: HS_DW_114
7.6' x 6.8' Frame
Partial Print Length: 7.6' x 5.2'
Full Print Length: 7.6' x 6.8'
Display Size: 7.6' x 6.8'
Weight: 24.5lb
Part Number: HS_DW_110
7.6' x 7.1' Frame
Partial Print Length: 7.6' x 5.5'
Full Print Length: 7.6' x 7.1'
Display Size: 7.6' x 7.1'
Weight: 24.7lb
Part Number: HS_DW_106
7.6' x 8.0' Frame
Partial Print Length: 7.6' x 6.4'
Full Print Length: 7.6' x 8.0'
Display Size: 7.6' x 8.0'
Weight: 25.0lb
Part Number: HS_DW_102
8.9' x 5.8' Frame
Partial Print Length: 8.9' x 4.2'
Full Print Length: 8.9' x 5.8'
Display Size: 8.9' x 5.8'
Weight: 24.4lb
Part Number: HS_DW_113
8.9' x 6.8' Frame
Partial Print Length: 8.9' x 5.2'
Full Print Length: 8.9' x 6.8'
Display Size: 8.9' x 6.8'
Weight: 24.7lb
Part Number: HS_DW_109
8.9' x 7.1' Frame
Partial Print Length: 8.9' x 5.5'
Full Print Length: 8.9' x 7.1'
Display Size: 8.9' x 7.1'
Weight: 25.0lb
Part Number: HS_DW_105
8.9' x 8.0' Frame
Partial Print Length: 8.9' x 6.4'
Full Print Length: 8.9' x 8.0'
Display Size: 8.9' x 8.0'
Weight: 25.2lb
Part Number: HS_DW_101
9.8' x 5.8' Frame
Partial Print Length: 9.8' x 4.2'
Full Print Length: 9.8' x 5.8'
Display Size: 9.8' x 5.8'
Weight: 24.6lb
Part Number: HS_DW_112
9.8' x 6.8' Frame
Partial Print Length: 9.8' x 5.2'
Full Print Length: 9.8' x 6.8'
Display Size: 9.8' x 6.8'
Weight: 24.9lb
Part Number: HS_DW_108
9.8' x 7.1' Frame
Partial Print Length: 9.8' x 5.5'
Full Print Length: 9.8' x 7.1'
Display Size: 9.8' x 7.1'
Weight: 25.1lb
Part Number: HS_DW_104
9.8' x 8.0' Frame
Partial Print Length: 9.8' x 6.4'
Full Print Length: 9.8' x 8.0'
Display Size: 9.8' x 8.0'
Weight: 25.4lb
Part Number: HS_DW_100
10.0' x 10.0' Frame
Partial Print Length: 10.0' x 8.4'
Display Size: 10.0' x 10.0'
Weight: 26.8lb
Part Number: HM_DW_007
Includes
Custom print
Aluminum poles
(2) Steel plates 12"x12"/10lb
(2) Large aluminum pole thorns
Economy bag 66"
Material
Display Polyester: Nearly opaque knitted fabric, 6.10oz/yd² (flame-retardant)
Layout & Finishing
Single-reverse: Front and back side sewn together pillow-case style to enclose frame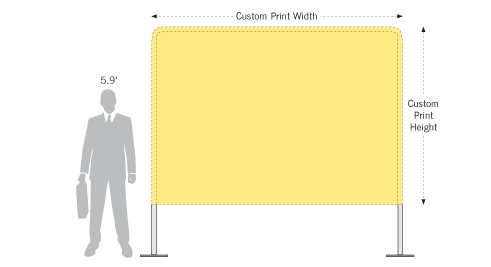 California Residents

Click here for Proposition 65 warning
Tex Visions Reseller Program
Join Tex Visions' reseller program and receive special pricing discounts! Simply send us your reseller certificate to unlock reseller-level pricing.
Tex Visions also provides neutral marketing materials such as sales sheets and assembly instructions that you can brand and send to your client base. Download the attachments to get started.
Neutral Resources
Need Assistance?

Do you want to become a reseller or have questions about our products and services? Contact us and receive answers quickly from a knowledgeable sales representative.

Call us: (877) 503-5247
Q & A
Reviews
There have been no reviews about this product.