About Our Fence Wraps
Includes
Print Size
10.0' x 3.0'
10.0' x 5.0'
10.0' x 7.0'
20.0' x 3.0'
20.0' x 5.0'
20.0' x 7.0'
30.0' x 3.0'
30.0' x 5.0'
30.0' x 7.0'
40.0' x 3.0'
40.0' x 5.0'
40.0' x 7.0'
50.0' x 3.0'
50.0' x 5.0'
50.0' x 7.0'
Custom size
Material
Vinyl Mesh 12oz: Perforated matte vinyl that is weather-resistant and UV-protected
Varioflag® FR: Perforated polyester fabric with excellent through-print (flame-retardant)
Layout & Finishing
Single-reverse: Hemmed sides, backed with header tape, grommets approximately every 1.5' around perimeter
Single-sided: Hemmed sides, grommets approximately every 1.5' around perimeter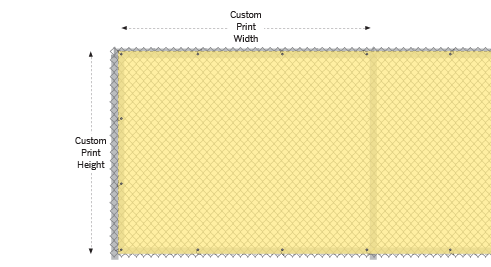 California Residents

Click here for Proposition 65 warning
Q & A
Fence Wrap. How does it wear. Against sun light over time. Does it have UV protection?
Was this helpful?

0

0
- Carlos
Posted on: March 5, 2015
The inks we use offer among the highest light fastness in the industry, but are not UV protected. All outdoor products have a limited six-month warranty, depending on the conditions under which they are taken care.
Tex Visions Reseller Program
Our 100% Neutral Reseller Program is a platform for resellers to show their clients the large variety of products available from Tex Visions without compromising business relationships. It is free and includes a neutral catalog and other neutral marketing materials as well as a neutral website, which allows you to easily direct your clients to information and product resources. When we say neutral, we mean all reseller resources are free of Tex Visions' branding so you can make our marketing materials your own!
Neutral Resources
Need Assistance?

Do you want to become a reseller or have questions about our products and services? Contact us and receive answers quickly from a knowledgeable sales representative.

Call us: (877) 503-5247 Chat:

---

Become a Reseller

Printesto Website
If you haven't already signed up for a FREE reseller website, you are losing out on a valuable tool. Our neutral website can be customized to include YOUR logo and YOUR contact information. The website includes unbranded product assembly instructions, technical specifications, an interactive e-catalog, and the latest information about our products such as the Bowflag®, Roll Up, 3D Displays, and more. Along with these print and online resources, we also have knowledgeable sales representatives available to help you at any time with information or pricing.
Catalog