About Our Bistro Table with Fitted Table Cover
Create an eye-catching promotional table display for your next event. Personalize a round fitted table cover with your branding to grab the attention of customers at a trade show, conference, or any other event. Our lightweight bistro tables are easily assembled without tools for fast setup and compact storage. The fitted table cover easily slips over the cocktail table for a seamless look. The fitted drape of the cover perfectly showcases your design or message. Our fitted tablecloth is entirely customizable for you to promote your business or event logo, company colors, slogans, contact information, and any other advertising you want. The round table style will let people from all directions see your custom design, spreading brand awareness. Effectively market your company or organization at a gathering with this table and table cover set.
27.5" Table Diameter
Print Size: 27.5" x 27.5" x 43.5"
Display Size: 2.3' x 2.3' x 3.6'
Weight: 24.0lb
Part Number: H_DS00700
31.5" Table Diameter
Print Size: 31.5" x 31.5" x 43.5"
Display Size: 2.6' x 2.6' x 3.6'
Weight: 28.0lb
Part Number: H_DS00701
Includes
Custom print
Powder-coated foldable steel base
Material:
Display Polyester: Nearly opaque knitted fabric, 6.10oz/yd² (flame-retardant)
300D Polyester: Water-resistant & scratch-proof fabric, 6.00oz/yd² (flame-retardant)
Stretch Display Polyester: Stretchy fabric that is stain and wrinkle-resistant, 5.30oz/yd² (flame-retardant)
Layout & Finishing
Single-reverse: Hemmed sides to fit table
Care & Cleaning
Wash product on gentle cycle with cold water using mild, color-safe washing detergent and a color catcher. After, allow product to air dry to avoid shrinking.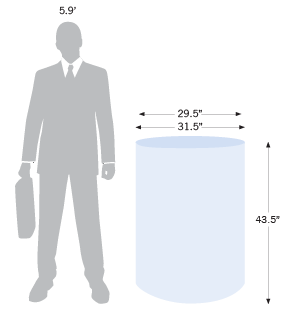 Designing Your Fitted Table Cover Online
Choose from one of the three design methods we have. We accommodate different levels and preferences of design expertise so you can create your ideal table cover:
Online Design Tool: Personalize your tablecloth without leaving our site using the design suite. This tool allows you to upload any logo or artwork files you want onto the template and further customize your graphics in real time using text boxes, colors, clipart, and more.
Upload Artwork Template: Use a software program to customize your graphics and upload the finished template back onto our site. Click on our downloadable template link to get the table cover artwork template onto your computer.
Free Design Services: Do you not know what to include in your design or need help with the whole process? Have one of our graphic designers create your artwork free of charge. Let us know what files you want included or instructions you have, and we'll take it from there.
Frequently Asked Questions
When will I receive my table and tablecloth?
Our standard turnaround time is 3 business days. After that, the tablecloth will be ready to ship to you. We have rush production and shipping times if you need your table cover quicker than the standard time. View what rates are available for you during check out.
How do I customize my table cover?
We have three options for personalizing your tablecloth. You can either use our design suite to complete your artwork in real time, download the tablecloth template onto your computer to use design software, or have one of our designers create your graphics for you. All our design methods include a free artwork proof. We will send you a proof to review to get your approval before we submit your graphics to the printer.
What is the tablecloth and table made from?
We use durable materials for our table and tablecloth so they're reusable. Our table has a powder-coated steel base and a fiberboard table top. This material is lightweight so it's easy to carry and store. The table cover is made from display polyester, which is an opaque knitted fabric that is perfect for indoor and light outdoor use.
Can I get help with my design?
Yes, if you need help with your design, click on "Proceed to Artwork" and choose "Free Design Services". You will see a form to fill out with your contact information, any artwork files you want in your design, and any instructions you have. One of our professional graphic designers will personalize your artwork template free of charge and send you a proof of their tablecloth graphics for you to approve. Once you approve of the design, we will print your table cover.
Residents of California

Proposition 65 warning
Tex Visions Reseller Program
Join Tex Visions' reseller program and receive special pricing discounts! Simply send us your reseller certificate to unlock reseller-level pricing.
Tex Visions also provides neutral marketing materials such as sales sheets and assembly instructions that you can brand and send to your client base. Download the attachments to get started.
Neutral Resources
Need Assistance?

Do you want to become a reseller or have questions about our products and services? Contact us and receive answers quickly from a knowledgeable sales representative.

Call us: (877) 503-5247
Q & A
Reviews
There have been no reviews about this product.