About Our Wall Banners
Draw attention to your brand or event with custom wall banners. These banners are 100% customizable and showcase your design through vibrant, full-color graphics that are weather-resistant and safe for all-season display. Choose from four materials. Each option is designed for indoor and outdoor display. Hardware includes aviation-grade fiberglass poles, as well as mounting brackets, end caps, and eyelet brackets if needed. We offer multiple standard and custom sizes to choose from so you can find the exact size you need for your display application.
Includes
Custom print
(2) Aviation-grade fiberglass poles cut to size
(2) Rust-resistant cast aluminum mounting brackets
End caps
Eyelet bracket if needed
Screws not included
Material
Outdoor Flag Polyester: Lightweight knitted fabric, excellent bleed-through and tear-resistance, 3.25oz/yd²
300D Polyester: Water-resistant & scratch-proof fabric, 6.00oz/yd² (flame-retardant)
18oz Opaque Vinyl: 100% opaque satin vinyl that is weather-resistant and UV-protected
23oz Opaque Vinyl: 100% opaque heavy-duty satin vinyl that is weather-resistant and UV-protected
Layout & Finishing
Single-reverse: Hemmed sides, top and bottom with 2.0" flat laid pole sleeve sewn closed on outer side, 2 grommets on pole side
Double-print: Cut sides, top and bottom with welded 2.0" flat laid pole sleeve, 4 grommets to reinforce welds
Double-sided: Two prints sewn together with a material or vinyl 13oz blocking inner liner, pillow-case style hemmed sides, top and bottom finished with 2.0" flat laid pole sleeve sewn closed on outer side, 2 grommets on pole side
Disclaimer
Wind tests demonstrated our Street Banners can withstand wind gusts up to 55-63mph (10bft). Maximum recommended and guaranteed size for the Street Banner Plus produced by us and used with our hardware is 24 sqft. User must read and observe assembly instructions that include more information and details.
Specifications
Model
Part Number
Sizes Available
Weight
Option 5
HM_SB_150 (1.5ft wide)
HM_SB_151 (2ft wide)
HM_SB_152 (2.5ft wide)
HM_SB_153 (3ft wide)
1.5ft - 3ft wide
3ft - 10ft tall
5lbs
Option 6
HM_SB_160 (1.5ft wide)
HM_SB_161 (2ft wide)
HM_SB_162 (2.5ft wide)
HM_SB_163 (3ft wide)
1.5ft - 3ft wide
3ft - 10ft tall
5lbs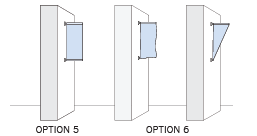 What are Wall Banners?
Wall banners are customized banners that are used to promote a message, event, or brand. They are hung vertically up against a wall and paired with bracket hardware to display in areas with high foot traffic. Our wall mounted banners are printed on both sides so they are easy to see from all directions, allowing for maximum exposure. They are commonly installed in sports arenas, museums, zoos, colleges, and theme parks, among many others. Custom wall banners are hard to miss, making them a highly effective form of advertising.
Design Your Banners: 3 Easy Methods
We offer three design methods to choose from. Each method includes a free design proof that we will email to you for your approval before we produce your order.
Online Design Tool: Personalize your wall banners in real time using our online design suite. This design tool allows you to upload any artwork or logo files directly from your computer and makes it easy to insert clip art, fonts, background designs, and more.
Upload Artwork Template: If you would prefer to use your own design software, this option involves downloading the artwork template, adding your artwork using design software, and reuploading the completed template to our website.
Free Design Services: Our team of graphic designers can create your artwork for free. Send our team your current artwork or design ideas and we will work with you until the design is completed. Click the "Proceed to Artwork" button above to get started.
How To Install Your Wall Mounted Banners
Our wall hanging banners are designed for hassle-free assembly and can be installed with no professional help required. Installation requires a ladder and tools to mount the bracket to the wall or vertical surface.
Mount the top bracket to a wall or vertical surface using an electric drill and screws.
Insert the top banner arm into the top mounting bracket.
Insert eyelet screw into the top mounting bracket to secure top banner arm. Tighten by hand.
Slide the top pole sleeve of banner onto the top banner pole.
Slide the bottom banner pole into the bottom pole sleeve to line up the bottom bracket.
Install bottom bracket, attach bottom banner arm, tighten eyelet.
Connect zip ties to the top and bottom eyelet screws and banner grommets.
Add end caps to the top and bottom poles for a professional finish.
Frequently Asked Questions
How fast is the turnaround time?
We have a 3-day turnaround time. We offer rush production and expedited shipping options at checkout. Click the "Delivery Estimator" button located at the top of the page to preview your delivery date.
How do I design the banners?
We offer three ways to design your wall mounted banners: Online Design Tool, Upload Artwork Template, and Free Design Services. Each design method includes a free design proof for your approval before we start producing your order.
Can these be displayed outdoors?
Yes, these wall mounted banners can be displayed outdoors. They are crafted from weather-resistant materials and are safe for year round display. The vinyl material options are best for long term outdoor display, with the 23oz being the heaviest and most fortified for outdoor weather elements.
What materials are these wall banners made from?
We offer four different material options to choose from: 2 vinyl materials and 2 polyester materials. Each material is weather-resistant and can be displayed indoors and outdoors. All banners can be cleaned after display and reused again in the future.
Can I order just the hardware and/or just the banners?
Yes, you can purchased just hardware and/or just the banners. When you are configuring your product, click the "Order Type" dropdown menu. There you can select "Prints Only", "Hardware Only" or "Prints and Hardware".
Are these banners reusable?
Yes, these custom wall banners are reusable and are crafted for long term, repeated use. We recommend cleaning the banners after each use to keep their pristine, vibrant finish.
How do I clean the banners?
Cleaning the wall hanging banners is an easy process that can be completed by one person. For the vinyl and 300D polyester materials, simply wipe with a wet cloth and a mild soap. The Outdoor Flag Polyester can be machine washed using the gentle cycle with cold water. Hang dry the banners after cleaning.
Residents of California

Proposition 65 warning
Tex Visions Reseller Program
Join Tex Visions' reseller program and receive special pricing discounts! Simply send us your reseller certificate to unlock reseller-level pricing.
Tex Visions also provides neutral marketing materials such as sales sheets and assembly instructions that you can brand and send to your client base. Download the attachments to get started.
Neutral Resources
Need Assistance?

Do you want to become a reseller or have questions about our products and services? Contact us and receive answers quickly from a knowledgeable sales representative.

Call us: (877) 503-5247
Q & A
Wall Banner Reviews
There have been no reviews about this product.