About Our Bowflag® Flying Set
XXSmall Basic Pole Set
Print Size: 1.3' x 3.1'
Display Size: 1.3' x 3.1' x 4.1'
Weight: 0.5lb
Inner Pole Diameter: 17mm (+/- 0.20mm)
Outer Pole Diameter: 19mm (+/- 0.20mm)
Part Number: H_BF00060
XSmall Basic Pole Set
Print Size: 1.6' x 4.9'
Display Size: 1.6' x 4.9' x 5.9'
Weight: 0.7lb
Inner Pole Diameter: 17mm (+/- 0.20mm)
Outer Pole Diameter: 19mm (+/- 0.20mm)
Part Number: H_BF00071
Small Basic Pole Set
Print Size: 1.8' x 6.6'
Display Size: 1.8' x 6.6' x 8.2'
Weight: 0.8lb
Inner Pole Diameter: 17mm (+/- 0.20mm)
Outer Pole Diameter: 19mm (+/- 0.20mm)
Part Number: H_BF00100
Medium Basic Pole Set
Print Size: 2.0' x 8.5'
Display Size: 2.0' x 8.5' x 10.2'
Weight: 1.0lb
Inner Pole Diameter: 17mm (+/- 0.20mm)
Outer Pole Diameter: 19mm (+/- 0.20mm)
Part Number: H_BF00200
Large Basic Pole Set
Print Size: 2.6' x 11.2'
Display Size: 2.6' x 11.2' x 13.5'
Weight: 1.4lb
Inner Pole Diameter: 17mm (+/- 0.20mm)
Outer Pole Diameter: 19mm (+/- 0.20mm)
Part Number: H_BF00300
XLarge Basic Pole Set
Print Size: 2.8' x 14.8'
Display Size: 2.8' x 14.8' x 17.1'
Weight: 2.0lb
Inner Pole Diameter: 17mm (+/- 0.20mm)
Outer Pole Diameter: 25mm (+/- 0.20mm)
Part Number: H_BF00400
Medium Plus Pole Set
Print Size: 2.0' x 8.5'
Display Size: 2.0' x 8.5' x 10.2'
Weight: 1.1lb
Inner Pole Diameter: 17mm (+/- 0.20mm)
Outer Pole Diameter: 24mm (+/- 0.20mm)
Part Number: H_BF00201
Large Plus Pole Set
Print Size: 2.6' x 11.2'
Display Size: 2.6' x 11.2' x 13.0'
Weight: 1.4lb
Inner Pole Diameter: 17mm (+/- 0.20mm)
Outer Pole Diameter: 24mm (+/- 0.20mm)
Part Number: H_BF00301
XLarge Plus Pole Set
Print Size: 2.8' x 14.8'
Display Size: 2.8' x 14.8' x 17.7'
Weight: 2.1lb
Inner Pole Diameter: 17mm (+/- 0.20mm)
Outer Pole Diameter: 25.5mm (+/- 0.20mm)
Part Number: H_BF00401
Includes
Custom print
Basic: Aluminum and fiberglass pole set
Plus: Aviation-grade fiberglass pole set
Clamp set or bungee attachment
Economy bag
Pole Comparison
Basic: Aluminum and fiberglass pole sets withstand up to 30mph winds when used with a single-reverse flag and up to 17mph when used with a double-sided flag, use indoors or outdoors in lower wind speed conditions
Plus: Aviation-grade fiberglass pole sets withstand up to 63mph winds when used with a single-reverse flag and up to 46mph when used with a double-sided flag, use indoors or outdoors in higher wind speed conditions
Shape
Concave
Convex
Angled
Straight
Material
Multiflag® FR: Outdoor polyester fabric with excellent through-print and tear-resistance (flame-retardant)
Layout & Finishing
Single-reverse: Hemmed sides, left side finished with pole sleeve made of printed flag material with header tape reinforcement tip, tab sewn at bottom of print
Double-sided: Two prints sewn together with a blocking inner liner, pillow-case style hemmed sides, left side finished with pole sleeve made of printed flag material with header tape reinforcement tip, tab sewn at bottom of print
Disclaimer
Do not use near overhead wires and allow a 4'-12' radius from base for flag clearance depending on size. User must read and observe assembly instructions. If this is not done correctly it may result in damage to the unit, injury, or death, and all warranties will be void.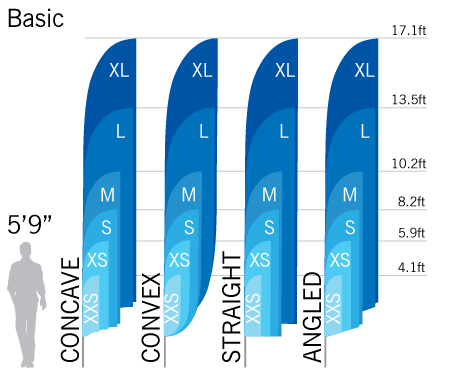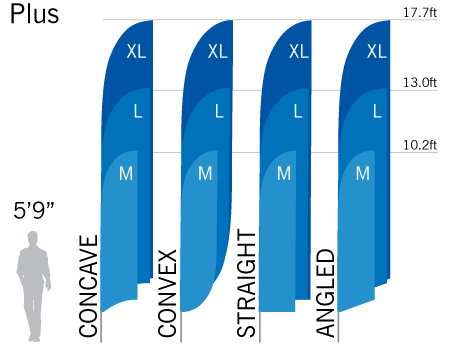 Accessories
We recommend the following accessories for your product:
Tex Visions Reseller Program
Our 100% Neutral Reseller Program is a platform for resellers to show their clients the large variety of products available from Tex Visions without compromising business relationships. It is free and includes a neutral catalog and other neutral marketing materials as well as a neutral website, which allows you to easily direct your clients to information and product resources. When we say neutral, we mean all reseller resources are free of Tex Visions' branding so you can make our marketing materials your own!
Neutral Resources
Need Assistance?

Do you want to become a reseller or have questions about our products and services? Contact us and receive answers quickly from a knowledgeable sales representative.

Call us: (877) 503-5247 Chat:

---

Become a Reseller

Printesto Website
If you haven't already signed up for a FREE reseller website, you are losing out on a valuable tool. Our neutral website can be customized to include YOUR logo and YOUR contact information. The website includes unbranded product assembly instructions, technical specifications, an interactive e-catalog, and the latest information about our products such as the Bowflag®, Roll Up, 3D Displays, and more. Along with these print and online resources, we also have knowledgeable sales representatives available to help you at any time with information or pricing.
Catalog
Bowflag® Basic Setup Video
Bowflag® Plus Setup Video
Bowflag® Plus Single-Reverse Wind Speed Test for flying shapes.
Bowflag® Plus Double-Sided Wind Speed Test for flying shapes.
Bowflag® Plus Large Double-Sided Wind Speed Test for flying shapes.
Bowflag® Basic Wind Speed Test for flying shapes.