Print


Size

Material

Multiflag® - Knitted polyester fabric with excellent through print and high resistance to tearing

 




Layout & Finishing

Single-reverse - Hemmed sides, left side finished with pole sleeve made of printed flag material, top of pole sleeve strengthened, bottom with sewn in bungee
Double-sided - Two prints sewn together with a blocking inner liner, pillow-case style hemmed sides, left side finished with pole sleeve made of printed flag material, top of pole sleeve strengthened, bottom with sewn in bungee

 

Hardware

Part Number

Set - #HS_TT_002
Base only - #H_BF00051
Pole only - #H_BF00050

Size

 

 

 

 

Weight

Includes

Weighted base
Fiberglass pole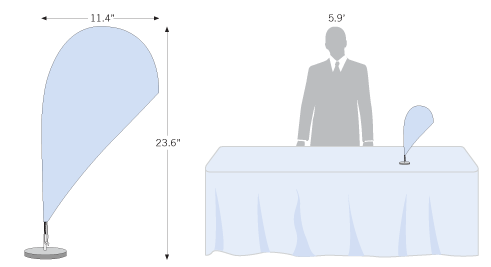 Tex Visions' Bowflag® T is a tabletop display resembling our popular Bowflag® products. It is constructed of a lightweight fiberglass pole and weighted base. When assembled, the entire display weighs less than 1lb and measures almost 11"x24". This size allows your clients to get the attention of their audience without taking up much space. The Bowflag® T's custom flag is available in single-reverse or double-sided and printed on our proven flag fabric. It comes in our Bowflag® drop shape and its graphics extend to the pole sleeve to maximize your client's advertising space. No tools are required to set up the Bowflag® T. Your client starts by screwing the fiberglass pole into the weighted base, then slides the flag onto the pole and fastens it to the hook to secure. Tex Visions has several different styles of tabletop displays from which your client can choose, including the Table Display, X-Display T, Roll Up T, Table Flag, Table Banner, and Pop Up Basic 2x2 T. Choose the Bowflag® T to be sure your client gets a table display that is both unique and user-friendly.
California Residents

Click here for Proposition 65 warning
Q & A
There have been no questions asked about this product.
Tex Visions Reseller Program
Our 100% Neutral Reseller Program is a platform for resellers to show their clients the large variety of products available from Tex Visions without compromising business relationships. It is free and includes a neutral catalog and other neutral marketing materials as well as a neutral website, which allows you to easily direct your clients to information and product resources. When we say neutral, we mean all reseller resources are free of Tex Visions' branding so you can make our marketing materials your own!
Neutral Resources
Need Assistance?

Do you want to become a reseller or have questions about our products and services? Contact us and receive answers quickly from a knowledgeable sales representative.

Call us: (877) 503-5247 Chat:

---

Become a Reseller

Printesto Website
If you haven't already signed up for a FREE reseller website, you are losing out on a valuable tool. Our neutral website can be customized to include YOUR logo and YOUR contact information. The website includes unbranded product assembly instructions, technical specifications, an interactive e-catalog, and the latest information about our products such as the Bowflag®, Roll Up, 3D Displays, and more. Along with these print and online resources, we also have knowledgeable sales representatives available to help you at any time with information or pricing.
Catalog