Custom Tablecloths
Looking to display custom tablecloths at your next event or trade show? Tex Visions offers high-quality table covers in an array of shapes, sizes, and style options that are affordable for any budget. All of our tablecloth styles are custom printed on premium polyester-based fabrics using dye sublimation for a full color, fade-resistant finish that is sure to the attract the eyes of passerby for years to come. Choose a style below and start designing.
Dye Sublimation Printing • Machine Washable • Design Online • Free Shipping • Fast Turnaround • Rush Options • No Hidden Fees
Custom Table Covers: Tex Visions vs Other Suppliers
Completely Customizable: Unlike our competitors, our tablecloths are 100% customizable from the size, shape and color to the fabric, style and cut. Our custom tablecloths allow you to design every inch of the throw with unlimited designs and colors for no extra cost or hidden fees.
Large Variety of Options: We offer our table covers in a variety of design styles including all over print, logo print, stain-resistant, and solid color print. We also have an array of different cuts including traditional, fitted, stretch, convertible and runner.
Premium Fabric Options: Our custom tablecloths are crafted from different premium polyester-based fabric materials depending on which product style you select. All styles offer a professional finish, spectacular color reproduction, and are machine washable - offering years of repeated use.
Customer Service: With over 15 years of experience designing, printing, and shipping custom table covers for our loyal customer base, our customer service team is knowledgeable and fully trained to answer any question or concern you may have. When you call or message us, it goes to a real person at our headquarters in Carlisle, Pennsylvania.
Custom Tablecloths Improve Your Visibility at Trade Shows
Our table covers are designed to be stylish and professional but most importantly to attract the attention of a passing audience. All styles are printed using dye sublimation, which produces brilliant, full color graphics that maintain their pristine finish after years of repeated use. For a small initial investment, custom table throws offer you the ability to market your brand directly to customers, increasing the chances of engagement and follow up inquiries.
These versatile table covers are reusable, machine washable, and are perfect for exhibiting at retail stores, churches and places of worship, as well as trade shows and events, among many others. With our fast turnaround times, unmatched product selection, and industry leading customer service, Tex Visions is the perfect supplier for all your custom tablecloth needs.
Difference Between 3-Sided Table Covers and 4-Sided
We offer two different coverage options for our tablecloths: 3-sided and 4-sided. There are different advantages to using both styles.
3-Sided: The advantage of using a 3-sided table cover is the ability to quickly access storage under the table if needed. This can be important in a busy trade show environment. Another benefit of this style is more comfortable seating and eliminating the risk of accidentally moving the tablecloth with one's shoes.
4-Sided: The advantage of using the 4-sided custom tablecloth is the ability to create a hidden storage area under the table. This allows you to store your unsightly traveling and trade show gear underneath the table and out of sight. This can be especially helpful if your table display is not up against a wall or is in the middle of a room.

3-Sided (Open Back)
4-Sided (Closed Back)
Dye Sublimated Tablecloths – Why They Are Superior
We print all of our custom tablecloths using dye sublimation. This advanced printing technique injects the ink (in its gas form) directly into the fabric, creating a bond that is unmatched by inferior printing techniques. The result is a vibrant, full-color print that appears high-definition to the viewer. Another benefit of this printing technique is the added fade-resistance, allowing the tablecloth to be machine washed.
Design Your Own Tablecloth Online - 3 Simple Methods
Online Design Tool: Our online tool makes it easy to create professional level artwork without any design software. It comes stocked with helpful art assets such as clip art, fonts, stock images and much more. The tool also includes guides that keep your design within print standards. Each submission is checked by our graphics team before print.
Upload Artwork: This method involves downloading a custom tablecloth design template from a product page, opening on design software, adding your artwork to the template, and reuploading to our site. Your submission is checked for any errors by our design team before print.
Free Design Services: This method is perfect for customers that would like a professional to design their tablecloth. Our design team will correspond with you until the design is exactly what you had in mind before sending to print.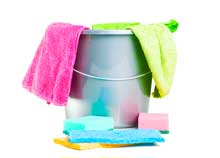 Cleaning and Storing Your Custom Tablecloths
Cleaning the tablecloths is a simple process. If there are small blemishes, wipe them with a soft, moist cloth. For a more thorough cleaning, simply machine wash on the delicate cycle using cold water and a mild detergent.
It is important to avoid using any harsh chemicals or bleach when laundering your custom tablecloths as these may stain or ruin the printed finish.
To dry, either air dry or tumble dry with low heat. If there are any wrinkles, smooth them out using a steamer or an iron set to low heat.
To store, simply fold and store in a dark, dry area such as a closet. Avoid sharp objects when in storage.
Frequently Asked Questions
Do you offer multiple sizes? Do you offer custom size tablecloths?
Yes, to both! We offer our custom tablecloths in multiple sizes with 4ft, 6ft, and 8ft being our most popular sizes. We do also offer custom sizes for our tablecloths maxing out at around 20ft.
What material are these table covers?
We offer multiple fabric options depending on which tablecloth product you select. All are printed on a polyester-based fabric that is designed for excellent color reproduction and long-term durability.
What is the difference between All Over Print and Logo Print?
For the All Over Print style, your design covers the entire tablecloth from end to end, while the logo print is specifically for branding. You add your logo or brand to the middle of the cloth and choose from an assortment of background colors.
Are your table throws able to stretch?
For our traditional style, it is slightly stretchy. We also offer a stretch tablecloth.
Do you offer an option just for a branded tablecloth?
Yes, our Logo Print tablecloths are perfect for this style. You simply add your logo and choose from an assortment of background colors.
Can I display my custom tablecloth outdoors?
Yes! You certainly can display these tablecloths outdoors.