About Our Fitted Round Stain-Resistant Table Cover
Includes
Print Size
29.5" x 31.5"
42.5" x 31.5"
Custom size
Material
Stretch Display Polyester: Stretchy fabric that is stain and wrinkle-resistant, 5.30oz/yd² (flame-retardant)
300D Polyester: Water-resistant & scratch-proof fabric, 6.00oz/yd² (flame-retardant)
Layout & Finishing
Single-reverse: Hemmed sides to fit table
Care & Cleaning
Wipe with damp cloth immediately after spills. For tough stains, wash product on gentle cycle with cold water using mild, color-safe washing detergent and a color catcher. After, allow product to air dry to avoid shrinking.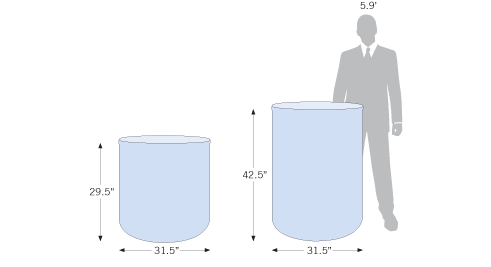 California Residents

Click here for Proposition 65 warning
Tex Visions Reseller Program
Our 100% Neutral Reseller Program is a platform for resellers to show their clients the large variety of products available from Tex Visions without compromising business relationships. It is free and includes a neutral catalog and other neutral marketing materials as well as a neutral website, which allows you to easily direct your clients to information and product resources. When we say neutral, we mean all reseller resources are free of Tex Visions' branding so you can make our marketing materials your own!
Neutral Resources
Need Assistance?

Do you want to become a reseller or have questions about our products and services? Contact us and receive answers quickly from a knowledgeable sales representative.

Call us: (877) 503-5247 Chat:

---

Become a Reseller

Catalog
Q & A
- Elise
Posted on: June 24, 2019
"With sides" means that the print will cover the front of the frame and both left & right sides. This is recommended if you want to store items behind the display, or have a polished booth look. "Without sides" means that only the front of the frame will have a print and the sides of the frame and hardware will be exposed. This is recommended if you are looking for an industrial-looking frame, or if you are trying to make an economical purchasing decision.
I am trying to order but your middle section of the page is not loading. All I am seeing is the T V with revolving red swirl
Was this helpful?

0

0
- Neil
Posted on: April 3, 2018
Sorry to hear you are experiencing difficulties with our website. I tried to access the page and it loaded for me. Try refreshing and if that does not work clear your cache and it should work.
Hi. My client is interested in ordering two different graphics. What's the cost for the second print, please?
Was this helpful?

0

0
- Aaron
Posted on: January 20, 2017
To see the cost of 2 graphics, log in to your account and select 'Prints Only' under Order Type. Change the quantity to 2 prints, and if you have more than 1 graphic design (i.e. if your prints will look different) then enter 2 designs, 1 of each. You may also choose to see pricing for a print with Wrap-Around Sides or No Sides on this page.