About Our Q-Frame® Tex120 Lightbox
Includes
Custom print
Aluminum profile
Light(s)
Edge connectors
Edge stabilizers
Allen wrench for installation
Support profile
Side connector if required
Wall mounting set(s)
Frame Depth
Material
Backlit Polyester: Matte fabric for back-lighting applications, 8.28oz/yd² (flame-retardant)
Layout & Finishing
Single-reverse: Keder sewn to perimeter of print
Print Size
Display Size
Part Number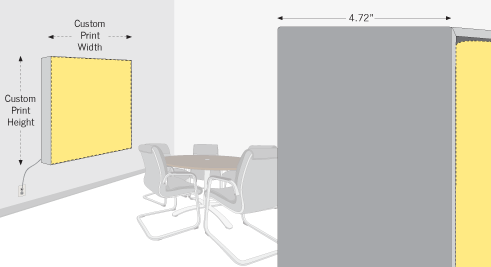 California Residents

Click here for Proposition 65 warning
Q & A
1. Is there a way to have this stand on the floor rather than be wall mounted? 2. Can this be made two sided?
Was this helpful?

0

0
- Nick
Posted on: October 29, 2013
This product can be sat on the floor, however, there are no stands available to do this. If you are looking for a frame system that can be sat on the floor with 'feet', I would recommend our Q-Frame® Tex 50. The Q-Frame® Tex 50 can also be printed with two sides. The only difference is that it is not a lighted display.
Tex Visions Reseller Program
Our 100% Neutral Reseller Program is a platform for resellers to show their clients the large variety of products available from Tex Visions without compromising business relationships. It is free and includes a neutral catalog and other neutral marketing materials as well as a neutral website, which allows you to easily direct your clients to information and product resources. When we say neutral, we mean all reseller resources are free of Tex Visions' branding so you can make our marketing materials your own!
Neutral Resources
Need Assistance?

Do you want to become a reseller or have questions about our products and services? Contact us and receive answers quickly from a knowledgeable sales representative.

Call us: (877) 503-5247 Chat:

---

Become a Reseller

Catalog