Welcome to the Tex Visions Blog
A place for our resellers. Talk about what matters most to you. Share your insights. Present us with your challenges. Learn about our team. Connect with us.
There are a number of ways your company's advertising materials can be printed for your next sale, show or appearance. The most popular option out there is custom large format printing, which has a number of benefits over the alternatives.
What Is Large Format Printing?
Also known as "wide format printing," this is simply a catch-all term for materials that are too big to be printed by a conventional printer.
While it's generally relative (meaning that it varies from printer to printer), it also has a specific meaning within the printing industry. Typically, it refers to businesses that print any one of the following items:
Vertical and horizontal banners
Fabric trade show displays
Store displays
Promotional signs
Large format printing services have a ton of upsides when used to print your company's marketing materials — not just from an advertising perspective, but also for your bottom line.
1. Cost
Buying large format graphics isn't like buying regular print items -- they're not something that you need to replace year after year or even show after show. Even if you do have to replace your graphics, you're still saving money: all you pay for is the graphics -- the hardware you need for installation is included with your first purchase.
2. Brand Awareness
Using large format printing materials as part of your advertising is a great way to increase brand awareness and recognition. Setting up your vertical banners or promotional signs outside your store is a great way to get people to stop and look. This goes double if you can set them up along the roadside — then they act as mini billboards to advertise your products to people as they drive by.
The "brand awareness" angle even works for trade shows, too: people are going to be much more aware of your brand if the company's logo and graphics are splashed across a 10x20 trade show exhibit compared to the 8x8s or 10x10s that are usually the norm.
3. Longevity
Much like we mentioned in tip #1 above, a set of large-format graphics isn't something that you have to replace often. Almost all types of large-format graphics can be washed, further extending their longevity. All of our larger trade show items, such as our displays and pop ups, also come with cases, which makes protecting, storing and transporting your investment that much easier.
4. Versatility
Large format graphics printers these days are incredibly versatile. Not only can we print on a wide variety of different materials, including fabric, vinyl and poster board, but we can also custom-cut all of those materials. We offer all of the standard large format printing services, such as signs and banners, as well as floor graphics, decals and magnets — all perfect ways to make an impression.
5. Speed
Since all you have to get printed are the graphics, your large format printing projects can get turned around much more quickly than traditional printing projects, which traditionally take 3+ weeks of design and printing, plus another week or more of ship time. We've set everything up in such a way that you can have your artwork approved inside of a day, then printed and shipped to you inside of two weeks, depending on complexity and workload — a far cry from the month of time it might take for conventional small-print items.
6. Online/Offline Connections
Increasingly, more and more business is taking place online - whether it's an online order for in-store pickup (in the case of food) or an order that takes place totally online (like ordering from Amazon). As of March 2017, a little under one-third of Americans (29%) shop online once a week, with 32% shopping once a month.
Including your company's URL on your large format advertising is a great way to bridge that gap of being an offline company in an increasingly online world. It's also another great way to boost your bottom line: the number of web-influenced retail sales is expected to grow by more than 200 billion (7%) between 2018 and 2020.
1. Design Using The Adobe Creative Suite
When it comes to digital printing, especially large format printing, Adobe is king. Out of all the Adobe applications, there's three that you should be using to design your large format graphics: Illustrator, InDesign, and Photoshop.
Of those three, Illustrator is your best choice.
Why?
All files created in Illustrator are vector-based, which means that you can scale them up and down and they won't become pixelated. The file sizes are also typically smaller, which makes them easier to transfer to the printer. Alternatively, you could design your files in Photoshop, but that program creates files in bitmap format which is not the best file type for large format printing.
The Difference Between Vector and Bitmap
The difference between vector and bitmap images is pretty simple:
Bitmap images are stored as tiny dots of color known as pixels. These pixels are then arranged together to create an image. No matter where they are in the image, these pixels can be edited by deleting them or changing their color. However, there's a limit to how "deep" you can go: eventually you're going to scale down enough that you're going to run out of pixels and, consequently, the graphics can look pixelated or "blurry."
Vectors, on the other hand, are based on math. A vector design is based on a mathematical formula that draws lines and curves. These lines and curves can be combined into circles, squares and other shapes to create large images. Since you're editing lines as opposed to pixels, there are no limitations as the graphics will always look crisp and clean. The formula just spits out new lines or curves depending on what you're editing.
2. Build Using Vector Images
Besides all of the reasons listed above, there's another reason to build using vector images: size. Vector image files are much smaller than equivalent bitmap files, so they're much easier to transfer, share and store -- a benefit when you're working on multiple graphics for the same design.
Not only are vector images incredibly tiny, but they can also scale up to incredibly large sizes as you need them -- something that we discuss further down in this article.
3. Convert All Colors To Pantones
When it finally comes time to print your artwork, you want to be able to give the large format printing company all of the different colors you're going to need them to use when they print your designs. Converting all of your colors to Pantones is the easiest way to ensure that your colors will match up when the final product is produced. Each Pantone color maps to the same color in every other color spectrum you could think of. So if you have a Pantone for the color pink, then you also have the RGB values for that same color, the CMYK values for that color and the hex code for that color.
In this way, you can have colors that look exactly the same no matter what format you decide to display your graphics and designs. Poster? Use the CMYK color. Website? Use the RGB color values or the hex code.
All of these values are listed on the relevant Pantone swatch. Pantone swatches can be converted from colors using the Adobe Suite's built-in tools or any one of a number of online color pickers. Once you have the Pantone value for the color you're using, you can consult the relevant Pantone color books to find the swatch you need.
4. Outline All Fonts and Embed All Images
When it comes to working with non-vector images, two of the things that will make your life easier are outlining all your fonts and embedding images. This way, everything that the graphic designer needs to work with the file (both the images and the fonts) are available no matter what.
Outlining your fonts is incredibly easy in Adobe Illustrator. Not only does Adobe offer their own tutorial on how to outline things using Live Trace, but we've also made our own video on how to outline your fonts using Illustrator 2018. Outlining fonts is important because the graphic designer you're working with might not own a copy of the font you're using, so the font will not show up when the graphic designer opens the file.
Embedding your images means that they're "inserted" into the Adobe Illustrator file that you're working with. This means that when you send the file to someone else, they get both the file and images with nothing missing or out of place.
5. Ensure Your Design Scales
When it comes to printing large format graphics, make sure that your designs and graphics scale, in two ways:
One, make sure that it scales when you're working on it: if it takes a while (more than a couple seconds) for the image to scale between the different percentages, then you may have to find a percentage that works for you and stick with it.
Two, make sure that it scales for all the different applications you might use it for. Does it look as good on a 55" roll-up as it does on an 8' x 10' pop up display? If not, then you're probably not using the correct resolution for the graphic you're trying to print. Check out the next tip on list for more info about this.
6. Know The Right Resolution
How do you know what the right resolution is for your design? You need two pieces of information: the viewing distance for whatever artwork you're creating, and the number of LPI (lines per inch), which can then be converted to large format graphics' DPI (dots per inch).
First, you need to figure out the viewing distance of your artwork. This is pretty simple: the average viewing distance of a piece of artwork is the diagonal length of whatever that piece of artwork is. So a piece of artwork printed on an 8.5" x 11" sheet of paper has a viewing distance of about 14 inches, or 1.16 feet.
Now that we have our viewing distance, we can figure out our LPI. We'll be using an equation from the Specialty Graphic Imaging Association (SGIA) on how to convert drawing distance to LPI. Here it is:
240 ÷ the viewing distance = minimum acceptable LPI
Let's walk through that. Our viewing distance is 1.16', so 240 divided by 1.16 is 206.89. So we need 206.89 lines per inch to make an 8.5" x 11" piece of content that's viewable at the proper distance.
Converting from LPI to DPI is pretty easy: the conversion is simply LPI times 2. So you need a DPI of 413.79 for your 8.5" x 11" artwork. This can easily be scaled up or down depending on what size of large format graphics you're printing -- the formulas work just as well for an 8' x 10' exhibit as they do an 8.5" x 11" sheet of paper.
7. Print Test Copies
Speaking of pieces of paper, once you have your large format graphics ready for printing, you should print a couple test copies at different sizes. This will help you ensure that your graphics look good no matter what size you print them at.
If you're printing your graphics for a trade show booth, look at all the different graphic sizes that might be present in your booth (an 8' x 10' booth, a 55" roll-up, a 4-foot tablecloth, etc), and get proofs or print copies for all of those sizes if possible. This is the best way to make sure that your graphics scale up or down to the right in-person representation.
8. Pick The Right Material
When it comes to designing your large format graphics for printing, you need to know exactly what it is your graphics are going to be printed on. The material you choose affects how your graphics look when they finally come out of the printer. So, for example, if your graphics are printed on nylon -- a fabric more used for photography than display purposes -- it will look very different when compared to a backdrop printed on more traditional display materials like polyester.
Some of main differences between polyester and other materials that you might choose to print on are as follows:
Ease of storage and transport. Polyester can be folded down much like more common fabrics.
Ease of cleaning. Polyester can be washed, dried and ironed, whereas PVC and vinyl can be much harder to clean.
Ease of display. Polyester is a fabric, so it can be stretched and curved as needed so that it fits your display as closely as possible.
9. Know The 5 Ws
To design a good large format graphic, you need to know the answers to the five Ws:
When is your graphic being deployed?
Where is it being set up?
Who is the graphic being printed for?
What is the graphic's intended message?
Why is this the message?
Designing a graphic is just like telling a story. You have a who, a what, a when, a where and a why. At the very minimum, you need the answers to who, what and why. This way, you can properly define the customer experience and environment, as well as the metrics that are needed to properly articulate and define success.
10. Keep It Simple
No matter what kind of graphic you're designing, it needs to be simple. This ensures that messages are legible and easy to understand and comprehend. Most people are going to see your message as it passes by them on the road or on the sidewalk, meaning that there's not a lot of time to stop or go back and look at what it was they just saw.
11. Focus On The First Four Seconds
Tying in with the tip above, it's important to focus on the first four seconds of viewership for whatever graphic you're producing.
Why?
Four seconds is all the time you have to ensure that your message sticks in someone's mind -- then they're on to the next thing. You see this most often with billboards along highways, but it's just as prevalent with graphics for other kinds of advertising – especially trade shows.
Ask yourself the following questions when you look at your graphics, whether it's the full size or just a print copy:
What is immediately noticeable in the first four seconds of viewing the graphic? What sticks out?
Is your message clear and concise?
Is anything missing that could be otherwise added to your message to make it more appealing?
When you have just four seconds to grab a customer's attention, everything that doesn't grab that customer's attention needs to be eliminated or repurposed. You've probably noticed this at every trade show you go to: the people that get customer attention have graphics that are designed to convey information in an eye-catching, easy-to-digest way.
12. Consult The Design Experts
If all of this seems like it's a little too confusing, don't worry. No matter what kind of trade show display you're building your large format graphics for, we're here to help. Not only do we offer a wide variety of large format printing services and trade show solutions, but our large format graphics printers are top notch.
All of our graphics are printed using dye sublimation through a 6-color printing process to ensure the most vibrant colors possible. Our polyester fabrics are treated to prevent degradation from UV light and damage from the elements.
Want us to design your next trade show experience? Give our sales reps a call at (717) 249-3273, email us at shop@texvisions.com or chat online using our click-to-chat.
Sources:
1. What resolution should a large format artwork for print be: https://graphicdesign.stackexchange.com/questions/487/what-resolution-should-a-large-format-artwork-for-print-be
2. What is the difference between vector and bitmap images: http://etc.usf.edu/techease/win/images/what-is-the-difference-between-bitmap-and-vector-images/
3. Viewing Distance as a Variable in Discerning Grayscale Halftone Dots at Varying Screen Frequencies: http://sites.tech.uh.edu/digitalmedia/materials/3351/waite032906.pdf
The ongoing series "Meet the Team," where we profile the people who drive the success of Tex Visions, continues.
In today's "Meet The Team" post, we meet Michael Sacks, the warehouse team leader for Tex Visions. Michael has been with the Tex Visions team for several years, during which time his his responsibilities have included everything from inventory management to ensuring that products ship out on time to coordinating with the marketing team so that we can show you up-to-date views on new products as they arrive.
What's your favorite Tex Visions product?
I would probably say the lightbox or any of our Tex 15 or 25 hardware. I like being able to make them. The mechanical aspect really appeals to me.
What do you like to do when not at work?
When I'm not at work here, I'm at work elsewhere. I also like to hang out with friends. I enjoy my football — I'm a huge Eagles fan. I've been an Eagles fan since I was born. My parents were born in Philly, so I bleed green.
I also enjoy just kicking back and relaxing or going kayaking and fishing. I go up to my cabin a lot — I have a house up in the Poconos.
Are you a coffee or tea person?
Coffee, hands down. I'd probably say a latte on top of that. I usually have an espresso shot with my coffee. I've got espresso machines, I've taken latte art classes and stuff like that. Out of the appliances in my kitchen, I have a microwave and four coffee makers: Keurig, pot and two espresso machines.
I'm a monster coffee person. I need it every morning. If they made coffee a religion, sign me up.
Would you rather cook or go to a great restaurant?
I do enjoy cooking, but nothing beats a nice, made meal. I dabble a bit, but nothing beats being able to go a restaurant and be served. But sometimes there's the fact that you just want to make it for yourself.
Do you have or want a pet?
I currently don't have a pet.
SUV or convertible?
I'm more of a sedan guy, myself. I enjoy the speed of a sports car, but I like the comfort of a sedan. I'm not a truck guy. I'm not an SUV guy. I'm not going to go rock climbing. I'm not a Jeep guy. I like my sedans: I like being able to go fast and be comfortable.
Mountains or beach?
I like both. Nothing beats the beach: enough said, it's the beach. But there's nothing better than the quiet calm of the mountains. The beach, the boardwalk, the whole atmosphere is great, but having a house up in the Poconos is great. I love the bonfire, love the calm, the tranquility of it all.
If you could have lunch with anyone, who would you choose and what would you ask?
I'd probably have lunch with God. The questions would be endless. One question would definitely be "What's the point?" Then it would go on from there.
What's the last book/movie that you read/watched?
I watched "Super Troopers 2" last night. It was not as good as the first one, so I'm kind of disappointed. But I would probably say, for this purpose, "Boondock Saints," because I saw it on Netflix over the weekend. That is a classic beyond classics. That movie I could watch over and over and over again.
They don't make them like that or act like that nowadays. Just classics.
It's one of my three go-tos. I've got "Boondock Saints" that I'll watch over and over again, "Bad Boys II" that I'll watch over and over again and "The Italian Job."
Check back regularly to meet the rest of the team at Tex Visions as we explore the wonders of printing. Feel free to send us your questions so we can incorporate them into the next interview. What do you want to know?
The ongoing series "Meet the Team," where we profile the people who drive the success of Tex Visions, continues.
In today's "Meet The Team" post, we meet Suzette Barnes, one of the sewing associates at Tex Visions. She ensures that our customers' orders are properly put together and that the stitching and sewing on our products is consistent with the quality that our customers have come to expect from Tex Visions.
What's your favorite Tex Visions product?
The cubes. I just think they're cool. You can sit on them or do whatever — they're so versatile.
What do you like to do when not at work?
I sew. I enjoy quilting. I'm very involved with my daughter — I'm an assistant cheer coach. I also help out with the band whenever I can.
Are you a coffee or tea person?
Both. Hot coffee, cold tea.
Would you rather cook or go to a great restaurant?
At this point, I'd rather go to any restaurant, great or not!
Do you have or want a pet?
We have a cat that we adopted from a shelter. Her name is BK.
SUV or convertible?
That's a hard choice, but we want to do a lot of traveling, so the SUV would be the better choice.
Mountains or beach?
Gotta have both. We go to Colorado on vacation and that's fabulous, but I don't think I could live there full time because I would miss the beach.
If you could have lunch with anyone, who would you choose and what would you ask?
My dad. I really don't have anything that I'd like to ask. But he's been gone about 10 years now and it would just be great to see him again.
What's the last book/movie that you read/watched?
"The Girl with the Dragon Tattoo". It was a little slow at first, but now it's getting more interesting. Usually I'm a Stephen King fan, but I'm all caught up.
Check back regularly to meet the rest of the team at Tex Visions as we explore the wonders of printing. Feel free to send us your questions so we can incorporate them into the next interview. What do you want to know?
The ongoing series "Meet the Team," where we profile the people who drive the success of Tex Visions, continues.
In today's "Meet The Team" post, we meet Alexis Finkenbinder. Alexis is the national account manager for Tex Visions. She oversees many of the large reseller accounts that Tex Visions works with and acts as a point of contact when issues arise with orders.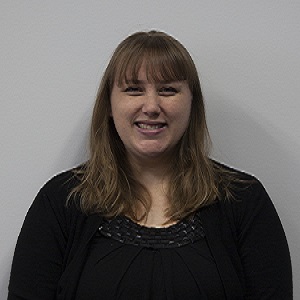 What's your favorite Tex Visions product?
The foam displays. Super cool-looking and you can still sit on them because they're the hard foam.
What do you like to do when not at work?
I like to spend time with my husband, my two kids and my pets.
Are you a coffee or tea person?
Coffee. I need it to wake up. And I think it tastes better.
Would you rather cook or go to a great restaurant?
I'd rather cook with my husband — we make a ton of different things. We like to experiment.
Do you have or want a pet?
I have four pets: two cats, Jack and Starfire and two dogs, Sandy and Blaze.
SUV or convertible?
SUV. Technically, I love minivans and that's the closest thing to my minivan.
Mountains or beach?
Beach. I love the sound of the waves.
If you could have lunch with anyone, who would you choose and what would you ask?
Angela Lansbury. Most people don't know who she is. I'd probably just ask her about her whole life. She's very fascinating. She lived through the war [World War II] and her daughter was part of Charles Manson's crew, so I'd ask her about that. And "Murder, She Wrote" is one of my favorite shows.
What's the last book/movie that you read/watched?
Well, the last movie I watched was "Trolls", with my daughter. The last book I read — am reading — is "Velvet Angel."
Check back regularly to meet the rest of the team at Tex Visions as we explore the wonders of printing. Feel free to send us your questions so we can incorporate them into the next interview. What do you want to know?