About Our Full Imprint Canopy & Walls 10' x 10'
Economy Tent Frame
Collapsible steel tent frame with square legs
Frame Color: White
Maximum Clearance: 87.0"
Leg Diameter: 1.3"
Leg Thickness: 0.04"
Display Size: 10.0' x 10.8'-11.5' x 10.0'
Weight: 45.0lb
Part Number: H_TS01001
Basic Tent Frame
Collapsible steel tent frame with hexagonal legs and rooftop crank adjustment
Frame Color: Off-white
Maximum Clearance: 83.0"
Leg Diameter: 1.6"
Leg Thickness: 0.04"
Display Size: 10.0' x 10.2'-11.0' x 10.0'
Weight: 60.0lb
Part Number: H_TS01010
Plus Tent Frame
Collapsible, commercial-grade aluminum tent frame with hexagonal legs and rooftop crank adjustment
Frame Color: Silver
Maximum Clearance: 84.0"
Leg Diameter: 1.6"
Leg Thickness: 0.05"
Display Size: 10.0' x 9.8'-10.8' x 10.0'
Weight: 40.0lb
Part Number: H_TS03030
Includes
Material
Suntex FR: 300D polyester fabric that is water and scratch-proof (flame-retardant)
Stock Color Tent Material: 450D polyester fabric with polyurethane coating, water pressure rating 1000mm (Stock color walls only)
Finishing
Canopy: Multiple panels and reinforcement strips sewn together to fit frame
Walls: Vary by selection, configure product to see more details
Canopy Size
Full Wall Size
Custom Printed: 10.0' x 6.5'
Stock Color: 10.0' x 6.8'
Half Wall Size
Custom Printed: 10.0' x 2.7'
Stock Color: 10.0' x 3.0'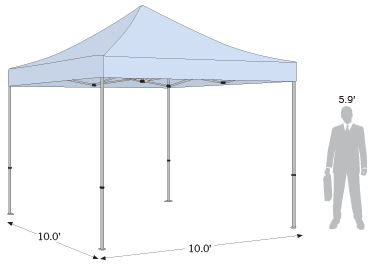 California Residents

Click here for Proposition 65 warning
Q & A
- Jacob
Posted on: August 27, 2018
Our standard production time is 4-6 business days but we have rush production available, depending on the quantity ordered. Please configure your product and navigate to the Production & Shipping tab to view the available turnaround times.
- Nick
Posted on: August 16, 2018
Yes, all prints produced by Tex Visions have a warranty period. Prints for indoor use have a limited warranty of 1 year and prints for outdoor use have a limited warranty of 6 months. Hardware for outdoor use comes with a limited warranty of 6 months and hardware for indoor use comes with a limited warranty of 1 year against manufacturing defects. View full warranty details here: https://www.texvisions.com/help-center/tex-visions-warranty-policy
- Connie
Posted on: August 15, 2018
Yes, you an order the tent and walls without the frame. Simply select 'Prints Only' under the 'Order Type' dropdown and configure your product.
Tex Visions Reseller Program
Our 100% Neutral Reseller Program is a platform for resellers to show their clients the large variety of products available from Tex Visions without compromising business relationships. It is free and includes a neutral catalog and other neutral marketing materials as well as a neutral website, which allows you to easily direct your clients to information and product resources. When we say neutral, we mean all reseller resources are free of Tex Visions' branding so you can make our marketing materials your own!
Neutral Resources
Need Assistance?

Do you want to become a reseller or have questions about our products and services? Contact us and receive answers quickly from a knowledgeable sales representative.

Call us: (877) 503-5247 Chat:

---

Become a Reseller

Printesto Website
If you haven't already signed up for a FREE reseller website, you are losing out on a valuable tool. Our neutral website can be customized to include YOUR logo and YOUR contact information. The website includes unbranded product assembly instructions, technical specifications, an interactive e-catalog, and the latest information about our products such as the Bowflag®, Roll Up, 3D Displays, and more. Along with these print and online resources, we also have knowledgeable sales representatives available to help you at any time with information or pricing.
Catalog
How to fold a tent canopy
Dome Cap & Peak Pole Repair Video
Upper Leg Bracket Repair Video
Upper Peak Pole Bracket Repair Video
Lower Peak Pole Bracket Repair