Storytelling
When you put together a marketing campaign for a new product or service, you don't want to just give customers a call to action and then expect them to fall over themselves in droves to buy your product. Instead, you need to tell them a story. Your story. Draw them in. Why should they buy your product and not a competitor's?
Storytelling is a crucial part of print marketing. But how can you tell a story without (necessarily) using any words?
Use compelling visuals to convey an aspect of your brand narrative
Use imagery to convey voice, tone or feeling
Take standard tropes and invert them on their head
Use a picture to suggest movement or action
Combine these pictures with good short and long-form written copy – but not the informational copy that most people put on landing pages and product pages. Go with the good stuff – the story that makes your brand special. After all, everyone loves a good story.
Personalized prints
Instead of telling just a general brand story, you can tell a personal customer story, too. Reach the customer on an individual level and use that to build a meaningful relationship.
But how?
Here's the deal:
People love a personal touch. Use techniques like personalized flyers and custom poster printing to give your print marketing an edge. The best way to impress your customers is to be predictive – get some data about your customer's preferences and find a way to include that in the print – it's a surefire way to keep them reading.
Use unique coupon codes
You might be wondering:
"What's the difference between a unique coupon code and a generic one?"
Unique codes are only released in limited quantities (like to people on an email list) and can only be used once at checkout. Generic coupon codes, on the other hand, are codes that anyone can use to receive a discount or other promotional reward from an online retailer.
Unique coupon codes generate much higher ROI than generic coupon codes because they can't be shared with other customers. This lets you use the unique coupon codes you generate to track customer purchasing and spending on a more individual and targeted level: instead of "this many visitors to our site bought X," you can narrow it down to "this many people on our mailing list bought X" – a much-smaller demographic to analyze and make advertisements for.
Sell the seasons
When it comes to setting up your company's sales catalogs throughout the year, consider the seasons. What I mean by this is that when it comes to the summer months, put out a catalog that's full of products that work best in warmer weather. When the months get colder, put out products that work in colder weather or that require no maintenance besides setup – no one wants to trudge around in the snow fixing feather flags.
Use brochures
Brochures are a traditional piece of the print marketing kit, even with the rise of digital versions in the form of PDFs and emails. Designing your product brochures well can turn them into collectible items – not just because of how well they're designed but also because of the wealth of specific product information they contain.
But why should you include brochures in your as part of your marketing arsenal?
Brochures can help capture the attention of potential customers
More effective and pocket-friendly than regular print advertisements in magazines – especially since you don't have to share space with anyone!
A brochure can be used to promote almost any type of good or service that the company offers.
Brochures function as another way to interact with the customer, generating leads for the sales team to follow up on.
What trends do you think are worth following in 2018? Let us know on Facebook or Twitter!
With temperatures rising as we get deeper and deeper into March, it's time to turn our eye to the thought of outdoor displays. While indoor displays are great for things like trade shows, conferences and events, outdoor displays have several advantages of their own.
So what advantages do outdoor displays have over more traditional displays?
1. Expand Your Audience
Instead of just being confined to a trade show floor or convention center hall, outdoor advertising allows you to target a much larger audience – going from just one show to the whole town or city. This way, you can target people of a certain demographic without worrying that you're missing some of them because they're not in whatever space your advertisement or display is.
2. Build Your Brand
Outdoor displays and advertising are a great way to create and maintain brand awareness for your business or brand. Creating some kind of outdoor advertising helps you personalize your brand and further enhances your brand's credibility.
You might be wondering why personalizing a brand is important. Here's the bottom line:
If a potential customer sees a sign on their way to work or during their commute, it'll start to stick with them. If your feather flag (or other advertising banner) is well-designed, so much the better – whoever views it will not only become more aware of your brand, but also begin to associate them with positive things – like a well-crafted advertising experience.
3. Perform Better
One of the biggest advantages that outdoor advertising has over traditional advertising is that it performs better. An outdoor advertising campaign is "always on" – whereas you have to pack up your advertising materials at the end of the trade show. This ability to be always on means that your viewers are much more aware of your campaigns. It also means that they're much more aware of your campaigns when they change, too – so keeping your campaigns constantly evolving is a great way to keep your viewers constantly engaged.
4. Spend Less
Out of all the different marketing options out there, running a series of outdoor displays is probably the cheapest. And I'm not just talking about money, either: once you set up an outdoor advertising campaign, you can safely forget about it until and if you have to change your messages.
But that's not all: outdoor advertising campaigns have a much higher ROI than comparable advertising methods – as shown by a study from the Outdoor Advertising Association of America. In fact, out-of-home advertising generates almost 6 dollars product spending – an 83% return on investment.
5. Engage Your Audience
Not only do outdoor advertising displays allow you to expand your audience, but they also let you engage with your audience. The sheer amount of space that's available for outdoor advertising means that it's that much easier to set something up that your audiences like. Audiences just like outdoor advertising by itself, too: according to APN Outdoor, 71% of people preferred buses with advertising to those without, and 36% of people called advertising "a welcome distraction".
Does your company or its clients use outdoor advertising? Let us know how in the comments!
You have your advertising booked, and you're excited to get your message out there. Anyone who knows me would readily say I'm a huge fan of marketing. Advertising, when done right, can be an essential element to a business model. As Henry Ford once said, "A man who stops advertising to save money is like a man who stops a clock to save time."
Unfortunately, ineffective advertising can be more harmful than not advertising at all. A company can appear unprofessional or offensive without a good design. So whether you are designing for billboards, web, print or one of our products like the Bowflag® Premium, good design is essential to the success of your campaign.
Tips for designing by medium
Outdoor advertising
As a rule, any advertising targeting passing vehicles should be simple. Drivers will only have about 10 seconds to see your message. Keep your message to seven words or less, and make clear what you are selling. Be sure your message is memorable and eye-catching, and keep the design simple.


Web advertising
Make it simple enough to catch the eye. If there are too many things going on in your ad, a user's brain won't be able to process the data, and they will move on. The average attention span of a web user in 2013 was eight seconds. Since you have only seconds to make an impression, make it good. Don't clutter your ad with contact information. Instead, create a clear call to action that links to a page that has the information you want the user to see.


Print advertising
The great thing about print advertising is that you have an engaged reader. You have more time to make an impression than you would have in an outdoor or web ad. Even so, it can become very easy to get lost amongst the pages of your audience's favorite magazine. Clear concise branding, a bold headline, clear layout, and a focus on the benefits or your business or product are essential. Don't forget a call to action if you are not an established brand!




Other advertising
You may notice I have only included static forms of advertising. This is intentional. I could write an entire blog post just on television or radio by themselves. A good thing to keep in mind with these mediums is many of the same rules apply across all forms of advertising. Keep your branding clear. Keep your message simple. Include a call to action. Understand your audience.


Finally for good measure, and because we are a custom print company, here is a great example of an effective flag design: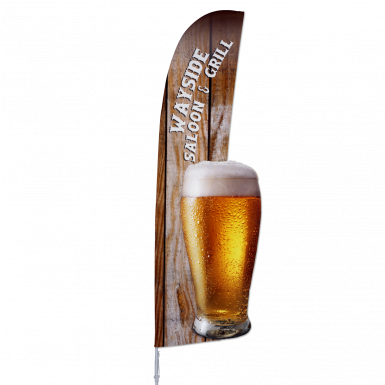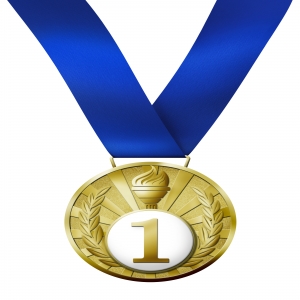 The Gold Medal. It's the dream of and goal for every Olympian in Sochi right now. There's no greater feeling of accomplishment and effort for an Olympian to stand on the platform wearing a gold medal. Sadly, we can't all be Olympic athletes. We can, however, compete to the best of our ability no matter the industry or venue, like a trade show.

In order to win the gold (i.e. be the biggest draw) at the next trade show or conference, you have to view exhibiting as Olympians view their respective sport. Remember …

It's a competition.

Olympians have a respect for one another. You see it in the way they shake hands and hug before and after the event. Despite all the respect they may have for one another, they still know it's a competition, and they want to win.

You want to take this mentality to any trade show or conference. You can meet with other vendors, shake hands and network, but you also have to remember these people want attendees to visit their booths and check out their services. You want attendees to check out your company, your message and your offerings.

It's a battle for attention. You don't want to enter into the "Trade Show Olympics" unprepared. What can you do to win the gold? If it were a traditional competition, below are the categories the judges would probably base your score on.

To get some professional perspective, Tex Visions general manager Nicole Wilson, a veteran trade show exhibitor, offers some valuable tips to consider.

Endurance
A trade show is about making connections, whether it's sales or networking. Exhibiting means a lot of talking, shaking hands and moving about. You need to have endurance in order to properly showcase a trade show display.
Nicole Says …
"Getting a good night's rest the night before, especially after a long day of travel and booth set up, is key. I recommend eating a nice breakfast and then really engaging visitors at the show. If you just sit around and wait, you tend to get bored easily, which will lead to becoming tired."

Creativity
Have you ever wondered why the outfits professional ice skaters are so elaborate and colorful? It makes them stand out to the judges. You'll also want to stand out for the judges, i.e. visitors. Be creative with your design and layout. Successful exhibitors take creative risks. If your creative approach doesn't pan out, try again at the next one.
Nicole Says …
"Have something in your booth to catch attendees' eyes. I was once at a show where they had a baby alligator in their booth, which had nothing to do with what they were selling, but you could hold it, which caught people's attention.

"The Tex Visions booths are very uniform, but are unique because of the Bowflag® Premiums. Our tallest Bowflag (17.1 ft) really makes us stand out."
Design
Being creative is one thing. It's another to have a trade show space that's well designed and laid out. Whether you're in a large space or small space, you want to make the most out of the space you have. You don't want to have so many products in your booth that visitors can't step inside your booth, but you don't want to have just bare space.
Nicole Says …
"You want to use the space you have. You paid good money for it, so you might as well fill it up as much as possible without making it look too crowded. I see some booths where the booth staff are just sitting at the table provided to them and they look bored, their booth looks boring and I think that definitely affects traffic to a booth."

Promotions/Freebies
I'm sure you've heard the old adage, "If it's free, it's for me." If you want to bring attention to anything, you give away something. The same goes for trade show booths. The best way to attract visitors, as Inc. noted, is to offer an incentive.
Nicole Says …
"I don't think you can go wrong with freebies, whether it's pens, food, candy or something else. At PPAI, there are booths that give coffee thermoses and Tupperware containers, which are useful, so that makes it even better."

Personality of Exhibitors
Whether it's at the Olympics or exhibiting at a large conference, personality matters. The last thing you want for visitors to take away from your booth is a negative first impression because of a less than positive personality. Yes, trade show exhibiting can be tiring and stressful, but you need to remain in good spirits. If you let the downsides get the best of you, it can impact how visitors look at your booth.
Nicole Says …
"I think you have to be somewhat outgoing but more importantly patient. Since attendees have you right there, they might ask more questions than usual. Or questions that seem obvious to you, but really aren't. You have to remember every visitor is a potential customer and the more you can help them face-to-face will make things easier when you are doing the selling through phone or email."

Winning the Gold
No athlete goes into a competition unprepared. When it comes to your trade show and conference presence, you should be ready to compete for trade show gold.

Remember:
Don't exhibit exhausted or without a good meal
Be creative in how your booth presentation
Maximize your available booth space
Incentives attract visitors
Have a good personality when you're exhibiting
What advice do you have for winning trade show gold? Let us know in the comments or on Facebook or @TexVisions. You can also find us on LinkedIn.

Like this post? Please share it!
Digital Fabric Printing has Arrived, and is Here to Stay!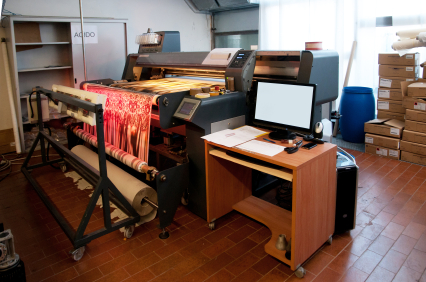 The buzz in the advertising sign industry has been that digital fabric printing is the next big thing, but the high cost of materials, and the technology necessary to create the products, has not produced the availability, or demand, sign shop owners had expected. Finally, new technology and lower operating costs have made this statement a reality. Recent studies prove that digital fabric printing is taking the sign industry by storm and providing new outlets for the utility and creative options of textile printing. The additional brand imaging opportunities fabric printing provides enables your clients to tap into their creativity and stand out from competitors to increase brand awareness. By increasing brand awareness, they will reach more potential customers for their product or service, and more customers equals more sales.
A recent study by Infotrends examined the increase in fabric printing demand while focusing on the textile supply chain. This study predicts a 31% growth rate for the digital textile market, and a global textile printing market value exceeding 1 Trillion dollars. The demand for digitally printed textiles has begun to coincide with the availability of high-speed digital printing systems that are fitted with open ink jet configurations. Additionally, the availability of moderately priced digital printers, with open inkjet systems, has reduced the cost and allowed more sign companies to enter the market. The exponential growth of the market makes this a perfect time for sign shops to expand their business and offer digital fabric banner and/or textile printing.
Projected Growth of Digital Fabric Printing Industry
An article in Fabric Graphics, Learning the Basics of Printing on Fabric, illustrates how one company is using fabric to replace more traditional methods of sign printing. The switch has increased customer satisfaction, reduced production times, and decreased costs which are goals every business strives to achieve. Capitol Awning of Jamaica, New York recently produced an awning for the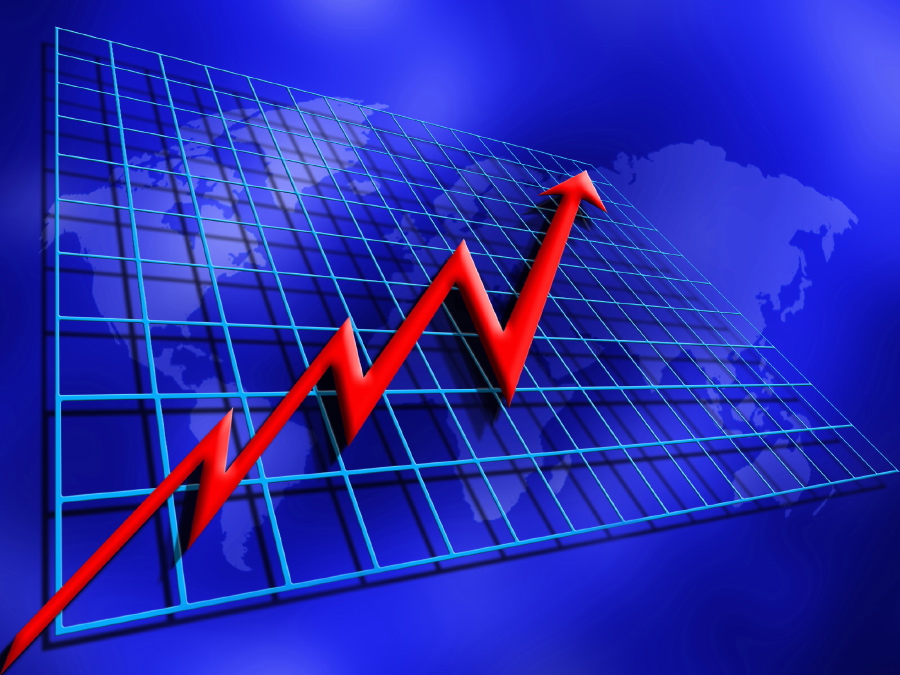 Brooklyn Plantology garden center in New York and was able to print 200 feet of custom color awning in two days. Mike Catalano, President of Capitol Awning explains "Years ago, we would have painted the job, and it would have taken close to three weeks to complete it. Instead, we printed 200 feet of awning in two days using all custom colors."
The same article projects the average growth rate for all sign substrate materials at 8%, but the growth rate for digital fabric printing is estimated to be much higher. Not only are these jobs more efficient, it also increases the number and types of businesses sign shops attract. Instead of a plain vinyl sign with printed letters, a wide variety of textiles and colors can be combined to create the unique brand image your client is searching for when marketing their product or service. Originality extends beyond fabric type and color combinations into intended uses of the advertising product because fabric textiles can be used to cover large areas, such as ceilings, and have sound absorption qualities that other materials do not have. This increases the functionality of the banner by allowing it to integrate into a business advertising space and become more than a banner advertising a sale, opening, or promotion. This aesthetic and practical appeal adds to the return on investment (ROI) your client realizes from their advertising budget.
A similar article in Fabric Graphics, Creative Commercial Interiors: Take Large-Format Printing Inside, details how digitally printed fabric graphics are expanding the possibilities and providing a new medium for customers to accentuate their business spaces with graphics, slogans, and corporate messages. Jill Ayers, Creative Director at design firm Design360 Inc., stated in the article "Now, custom curtains, wall coverings and banners can be designed for clients with specific needs. It also allows for one-off solutions rather than purchasing large quantities to achieve a look." Mike Richardson, Director of Sales/Marketing-Print Media for Aurora Specialty Textiles Group adds "Depending on the décor and the atmosphere one wants to achieve, printed fabrics can be warm and inviting. The graphic can be customized to the target audience."
Fabric Architecture Magazine's, A Chic Shading System, features fabric banners installed at a high end mall to provide shade. The banners used in this example do not have printing, but this concept could easily be expanded to include branded messaging digitally printed on the banner. This example, and the previous statements from industry professionals, indicates the trend in sign and banner manufacturing is moving towards digital fabric printing and mirrors an overall consumer preference for fabric over synthetic materials.
Why Do Your Clients Prefer Fabric Banners to Synthetic Materials?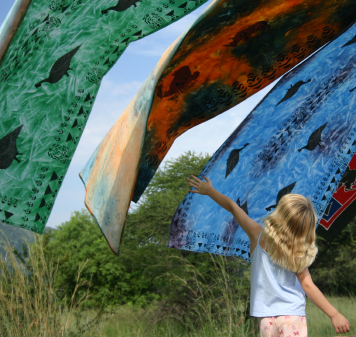 Humans began using woodblock printing as a way to print patterns onto fabric in China before the year 220, and since that time have been socialized to associate fabric with warmth and comfort. This association provides a positive mental impression for your client's potential customers when they view an advertising banner made of a soft and pliant textile. Wondering if your clients would prefer fabric banner printing? Read, Why Your Clients Prefer Fabric Graphics, on Tex Visions' company blog. Tex Visions' new high tech production facility makes entering the fabric banner market easier than ever before for wholesale flag and banner resellers and individual sign shop owners.
How Does a Sign Shop Enter the Fabric Banner Printing Market?
Breaking into the fabric banner printing industry can seem daunting for an individually owned sign shop, but Tex Visions provides our wholesale flag resellers with the tools and expertise needed to sell professional fabric banners at minimal cost. As a member of Tex visions wholesale flag reseller program, you will have access to our superb customer service representatives and professional graphics design team. Essentially, you pitch the product and we provide a fabric banner with crisp clear graphics that exceeds your client's expectations. Also, we can provide neutral product specifications and artwork templates that you can give your client. For some suggestions on how to break into the fabric banner printing market, see Tex Visions blog post Hot Trends in Fabric Advertising: Special Events Industry Presents New Opportunities.
Not convinced that fabric printing is right for your clients? Check out these innovative and unique ways Tex Visions uses fabric printing to create the ideal advertising product for any promotion or special event: Display Cylinder, Indoor Fabric Banners, Tablecloths, and Display Cube. Visit our webstore and sign up for a wholesale sign reseller account today and open up the creative possibilities of large format digital fabric printing to your clients.
Get social with Tex Visions for the latest specials, trends, and news surrounding the sign industry. Add us on Google+, like us on Facebook, and follow us on Twitter.