Welcome to the Tex Visions Blog
A place for our resellers. Talk about what matters most to you. Share your insights. Present us with your challenges. Learn about our team. Connect with us.
While a promotional flag from Tex Visions is a great way for your clients to get attention at trade shows and events, not many people know how to take care of them. Knowing how to properly take care of a flag will not only help your clients increase the longevity of their flags, but also help them maximize their return on investment.
What factors affect the lifespan of my flag?
In order to help our customers figure out how they can expand the lifespan of their flags, we've performed a couple flag weather tests with our printed flags. The bluescale (DIN 53387) test helps figure out a general assessment of both the material and the inks used in our flags. Here's what we found out based on our bluescale tests.
| | | | | |
| --- | --- | --- | --- | --- |
| Lightfastness (according to bluescale) | Summer | Winter | Hours of intensive sunlight before fading | Days of average sunlight in PA before fading |
| 1 = satisfactory | N/A | N/A | Up to 20 hours | About 5 days |
| 2 = below average | N/A | N/A | Up to 40 hours | About 10 days |
| 3 = average | 4 - 8 days | 2 - 4 weeks | Up to 80 hours | About 20 days |
| 4 = moderately good | 2 - 3 weeks | 2 - 3 months | Up to 160 hours | About 40 days |
| 5 = good | 3 - 5 weeks | 4 - 5 months | Up to 350 hours | About 80 days |
| 6 = very good | 6 - 8 weeks | 5 - 6 months | Up to 700 hours | About 160 days |
| 7 = excel lent | 3 - 4 months | 7 - 9 months | Up to 1500 hours | About 350 days |
| 8 = superior | over 1.5 years | N/A | Up to 3000 hours | About 700 days |
Aside from lightfastness, there are three other big factors that affect durability when it comes to flags:
1.

Material
The material that your flag is made out of has a big impact on how long the flag lasts. Common flag materials include cotton, nylon and polyester, with nylon being the most popular choice for outdoor American flags and polyester being the most popular choice for outdoor flags in general. We strive to give our customers an advantage by using polyester to produce our flags. Unlike nylon, polyester won't fray because the fibers of our polyester flags are knitted together rather than woven.
2.

Weather
While many outdoor flags are made for year-round use, that doesn't mean that you shouldn't keep an eye on the weather when it comes time to hoist up your flag. Adverse weather conditions can include heavy rains and strong winds (anything over a 6 on the Beaufort scale). Any kind of adverse weather can increase the weight of the flag and put strain on the flag itself. Make sure to always take your flag down in adverse or inclement weather conditions.
3.

Environmental pollution
Air and light pollution are the two biggest environmental pollutants that can affect the lifespan of your flag. Air pollution will make the white areas of your flag to grey out, while UV and light pollution can cause the fabric to fade or otherwise deteriorate.
Because of all the factors involved, it's generally impossible to completely predict the lifespan of a flag. However, we usually tell our customers that their flags will last 6 months plus or minus 50% -- so anywhere from 3 to 9 months, depending on conditions.
To increase the overall durability of their flags, we recommend that our customers wash and repair their flags after 8-12 weeks. Repairs such as trimming, reinforcing and re-hemming should be done on a standard sewing machine using nylon thread to ensure robustness.
Our Sizzlin' Summer Contest runs Aug. 3-31. See below for details.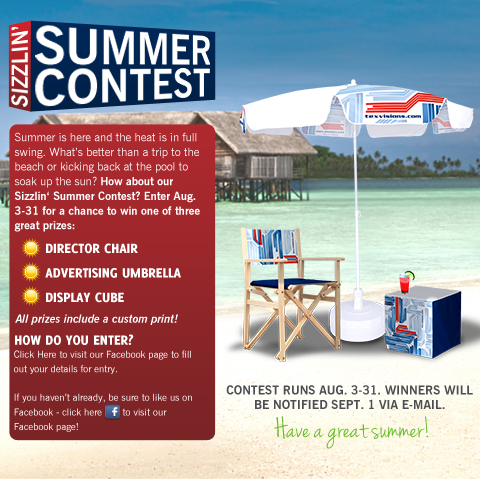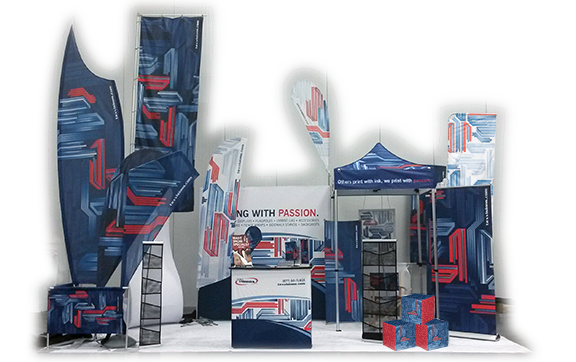 Tex Visions will be starting off the new year with a Jan. 13-15 trip to Las Vegas for the annual Promotional Products Association International (PPAI) Expo. At this show, Tex Visions will not only be celebrating the new year but also showcasing new products, an updated catalog and will have new technology available at the show so visitors can view our web store right from the show.
PPAI has been a staple in Tex Visions tradeshow rounds since 2009, and our customer service/sales representatives are looking forward to another great show. Attending the show this year on our behalf will be super sales team duo Jillian and Cathy. Both are PPAI veterans who are very excited to be sharing the Tex Visions passion for printing with our current and future customers attending PPAI.
What can you expect to find at the Tex Visions booth this year?
New Products
We have a multitude of new products that will be there for you to see and check out, including our new Snake Tension Fabric Display, 5'x5' Advertising Tent and new hardware for our trademark Basic and Plus Bowflag®. You should also be sure to ask about our DUV printing media which include everything from custom shaped Yard Signs to full color, straight to substrate Aluminum Composite Board signs.
Another exciting debut at this show will be an iPad that allows our sales representatives to log into our web store and get pricing while also showing attendees the ordering process and the different options the store allows them to make to save money.
New Catalogs
Also available for the first time this year will be our newly printed 2015 product catalogs! Although most of our new products already can be viewed on our website, the catalog will give you a comprehensive overview of all of your products and available colors, sizes and shapes, giving you the product information you need right at your fingertips.
Specials
While you're checking out all of our unique new products, don't forget to ask about the specials that will be available to all show attendees! Specials include a limited time offer to purchase a Roll Up Economy 31" with custom print or a Bowflag® Basic Medium with single-reverse custom print and Ground Sleeve 24" with Bearing for just 99 USD each for up to 30 days following the close of the show.
The only question left is where can all these exciting new Tex Visions products and information be found? Be sure to stop by our booth on Bayside Level 1, booth 4263 located near the PPAI Decorate showcase section and our sales representatives will be happy to make sure you experience all Tex Visions has to offer at PPAI!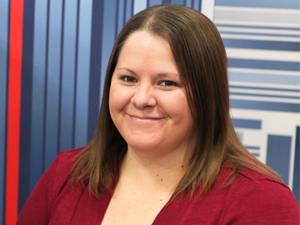 When I started at Tex Visions in March 2008, it was truly a "small company." Residing in the Murata Business Center, we occupied four suites and the production floor. Marketing and accounting shared a suite, we didn't have an IT department and, to be honest, our website was nothing to write home about. By the time we moved in August 2013 out of the newly named Ben Franklin TechCelerator, we occupied 11 suites, the production floor and warehouse space. We had also just launched a completely revamped website complete with all the tools necessary for our resellers to self-serve, if they choose to do so.
Before I was promoted to Tex Visions general manager, I started as a sales and customer service representative. We've always had our sales and customer service staff divided into three teams based on region. I was on Team 2, which shared a suite with Team 3. Space was at a premium, but everyone got along well. There were seven of us in a fairly small room making calls, talking to each other, coming in and out from breaks and running back and forth to production. It was pretty chaotic at times.
Much of our time was spent custom calculating quotes for customers. Due to our custom nature, we didn't have price lists so everything needed to be calculated upon request. All quotes were calculated by hand, so you really had to have some math skills. It was not unusual for some quotes to take a few hours – or even half a day – to calculate. Every order had to be entered into the system, and you had to be really careful not to miss the important information necessary for the order.
Next up was taking the order across the building to drop off at our graphics department. Our graphics department would manually check everything and write notes on your paperwork so you would know if everything could proceed. Before the order was finally good to go to printing, we'd take at least two more trips down to production to get final details in place. In January 2013, we launched our long-awaited Enterprise Resource Planning (ERP) system. This system completely streamlined the quoting and order processing for the sales and customer service team. Of course, it took lots of blood, sweat and tears from our IT department to program the system to do all this, but it has been well worth it. The quotes that used to take hours to calculate now can be completed in under 30 minutes and the orders can be processed back and forth with the ERP system and email – no more running back and forth to production to get details squared away!
We had two fabric printers when I first began working at Tex Visions. This was sufficient for our workload at the time, but wasn't going to get us very far. We soon added two vinyl printers, which allowed us to fulfill requests that we hadn't been able to before, and three additional fabric printers which gave us additional speed and capacity. Some of those printers are now retired, and we are holding steady at five high-speed fabric printers, two vinyl printers and a UV printer, which can print on rigid materials. We also have an automated cutting machine which cuts down on our cutting time considerably, and adds extra capacity in our finishing department.
It's interesting to see the quality and features change over time. Back in 2008, the two printers we had were top of the line. Now if we saw prints from those versus prints on our new printer, we would think the old prints looked terrible. Everyone wants the best of everything, so I'm interested to see how the technology continues to change and how it keeps up with the demand of wanting all-in-one quality, accuracy and speed.
Our product line has more than doubled since I started. Most of our sales in 2008 came from Bowflag® products and standard flags. We didn't have the Pop Ups, the extensive Roll Up line, Tents, Backpacks or many of our other truly unique products. Part of the problem was we did not have the staff or the space to introduce many of the products we wanted to. Since moving into our new building last summer, we were able to add the UV printer, which we did not previously have space for. This has allowed us to finally offer tents, which have been a huge success thus far. Our new building also gives us the warehouse space we were lacking, so we can keep a larger inventory. In the past year since we moved, we have been adding products like crazy and plan to keep going!
While there have been many changes over the years, our team work has remained consistent. We're growing all the time, but we're still small enough for everyone to know each other. Team work is truly one of Tex Visions' primary strengths. Consulting with someone in another department is as simple as an internal phone call, sending them a chat message or even just walking down the hall to talk to them in person. We consult with each other every day, and help each other achieve goals.
Over the past six and a half years, I've witnessed an enormous amount of change. I've witnessed triumphs, failures, steps forward and steps backward. We've learned something from everything we've experienced, and used all of it to better ourselves and move onward and upward.
Here's to the next 10 years of Printing with Passion!