Welcome to the Tex Visions Blog
A place for our resellers. Talk about what matters most to you. Share your insights. Present us with your challenges. Learn about our team. Connect with us.
The ongoing series "Meet the Team," where we profile the people who drive the success of Tex Visions, continues.
Today we meet Jonathan Canankamp, one of the software developers on the Tex Visions team. Jonathan has been with the Tex Visions team for over two years. His responsibilities include the development of internal and external services and features, such as the webstore and company intranet.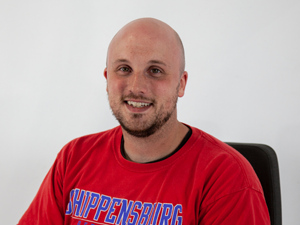 What's your favorite Tex Visions product?
Tablecloths. I love the different tablecloth options that we have available and the sheer number of things you can do with them.
What do you like to do when not at work?
Right now, we just bought a house. We were remodeling it — we just moved in, so it's fixing up all the little things that still need done. And then I'm getting married in a couple weeks, so I'm trying to finish that planning.
When I'm not doing all of that, video games — a little bit of everything. I used to do sports games, but I've kind of fallen off of them, so pretty much everything else.
Are you a coffee or tea person?
Iced tea. I'm not a big fan of hot drinks. I don't drink hot tea or coffee, but I'll drink iced tea.
Would you rather cook or go to a great restaurant?
Restaurant. I don't have to do the dishes. I don't mind cooking, but I hate doing the dishes.
Do you have or want a pet?
We don't have one. But since we just moved into our house, we can do whatever we want. So we're in the process of looking for a dog. I like larger dogs — I always wanted a golden retriever, but my fiancee's allergic to certain breeds of dogs, so we're just looking for pretty much anything.
SUV or convertible?
SUV. You get a little more utility out of an SUV than a convertible. More storage space. Four-wheel drive. I live out in the boonies a little bit, so when winter comes, four-wheel drive would be real nice.
Mountains or beach?
Beach. I've always liked the beach a little bit more. The ocean, sand and sun.
If you could have lunch with anyone, who would you choose and what would you ask?
People normally pick famous people, but I would say my Nan. She was a pretty big influence on my life, but she passed away when I was 12. So just being able to talk to her as an adult would be nice. Having an adult conversation with her instead of the normal kid/adult conversation would be nice.
What's the last book/movie that you read/watched?
I'm currently reading "Metro 2033". The last movie I watched would be "Avengers: Infinity War". I liked that movie. I got sad at the end but I'm interested to see where they go from there after killing off half the cast. I didn't care about a good many of them, but Spider-Man hurt.
Check back regularly to meet the rest of the team at Tex Visions as we explore the wonders of printing. Feel free to send us your questions so we can incorporate them into the next interview. What do you want to know?
When it comes to selling products as a reseller, you have double the competition compared to normal companies. Not only do you have to compete with other resellers, but you also have to compete with other companies who build the same the products in-house and send them straight to the end user.
So how do you compete?
First and foremost, go beyond your branding package. Many companies have resisted investing in their in-person advertising because they think that all they need is a recognizable logo and a branding package to go with it. In today's day and age, when people can order so easily online, you need more than just an online store and some nice advertising – you need the human touch of good design.
Here's the bottom line: there's one factor that is common across all design disciplines. No matter what kind of design you're doing – whether it's industrial design, graphic design or digital design, you should be driven by the fact that you're trying to make your customers' lives easier. This is one of the only ways you can deliver long-term value to your customers. People want to buy products that make their lives easier.
How does this relate to advertising as a reseller? The fact that you're trying to make your customers' lives easier should be a cornerstone of the way you advertise products to your customers. Remember that as a reseller, you're selling people products that they're going to use to sell people products in turn.
There are a couple places that "good design" comes into the mix here:
Good website design. Your customers should be able to easily navigate your website to find the products they need to fit their advertising goals.
Advertising and copy design. The copy and advertising on your product pages should clearly tell a customer what a product is, why they'd use it, and provide example use cases – best showcased in the form of product pictures.
Bundle frequently-purchased products together. When it comes to offering useful products or services to your customers, one of the best things you can do is to see what customers are frequently buying together and offer it as a bundle package or simply nudge the customer in the direction of those items – something that companies like Amazon do quite well.
Having a good customer experience – whether it's at a trade show or on your website – is key to executing an omni-channel brand.
Collaboration Builds Brands
When it comes to building a product brand for your company to showcase, all of your departments – tech, marketing, design, product research, etc – need to collaborate. You should be looking at all of the different ways your users tell you about their experience – user stories, user personas, reviews, comments. When you share these items between teams, it helps you build a brand strategy that puts the customer first.
There are a couple of ways to foster that collaborative environment:
Set a goal for your advertising. What do you want the ad to do? What metrics can you leverage to ensure that your advertising is meeting its goals? Ensure that everyone in all the departments is aware of these metrics and how they interlock.
Know the members of your teams and use that knowledge to build cohesion. Different team members have had different experiences and have different skill sets and personalities because of it. Discuss likes and dislikes, preferred methods of communication and preferred ways to complete tasks. This way you can better communicate workflows to avoid duplication of tasks and ensure team members can redirect their efforts when needed.
Create a can-do atmosphere. Foster creativity within your team(s). Let team members brainstorm and come to each other (and you) with questions. Encourage them to ask why (or why not) on a regular basis.
Don't Be Afraid To Innovate
Part of the reason I brought up building a can-do atmosphere in the previous section is that it creates a team that isn't afraid to ask questions and innovate. That's what you need to do when you're putting together your advertising – after all, that's what your competition is going to be doing. But how do you innovate? Start with the message, which we've covered in the previous sections. Once you have your message down pat, it's time to move on to the technology of the message – that is, how it's displayed and what it's displayed on.
As a reseller, you're uniquely positioned in this regard. You can try out new technologies before your customers even touch them, using them in your own advertising so that you have solid knowledge of the products you're selling, including the potential use cases. Knowing these use cases is a great step toward innovating – it lets you fill gaps in your lineup so that you edge out the competition while at the same time increasing your own market share.
Looking for some innovative technology to bring to your customers' attention? Check out some of our advertising innovations like our air tents or display foam seating arrangements.
Recently, we released some updates to our stretch table cover line in the form of some unique finishing options. Here's a breakdown of each of the different finishing options and what they meant for your clients.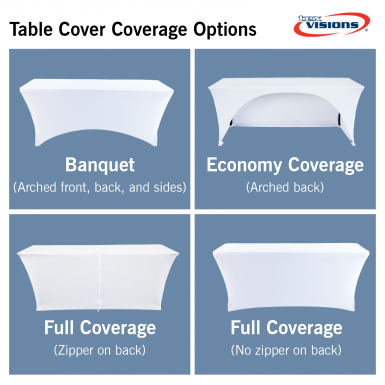 Banquet–style Table Covers
The first of our four new finishing options, banquet–style table covers offer an arched front, back and sides. As the name implies, they are typically seen at banquets and weddings due to their sleek and elegant appearance. They are also ideal to showcase your client's product displays. The long cut of the cloth easily covers the table legs and the sides of table, obscuring them from view and leaving your client's customers with nothing but a view of the logo or your client's artwork.
The arches on all four corners have the added benefit of allowing your client's customers to get up close and personal with the table and what's on it. Combined with the fact that the table cover hooks over the legs to hide them from view, there's no danger of anyone accidentally hooking it with a foot to drag the table cloth (and any products on top of it) onto the floor.
Economy Coverage Table Covers
Our economy coverage table covers are designed for those customers that sit behind their tables when they're at shows or otherwise store things underneath the table itself. The arched back of the economy coverage table cover is perfect for a pair of chairs, or to hide boxes of literature, samples or other items where customers won't see them.
Depending on the number of events that your clients go to, getting an economy coverage table can be cheaper, as well — especially if they don't need or want to spring for what's offered in the full coverage options discussed below.
Full Coverage Table Covers
The full coverage table cover option that we offer features full–length sides all around. Much like the banquet–style table cover above, it's perfect for product displays, or anywhere that you know your clients would want to display their logo or artwork without having to worry about it coming out smaller or distorted due to losing printing space.
A full–coverage table cover also allows your clients to use their tables as another element in their trade show display –– they can be used as simple tables, desks and other items.
Full Coverage Table Cover w/ Zipper
We also offer full coverage table covers with zippers. These table covers combine the best of both worlds for our economy coverage and regular full coverage table covers — not only do they offer all the coverage of our regular full–coverage table covers, but the zipper that comes down the middle back of the table cloth means that you can easily unzip it and slide items underneath the table, then zip it back up so that those items are hidden safely away underneath the table itself.
If you know that your clients are looking for the sort of functionalities these finishing options provide, look no further than a stretch table cover from Tex Visions. A stretch table cover means that clients get a table cover that fits taut around their table, stretching to fit so that can eliminate wrinkles to present your client's custom design the way that it's intended to be shown.
When it comes to bringing your brand to life at a trade show, there's four different things you need to bring to the show in order to bring your brand to life before your interested customers' eyes. The most successful brands have a lot in common with people: they have their own voice and a unique sense of purpose. They tell stories a certain way and have a guiding set of principles that defines what they hold to be important.

So how do you bring your company's stories to your customers? Here's how.
1. Video
Video is all the rage these days. From simple how-tos to news and reviews, people are posting a lot of their content online in video format these days. Why?

There's a lot of reasons. For one, videos require no real time commitment on the part of the viewer – a video might be half an hour long, but with the rise of YouTube and the ability to pause, play and fast-forward videos as one pleases, people don't have to sit there for half an hour. People can watch ten minutes here, five minutes there, another five minutes tomorrow, etc. Videos let customers engage with and digest your messages on their own time.
Plus, depending on how you set the videos up, you can include your customers in them – forming a relationship between you and your customers that will benefit you both.
2. Art
Your company's art – from its logo to the visuals it uses as part of its trade show displays and online, is a great complement to its overall brand voice. Compelling visual content – whether that's infographics, well-shot product photographs, customer photos or what have you – is one of the best ways to increase your online engagement amongst your customers.

After all, 90 percent of the information transmitted to the brain is visual. The best way to ensure that you're creating good visual content for your customers is to make sure that you have a visual identity that is authentic to your brand – and that you tie it together across all your channels. This means that what you post on your website ties into what you post to your Instagram or Twitter and vice versa.
3. Technology
We're firmly in the digital age. That means that you should expect (and encourage) technology to become part of your marketing process. This can be something as small as having a badge scanner as part of a trade show game to something as large as a combined media campaign across Instagram and Twitter that ties into a tablet that you have as part of your trade show booth.

The main selling point of technology is that it helps you build individual experiences for your customers so that you can bring them into your brand story in a way that's unique to them and highlights their importance as a customer.

Technology is a great way to give customers the ability to interact with your brand whenever they want – this also gives you valuable data on what's working and what's not.
4. Copy
Copy is what gives your brand the compelling voice that I talked about in the beginning of this article. You need to give your brand a voice that shows the differential – that is, your brand's position and what makes it different from your competition.

So how do you do that? In order for your brand to give your customers the right impression, you need your copy to do the following:
• Be credible
• Tell a story
• Have a personality
• Connect emotionally with your customers
#2 and #4 are the most important takeaways. By telling a story to your customers, it's easier to put them in a position where they can imagine themselves using your product to solve a business need. When it comes to connecting emotionally with your customers, consider the following:
• How do you want your customers to feel when they interact with your brand?
• Does your brand sound approachable?
• Do you listen to your customers and attempt to solve their problems?
If the answers to the preceding three questions are all positive, then you're connecting with your customers – and they're connecting with you, which is the thing that helps your brand succeed in the marketplace.
As the number of trade show visitors who can make purchasing decisions continues to climb — the number was at 82 percent in 2015 — there comes a mad scramble to be the booth or company that customers remember. This way you're the company that companies buy from. So how do you stick in your customer's memory so that you're the company they choose to buy from?
The KISS principle — keep it simple, stupid
The driving principle behind any kind of design, whether it's your trade show booth or website design, should be simplicity. Most systems work best if they're kept to the essentials and not bogged down with needless complexities. When you look at your trade show booth design or website, step out of your own shoes and imagine that you're in your customer's shoes. Is the overall message of your booth obvious? Is your company's website easy to navigate?
If the answer to either of these questions is "no," go back to the drawing board.
Simplicity's the name of the game
What consumers want most from marketers is simplicity. The ease with which a customer is able to gather trustworthy information about a product and then use that information to weigh their purchase options is called "decision simplicity" and it's this principle that makes a customer more likely to follow through on an intended purchase, buy the product more than once or recommend it to others.
So how do you build decision simplicity?
Figure out your customer's intent
The first step toward building decision simplicity for your customers is to figure out "the why of the buy." Why are your customers buying your product? What do they intend to do with it? Answering these two questions will go a long way toward finding out your customer's intent when it comes to your product. Once you've figured out your customer's intent, it's time to move on to the next step.
Tailor information to the customer's needs
To make a customer's buying decision as easy as possible, the best thing to do is give them trustworthy information at their fingertips.
While highly-detailed information about a product's capabilities serves to educate and instruct the customer, it does little to help facilitate a decision. Instead of letting your product talk to others, let others do the talking about your product. Guide users to review sites where your products get good ratings, feature user reviews on your website and then group those reviews into relevant categories as necessary.
Once customers have all the information they need to make decisions, the best thing you can do for them is to make their decisions as easy as possible.
Make decisions easy for your customers
So now that you have all of this information, how do you go about making decisions easy for your customers? First things first, rate your site or booth on the "decision simplicity index," which tells you the following:
How easy it is for customers to gather and understand information about your company from your website.
How much they can trust the information they find on your site.
How readily they can weigh the options they have based on the information they've been presented with.
The easier a company makes any one of the three things above, the more likely a customer is to purchase from them and recommend them to others.
Once you have a solid grasp on how your company handles the way its customers make decisions, you can work on improving that. The biggest thing you can do is to create a more efficient navigation path for your customers by making it so that they have to ingest less information before they decide on a purchase.
While making decisions easy for your customers is a big part of increasing your company's decision simplicity index, there are other things you can do:
Build trust. Make it so that your customers are more likely to trust the information that they gather. Focus on brand recommenders who dive into their decision criteria and intended usage, not just product features and benefits.
Make it easier for customers to weigh options. Help customers identify and weigh the features that are most important to them. Frame complexity in simplicity — the same way DeBeers does with the 4Cs when it comes to their diamonds.
So there you have it: our method for sticking in our customers' memory. What do you do to be memorable to your customers?